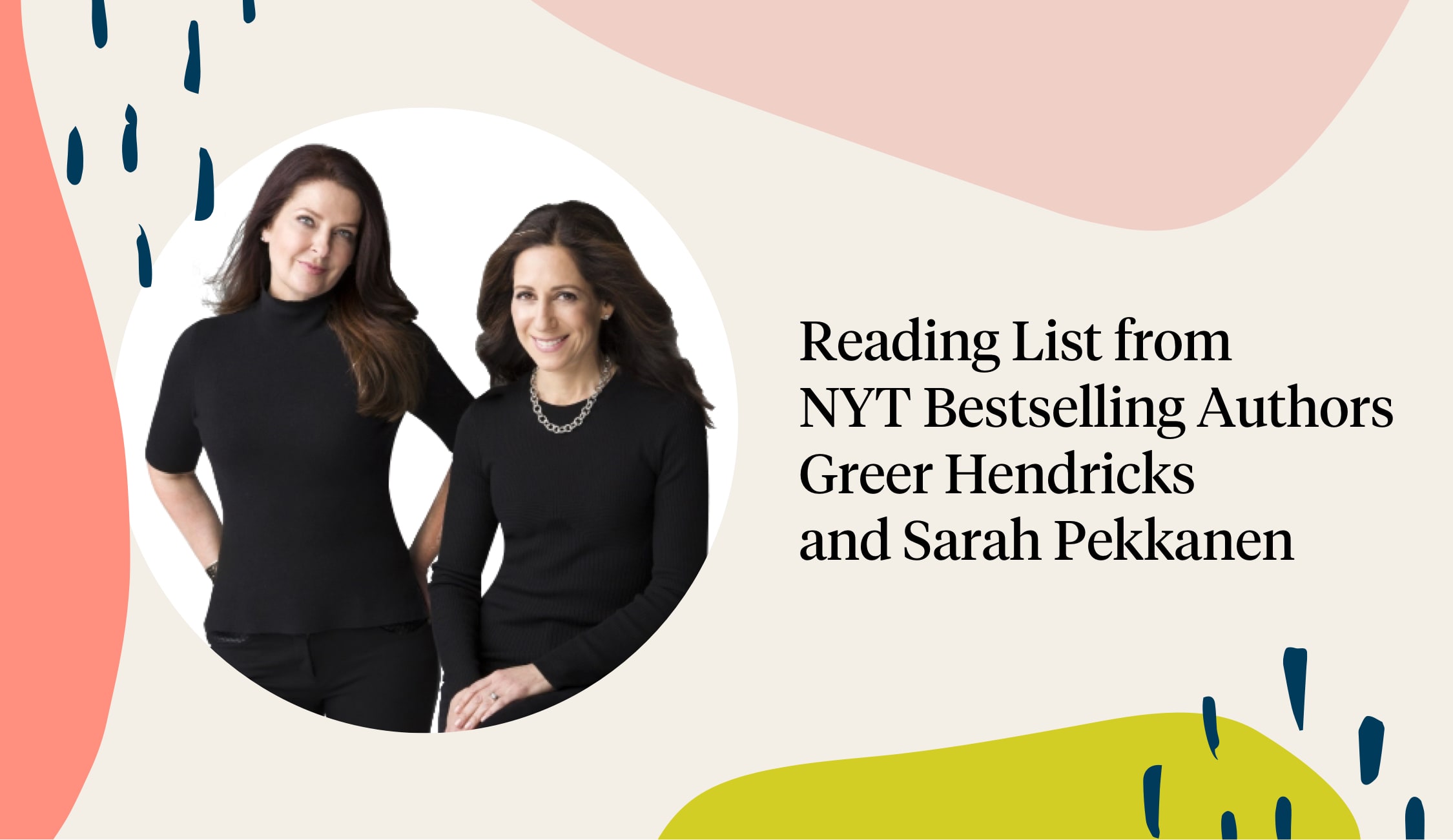 Mid-week check-in! How is everyone doing? Did you try any of Beth's recipes yet? (Make sure to snap a pic and tag us on Instagram if you do! The no-bake butterscotch cookies are SO GOOD.)
So, there's a lot of chatter out there about how to stay busy and get organized during the varying degrees of social distancing and shelter in place orders—and we want to acknowledge that it's OK to NOT be productive, too. It's OK to meditate (or just stare off into space) instead of deep-cleaning the fridge, and listening to music instead of seeing how many push-ups you can do in sixty seconds. There's no right way to be during this strange and unfamiliar time, and however you're feeling is just fine!
That said, we've always been big readers, and books have been a welcome source of entertainment and distraction in the last couple of weeks especially. New York Times bestselling authors Greer Hendricks and Sarah Pekkanen, whose highly anticipated new psychological thriller You Are Not Alone is out now, were generous enough to share their current reading list with us—and we're excited to restock the nightstand with a few of their picks. Read on below for the titles Greer and Sarah recommend picking up now.
Maybe You Should Talk to Someone by Lori Gottlieb
This remarkably candid and compelling memoir explores the psychotherapeutic experience from the clinician and patient's point of view. It provides the reader with a behind the scenes look from both sides of the couch. The stories Gottlieb shares about her own life and her patients are moving, funny and relatable. We found ourselves underlining many passages including this one: "Between stimulus and response there is a space. In that space is our power to choose our response. In our response lies our growth and our freedom."
Everything, Everything by Nicola Yoon
We can't believe it took us so long to join in the chorus of praise that has rained down on this magical book. It's the coming of age story of a teenaged girl who is deathly allergic to everything and cannot leave her home—which puts our current situation in a bit of perspective. There's an incredible twist, and the writing is just so gorgeous. We loved Everything, Everything about it.


Wild Game: My Mother, Her Lover, and Me by Adrienne Brodeur
If you relish memoirs like The Glass Castle or The Liar's Club that feature complicated mother-daughter relationships, you'll love Wild Game. One hot summer night when the author was only fourteen, her mother woke her up to tell her that she had just been kissed by her husband's closest friend. Adrienne instantly became her mother's confidante and co-conspirator in what would become an epic affair that results in calamitous consequences for all of the parties involved. This is one of those stories in which the truth is really stranger than fiction.
Good Morning, Monster by Catherine Gildiner
This is also a book about a therapist and her clients—not surprising, given our keen interest in psychology and the importance it plays in our own novels. Coming out in Fall 2020 from St. Martin's Press, Catherine Gildiner's transformative book is full of insights into the human character and the experiences that shape us. The subject matter is dark, yet the pages are imbued with hope. Good Morning, Monster contains the stories of five people who seek out therapy because of traumas they've endured. We can't recommend it highly enough.
The Most Fun We Ever Had by Claire Lombardo
Neither of us have sisters, but we loved this debut about the Sorenson clan and their four radically different daughters. Spanning nearly half a century, and set in Chicago, this dysfunctional family saga is nearly impossible to put down. The characters are so human, and Lombardo brings them to life with both wit and wisdom.
The Giver of Stars by JoJo Moyes
We already knew JoJo Moyes writes contemporary romances beautifully. Now she proves she can handle history equally adeptly. The Giver of Stars, set in Kentucky during the Depression, tells the intertwined stories of five heroic women who risk everything to deliver books by horseback through the mountains—forming a traveling library to families who otherwise wouldn't have access to reading material. You'll root for them all, and be swept up in this fast-paced novel that is based on a true story.

Dear Edward by Ann Napolitano
It's hard to imagine that a book about a 12-year-old boy who is the sole survivor of a plane crash could be uplifting, but somehow Dear Edward manages to achieve it. This heartfelt and moving story is about the power of hope. In these difficult and frightening times, the book's message about the strength of human connection seems more important than ever.

Pairs well with a good book:
shop picks for staying cozy at home below!
Need something to wear on bottom? Shop joggers and leggings.
Love a set? Pair the Sundry star sweatshirt with these joggers.
Don't forget: EVERYTHING is on sale now at evereve.com!
more reading lists to check out:
Shauna Niequist's Fall 2019 Reading List
Summer 2019 Reading List
Spring 2019 Reading List
Summer 2018 Reading List