Welcome to With Heart, the new blog from Evereve! We are so glad you are here. We have been working on the launch of Evereve's new blog over the past few months and we couldn't be more excited to share it with you all of you. We want this space to be a place of true community and understanding of what it means to be a woman. We are unique here at Evereve in that we are a female-founded, primarily female-run company. Behind this screen we are more than Evereve employees. We are moms, sisters, daughters, girlfriends, wives and friends just like you. We experience many of the same struggles, celebrate the same milestones, and ask the same types of questions that you ask. Because of that, we want to create an environment where we can all share and learn from each other. A space that is different than other blogs you might visit.
In the spirit of community we want to introduce you to some of the faces and voices that you will be hearing from regularly on the blog. This is the team that represents all the women here at Evereve and we can't wait for you to get to know them.
Meet Megan: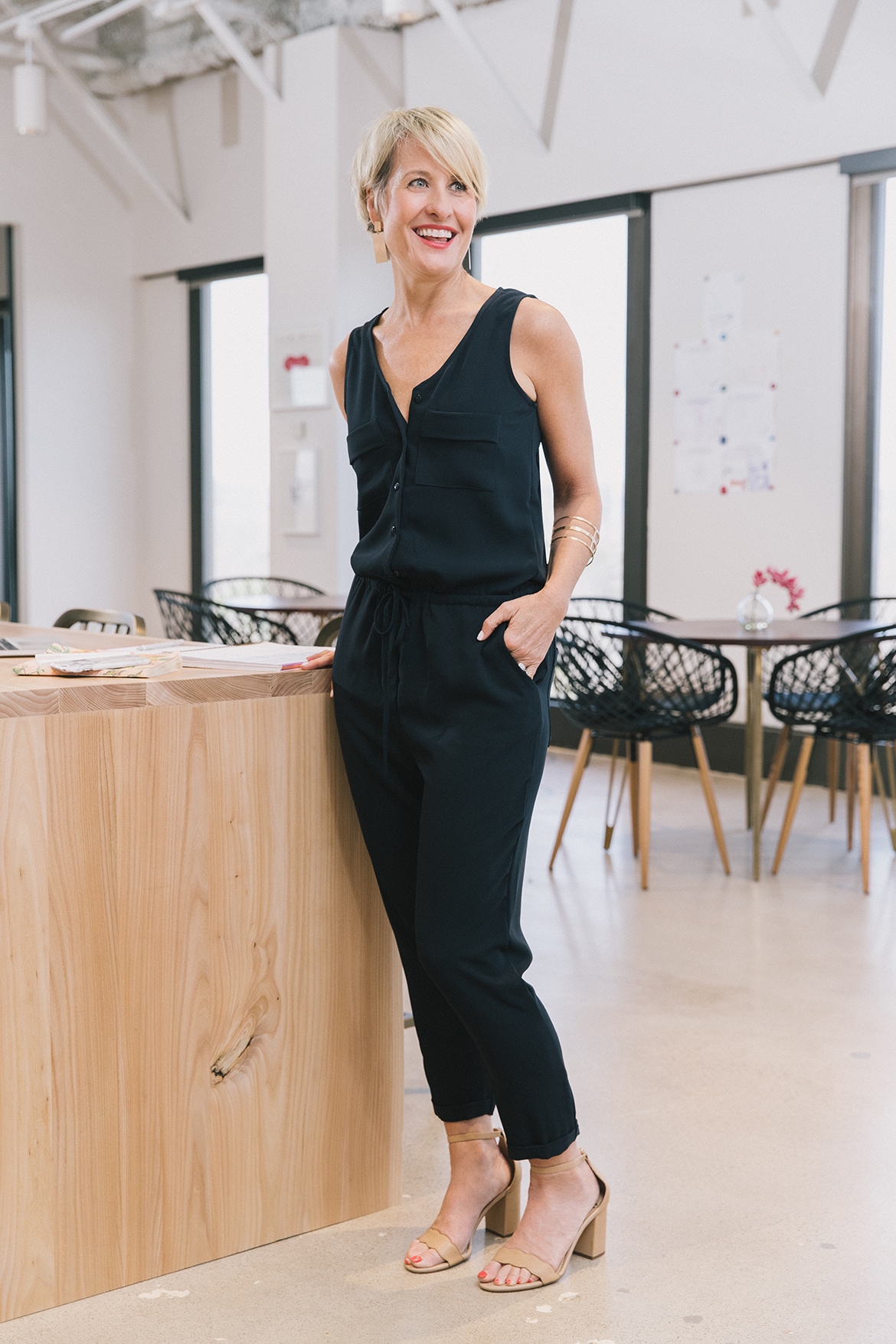 Peyton Jensen Utility Jumpsuit | Sam Edelman Odila Heel
Hi! I'm Megan, Evereve's Co-Founder and Co-CEO. I'm a very proud mom to Allison (21), Ryan (18) AND the newest member of our family—our golden doodle, Paddington. Together, with my husband Mike and a whole bunch of awesome people, we've built a pretty amazing fashion and styling company. While building Evereve certainly hasn't been easy, it's been the adventure of a lifetime and a joy to create, learn and grow with people I love.
I've always loved fashion, and I've always been an entrepreneur. In fact, I started my first business on the playground when I was in fifth grade so I could buy my first pair of Guess jeans. And, I've always been a dreamer with a million ideas racing around in my head.
When I'm not at work, you'll find me at home reenergizing with my family (you guessed it—I'm an introvert). I'm pretty committed to family dinners and evening walks with my husband. I go to bed at 9 p.m. so I can get up at the crack of dawn to do my soul work (aren't I a whole lot of fun?).
My Style
My style is everyday edge. I'm a woman on the go with a lot to do, so I like clothes that are comfortable, modern, easy and have a touch of attitude. I have been on a huge jumpsuit kick and probably own one of almost every jumpsuit we carry. You cannot beat their comfort and versatility.
Meet Heidi
Graphic Tee | Wrap Skirt | Sam Edelman Odila Heel
Hi there. I'm Heidi, Evereve's Chief Creative Office and Fashion Director. I have been a lover of fashion my whole life – starting as a little girl "helping" my mom design my figure skating dresses to scouring the mall as a broke college student for the perfect pair of black boots. Let it be known, I take the business of fashion to heart. After over 20 years in retail, I have found that what really fills me up in this space is helping women find and truly see their unique and undeniable beauty. Clothes can transform you – and that is the magic I can't wait to share with you in this blog space.
Outside of my Evereve world, I can be found running around with my hubby of 15 years and our three kiddos – ages 4, 7 and 9. As Minnesota natives, we understand the value of a warm, sunny day and spend a lot of time outside when not deep in the mix of hockey rinks, school drop-off and bed time negotiations. Dave and I committed to weekly date nights when our oldest was born, so expect to see me on Saturday nights cleaned up from family adventures, sipping and snacking something delicious with my main guy.
My Style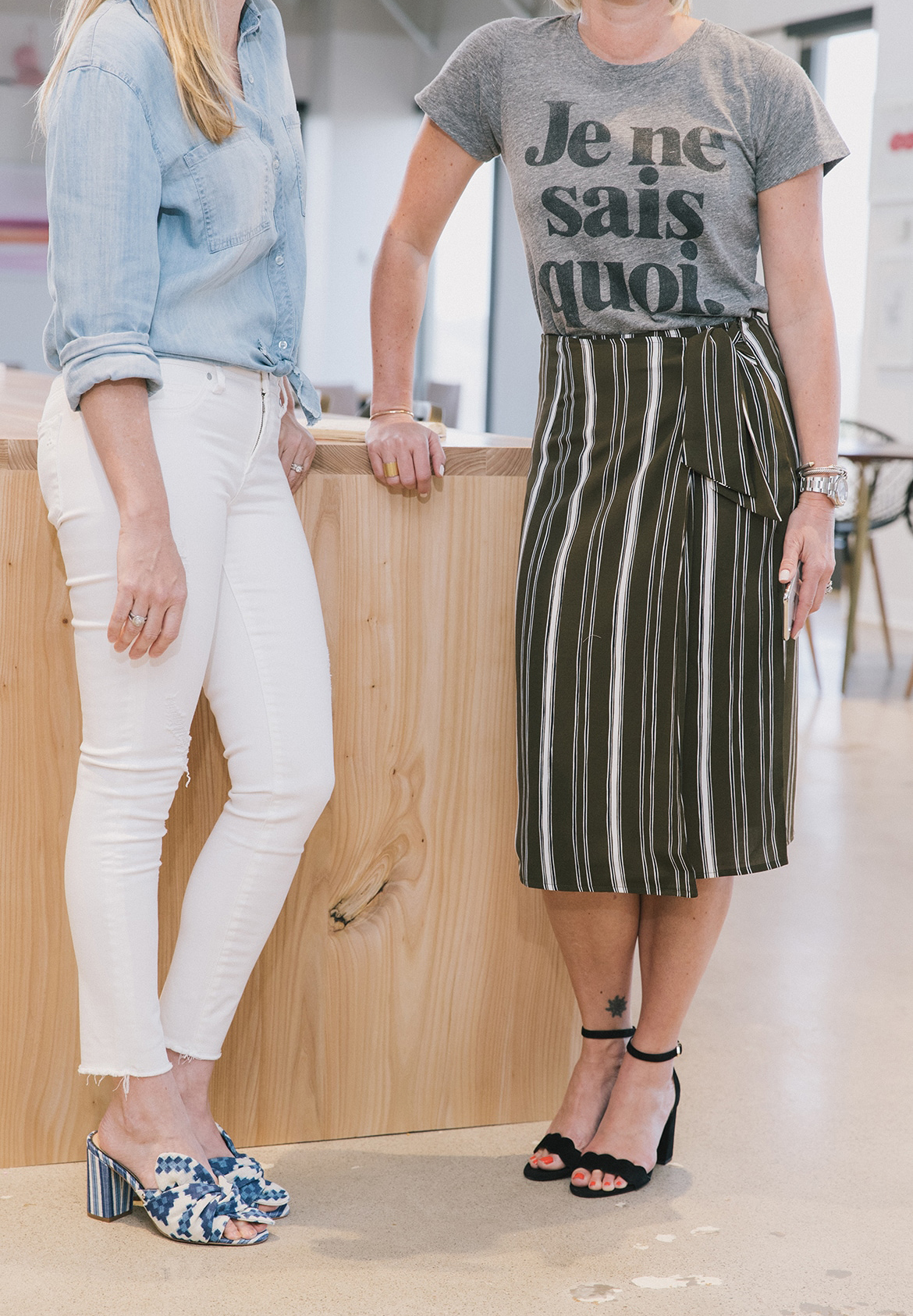 My style is clean, modern and emotional. I know what I like and feel strong and beautiful in, but I let my heart steer my decision making. I love the unexpected combination of this look (casual and refined). The bonus? The graphic tee looks equally good with cut offs for backyard playdates, and the skirt would be killer with a black off the shoulder top for date night.
Meet Julia
Chambray Button Down Top | Articles of Society White Jeans | Sam Edelman Oda Mules
Hi! I'm Julia, Evereve's Content Marketing Director. I am PASSIONATE about creating content that is going to help you solve problems and find solutions to issues you might be having whether in fashion, motherhood or life. I have been a lover and follower of blogs for many years and I am so excited to help launch the With Heart journey. Most importantly, I am excited to create this blog just for you – our customers. We want this to be a community, so please leave a comment, shoot us a message, drop us a line, send up a smoke signal – whatever it takes – and let us know what you want to see here.
In addition to working at Evereve, I am a mom to two fantastic, energetic young boys. I hit the jackpot and married the love of my life. I am your southern sister and hail from Birmingham, AL. You won't always see my face on here, but you will frequently hear my voice chatting your ear off like we are best girlfriends.
My Style
Articles of Society Carly Raw Hem White Jeans | Sam Edelman Oda Mules
My style is pretty simple, so this look is so me. I don't wear a ton of ruffles and typically steer clear of florals, but I love a good graphic print. These Sam Edelman slides are perfect because they are an amazing print and add an unexpected pop to the outfit. I also love the frayed detailing and ability to knot this super soft chambray shirt. This look keeps it simple but adds those little details that make a simple outfit anything but boring.
Meet Kendall:
Allison Joy Tie Front Top | Paige Denim Hoxton Ankle Jeans
Hi! I'm Kendall, Evereve's Copy Manager. Growing up, I was big into reading and writing, journaling my heart out into countless notebooks and even penning a few unfinished manuscripts that I read aloud to my friends at recess (pause for embarrassment). I always knew I'd make a career out of it, but it wasn't until my first job in retail merchandising that I decided fashion and apparel copywriting was where I wanted to be. I launched a blog to serve as a portfolio, and less than a year later, landed my first copywriting job at a national lifestyle brand. I love connecting with people through stories and style, and I'm excited to finally be here, creating content that I hope you find real, relevant and fun to read.
Outside the office, big things are happening! My fiancé and I just bought our first house, and I cannot wait to have a backyard (and a dishwasher and a garage) and decorate a brand-new space. Between remodeling projects, we're also planning our wedding for next June. There are still lots of details to decide on, but dinner will be wood-fired pizza and does anything else really matter?!
My Style
My style is modern and classic. I like neutral colors, romantic tops and effortless silhouettes with a little something extra—like the fun tie-waist of this blouse. If I'm not wearing high-rise cropped denim, it's a jumpsuit or midi dress (sorry shorts), and my mom taught me to never overlook the outfit X factor: shoes.