We wait all year for summer. School closes and pools open. The days get longer and bedtimes get loose. We dive into camps and vacations and create epic bucket lists, cramming in all that we can and saying yes to just about everything. But even when it's 90 degrees and there's a small pool of sweat somewhere in your bra, it can be hard to say yes to shorts, the thought of wiggling into them a cloud over the whole season.
Pam, a rock-star stylist in our St. Louis Park store, has always avoided shorts, not loving how they fit her athletic legs and emphasize her pear shape—a feeling that heightened after having two kids. But the caramel macchiato connoisseur (venti iced skinny with almond milk and three pumps sugar free vanilla, thankyouverymuch) is ready to soak up every hot day ahead with a few of our favorite no-shorts-required looks—and zero holding back.
Casually Cool Skirt
We wear pencil skirts to work and flowing skirts for special occasions, so it's easy to forget that not all skirts are dressy. But a casual knit or stretchy denim skirt is the perfect low-key option for everything from weekend errands to backyard grilling with your neighborhood crew. Our Sundry Solis Skirt skims your hips, comfortably highlighting your curves while you play lawn games or prep the table. The drawstring gives you the perfect fit, while the asymmetrical hemline with light destruction gives the look a little bit of edge that we love.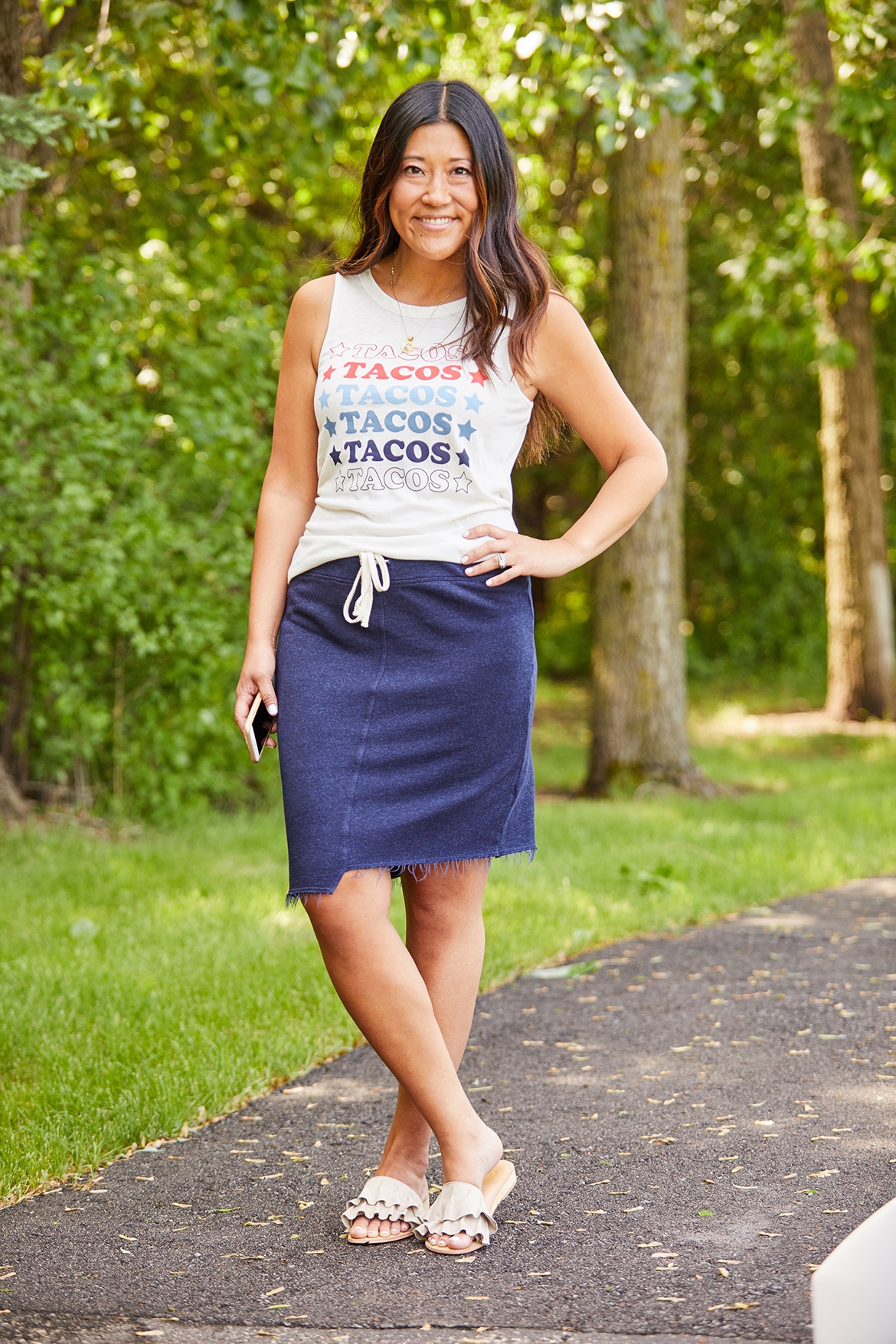 Chaser Taco Star Tee | Sundry Solis Skirt | Rebels Ruffle Slide Sandals
Day to Night Dress
Dresses are one of the easiest options for casual summer days—a one-and-done look that seamlessly takes you from day to night. Made from soft terry that feels like your favorite sweats, our Sanctuary Bryce Lace Up Dress is super comfortable and lightweight enough for a long day in the sun. The braiding detail elongates your shape, short sleeves provide some arm coverage and it looks effortless with a hat and sneakers for those marathon weekends at the baseball field. When it's time to host the post-game team dinner, just switch into slides and add a jacket.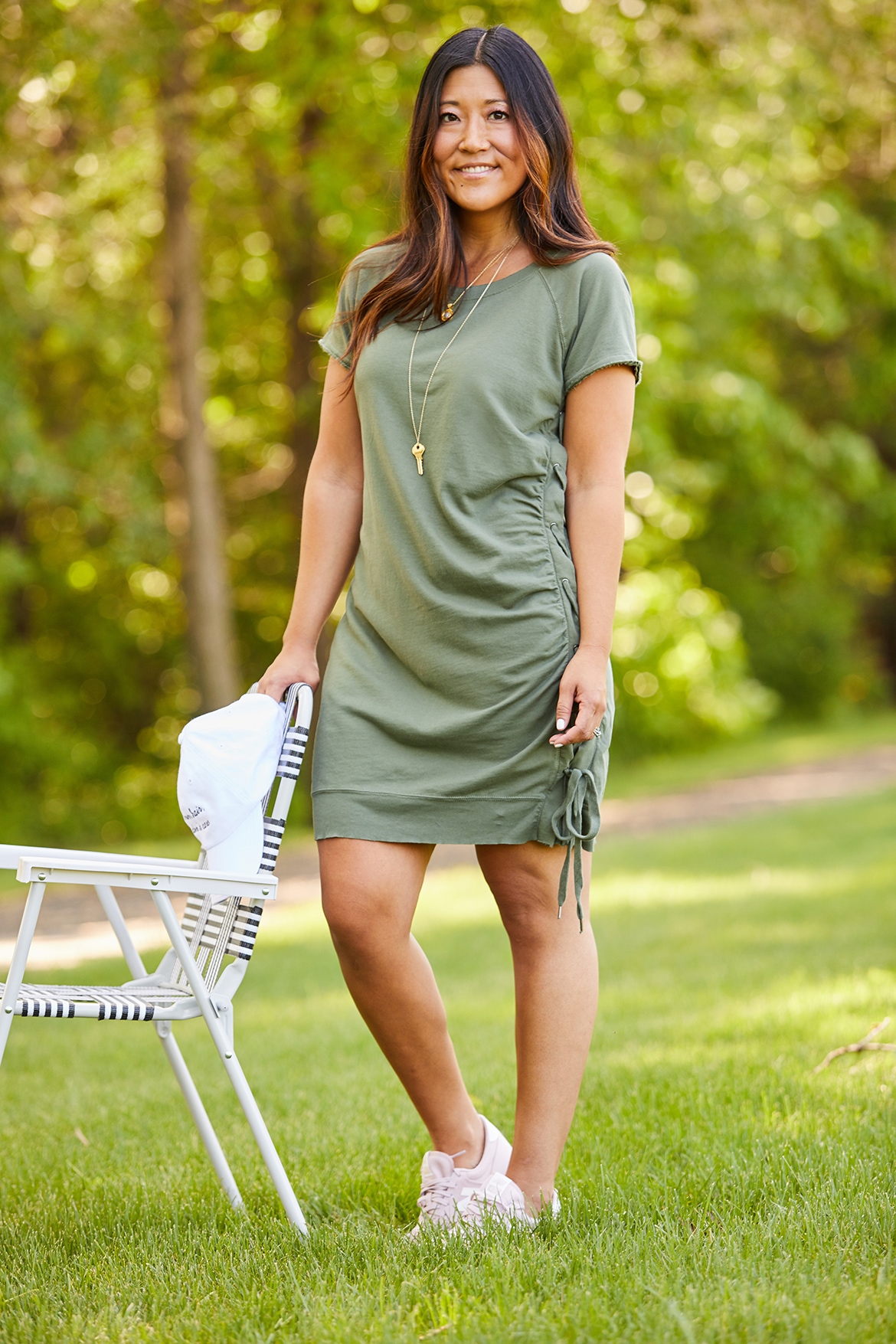 Sanctuary Bryce Lace Up Dress | New Balance 420 Sneakers | Alternative Mom Hair Don't Care Baseball Hat
Breathable Pants
A lightweight pair of cropped pants is the way to go if you're running errands or have an extra-active day planned—they'll keep you covered while sitting pretzel-legged at picnics and comfortable cruising around the zoo all day (no chafing!). Our Sanctuary Camo Terrain Crops are made from lightweight cotton we specifically sourced for sizzling days, and they stretch with you to eliminate pinching through the waist and thighs as you circle back to the chimpanzee exhibit for the sixth time. The cropped length is an easy fit for any height—so you don't need to worry about hemming—and the camo print adds instant cool factor.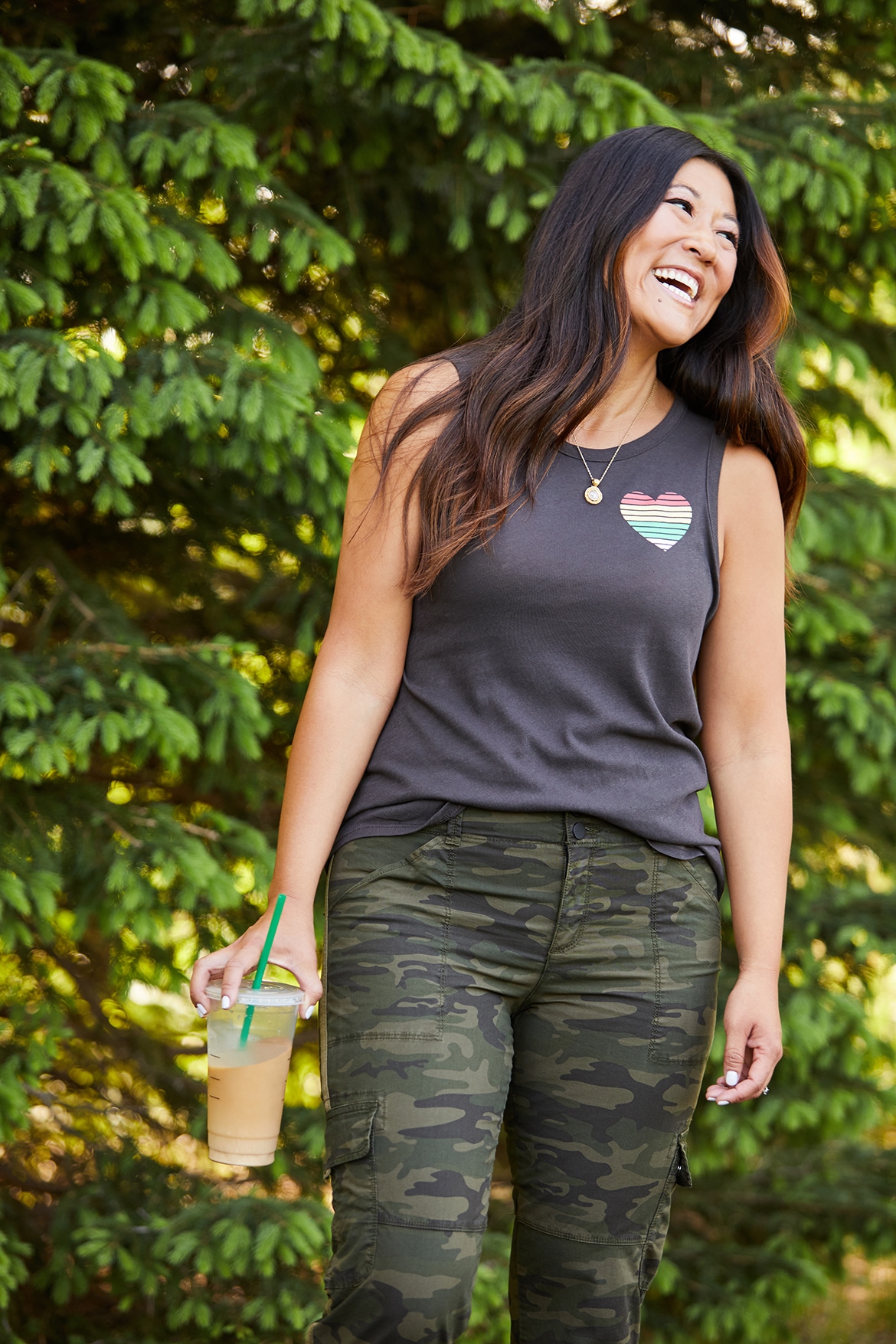 Chaser Heart Rasta Tank | Sanctuary Camo Terrain Crops | J/slides Ellie Sandals
Do you steer clear of shorts? What's your go-to look for hot summer days? Let us know in the comments below!