Summer reading season is here, and we're so excited to share our first Evereve Summer Reading List! The With Heart team has selected their favorite summer reads to share with you. So whether your summer travels take you to the beach, the big city or somewhere in-between, hopefully you will find something on this list to take along to read.
Megan: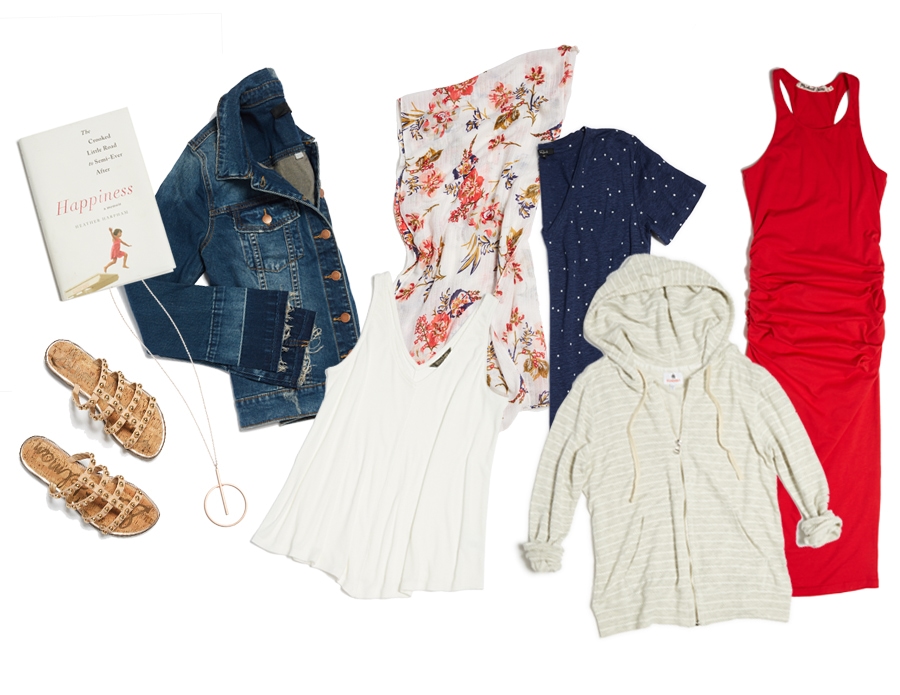 SHOP Perfect pieces for your lake trip: Denim Jacket | Tank | Kimono | Top | Jacket | Dress | Sandals | Necklace
My absolute favorite place to read in the summer is by the lake. To me, there aren't many things in life better than reading a good book in a big chair on the edge of the dock at our lake house.
Imperfect Courage by Jessica Honegger
Jessica Honegger is the founder of Noonday Collection, the fair-trade global jewelry brand that creates meaningful impact for communities around the globe. The book follows the start of Noonday as Jessica works to fund her son's adoption from Rwanda. Through her journey of building the company, she learns to embrace her imperfect courage, exit her comfort zone and live a life of impact for others—and she offers valuable tips to help her readers do the same.
Why I loved it:
You know I could not create a summer reading list without one business book on there! Jessica Honegger is a dear friend and I was so excited to receive an advance copy of this book, out in August. Imperfect Courage is an inspiration not only to entrepreneurs and business leaders, but to anyone seeking to pursue the dreams God puts in their hearts. It is living proof that fashion can play an important part in changing the world and business can be an incredible force for good.
Magnolia Table by Joanna Gaines
A beautiful cookbook that shares over 125 recipes, including Gaines family favorites and the personal stories that accompany them. If you are a fan of the famous HGTV couple or just love to cook and entertain, this book is for you.
Why I loved it:
I know it's unusual to put a cookbook on a summer reading list, but I just bought this one for our lake house. I love paging through cookbooks and dreaming about the food that I hope to make someday—and when I'm at the lake, I usually have extra time to play around in the kitchen and try new things. As a bonus, personal stories from Joanna's life make this more than just a collection of recipes.
An American Marriage by Tayari Jones
Newly married, Roy and Celestial are enjoying the start to their family and dreaming of what their life will be like—until Roy is incarcerated for a crime he did not commit. Told through the lens of three different characters, the reader gets to see how time and circumstance change people. Roy's conviction is eventually overturned, and he returns to Atlanta to resume the life he left behind. What follows is three characters trying to rebuild a life that once was and might never be again.
Why I loved it:
I picked this one up without knowing much about it because it was highly recommended by Oprah and so many women I follow on Instagram. Although it was very different than what I expected, I was immediately drawn into the beautifully written and complex love story—I thought about it for days after I finished reading it.
Heidi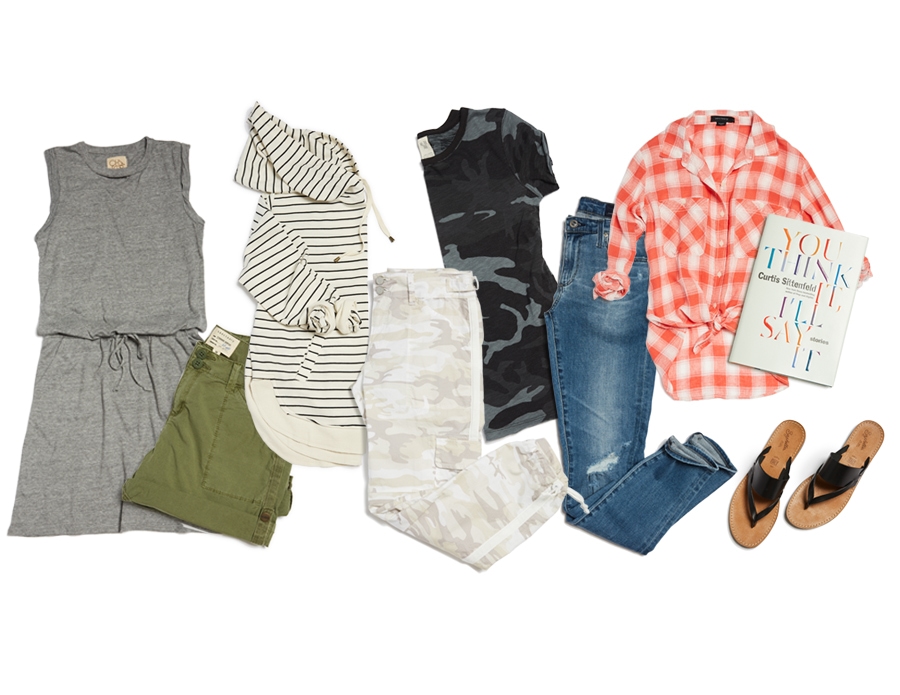 SHOP Perfect for the Mountains: Skort Dress | Shorts | Sweatshirt | Pants | Tee | Jeans | Top | Sandals
Everyone has a happy place—and mine is the mountains. I love the air, breathtaking views and sense of being a small part of a much larger world. My hubs and I are soon heading to Montana for a long weekend with my crazy like a fox brother and spitfire sister-in-law. Golf for the boys will be aplenty and pool time against the backdrop of the mountains promises plenty of reading time for me.
You Think it, I'll Say It by Curtis Sittenfeld
A collection of beautifully and sharply written short stories, each unfolds to reveal a new perspective on the chaotic, unpredictable and ever-changing world around us. With moving insight and uncanny precision, Curtis Sittenfeld pinpoints the decisions, connections and sometimes extraordinary coincidences that make up a life. The author of Prep and Eligible has an uncanny way of diving so deftly into characters' thoughts and behaviors you wonder if she is writing for you or about you.
Why I loved it:
It's an incredibly fast read—perfect for a girls' trip when conversations leisurely start and stop with the passing of time. Each story is unique, but every character is created so clearly that I found myself immediately connecting to each story and yearning for just a little more. And—I'll admit—I'm an author loyalist and believe Curtis can do no wrong.
The Collaborative Way by Lloyd Fickett and Jason Fickett
An unconventional "business" book, The Collaborative Way begins as a story and evolves into a guide of a unique management style that relies on five tenets: Listening Generously, Speaking Straight, Being For Each Other, Honoring Commitments and Acknowledgement and Appreciation. A quick read (only 102 pages), the values and principles packed into this book are not to be overlooked.
Why I loved it:
I'm always searching for new ways to support and inspire my team. As my career has grown, I've gained the unique opportunity to positively influence and mentor a group of incredible women—and I take this responsibility very seriously. I was drawn to this book for its straight talk, and I'm excited to think about how I will be able to foster these ideals both within my team and in my personal life.
Goodnight Stories for Rebel Girls 2 by Francesca Cavallo and Elena Favilli
A collection of over 100 bedtime stories about extraordinary women from all over the world, this book is a fabulous read for all families with school-age kiddos, both female and male. The biographies are written like fairy-tales that inspire and engage readers (and listeners) alike! A great read-together summer series that is sure to spark curiosity with your little.
Why I loved it:
I read Rebel Girls 1 with my daughter Georgia last year and absolutely loved the diversity of female role models that were covered. The creative in me and budding artist in my daughter were enamored with the gorgeous illustrations that accompany each story. We are cracking away at Volume 2 now, and the inclusion of so many visionary contemporaries (Beyoncé anyone?) has prompted further investigation and conversation about these amazing women—and about my daughter's own potential and dreams. Next up: reading the series with my boys. This is a book our family will pass down for generations.
Julia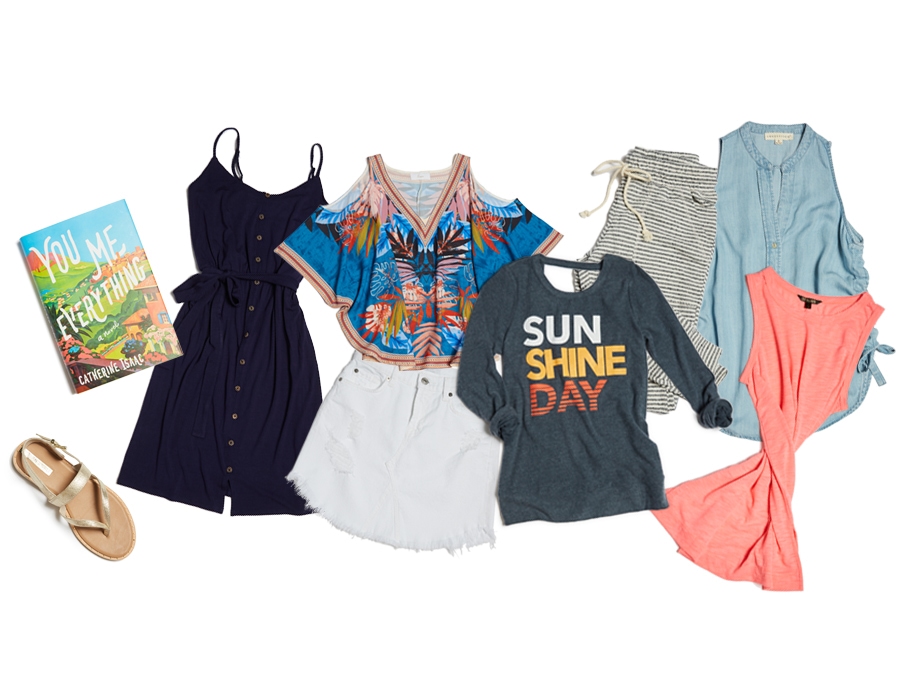 SHOP For your tropical destination: Dress | Skirt | Top | Sweatshirt | Jogger | Top | Tank | Sandals
Our summer vacation is going to be spent at the beach this year and that is where I get the majority of my reading done. A little-known fact about me: I actually live in Birmingham, AL, not Minneapolis. One of the great things about Birmingham is we can be at the beach in less than five hours, so we spend a ton of time down there during the summer months. You can always find me under my beach umbrella or poolside reading a good book.
Still Me by Jojo Moyes
This book follows Louisa Clark, the quirky lead character we all grew to know and love in Me Before You, as she embarks on a journey to New York City. She has gotten a job as a personal assistant to a wealthy woman, but it means having to leave her new love and the life she built in London behind. While Louisa struggles to find her footing in the world of the super-rich, she finds an ally in the most unusual place. In the end, Louisa has to decide whether she is willing to take a chance to chase a dream or go back to the safety of what she has always known.
Why I loved it:
I have read all of the Jojo Moyes books in this series and loved them all. This one did not disappoint. If you have followed the Louisa Clark character through all three of the books in this trilogy, then you will really enjoy the way that Jojo Moyes grows and develops her character. The love story between Louisa and "Ambulance Sam" is a hook, but the true winner of the story is seeing Louisa come into her own. A definite must-read if you are headed to the beach this summer.
You Me Everything by Catherine Isaac
After calling it quits with her boyfriend shortly after her son William's birth, Jessica is convinced she can raise her little boy on her own. However, a family medical event forces her to question that decision, so she embarks on a summer in France to visit William's father, Adam. Will a summer at the castle that Adam restored be enough to forge a bond between a father and son and heal the relationship between Jessica and Adam? As the story unfolds, we realize that a secret that Jessica has been hiding makes the success of this summer about more than just the building of a bond between Adam and William.
Why I loved it:
This book was so good that I read it in less than 24 hours. It was a page-turner with such a beautiful story and an unexpected ending. It is both heartbreaking and hopeful, and I truly became emotionally involved in the characters in this book—the sign of a must-read. The story brings into focus what a mother's love for her child makes her willing and able to do. Run—don't walk—to your nearest library or book store and grab this one for your next vacation.
The Alice Network by Kate Quinn:
The Alice Network follows Charlie St. Clair's quest to find her cousin, Rose, in post-World War II Europe. She has searched for her cousin through every means possible and the trail ends with Eve Gardiner, a former World War I spy. The unlikely duo pair up to travel Europe in search of the answers Charlie is desperately looking for regarding Rose's whereabouts. What unfolds on this journey is the story of the primarily female spy network that infiltrated Germany during the war. Along the way, we learn about the demons both women carry and the journey that ends in them discovering who they truly are.
Why I loved It:
If you like intrigue and suspense, but don't like being scared out of your mind or sleeping with one eye open, this is the book for you. I typically am not drawn to these types of stories, but I read so many good reviews on this book that I had to check it out. I loved the telling of the two different perspectives of the characters in the book and the way those stories intertwined. In the end, the whole book was about slaying your personal demons and being content in the life that you have, even if it is not the one you expected.
Kendall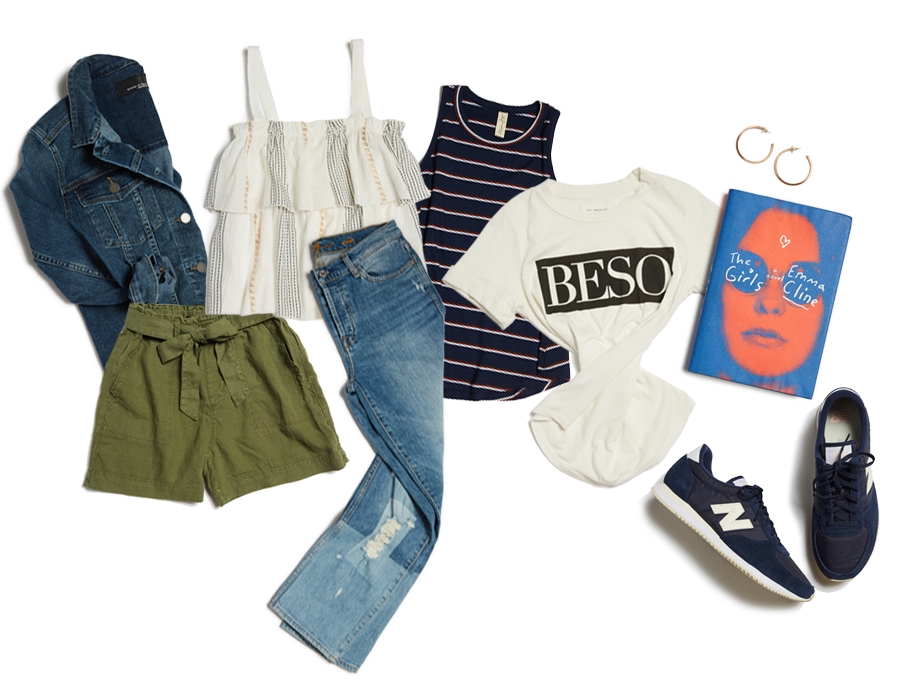 SHOP For days and nights in the big city: Jacket | Shorts | Tank | Jeans | Tank | Tee | Sneakers | Earrings
Over Memorial Day weekend, my fiancé, younger sister and I flew to Denver to visit my older sister. While saving to buy our house, Chris and I skipped several vacations, and it felt so good to finally get back on a plane! I packed lots of leggings, joggers and easy tees for hiking and exploring, plus a few fun tops for going out at night. The highlight of the trip was seeing Haim perform at Red Rocks—but I was also excited to have some time to read, both during the flights and drives to the mountains. Here are the books I brought with me to the Mile High City!
The Girls by Emma Cline
Loosely based on the Charles Manson murders, this is the coming of age story of an impressionable fourteen-year-old growing up in 1960s California. Searching for belonging, Evie Boyd sees a beautiful group of girls in the park one day. Romanticizing the lives she believes they lead, Evie is swiftly caught up in their dangerous cult and faces a moment that could change the course of her life.
Why I Loved It:
As the debut novel from a 29-year-old who reportedly earned $2 million for the manuscript, I immediately added this to my nightstand queue! I was captivated by the setting surrounding the cult and the notion that one trivial moment can derail the lives of good-intentioned people. The universal themes of loneliness and desire for acceptance combined with Cline's impeccable writing kept me hanging on every word.
The Woman in Cabin 10 by Ruth Ware
A young travel journalist boards a beautiful boutique cruise ship bound for Scandinavia, hoping to launch her career to the next level. But when she meets a suspicious young woman and hears a splash that sounds too much like a body going overboard, she desperately sets after a new scoop: to find out what happened to the woman in cabin 10—while staying afloat herself.
Why I loved it:
I loved Sharp Objects, Dark Places and Gone Girl and picked this up after hearing it was a good fit for Gillian Flynn fans. A true page-turner with twists that keep you on the edge, this is the book that got me back into reading consistently after too many nights of Netflix binges—I couldn't put it down until the case was cracked.
Everything I Never Told You by Celeste Ng
This is a unique story about a mixed Chinese-American family living in small-town Ohio in the 1970s. The book opens with the favorite Lee child found dead in a lake, and as the pages unfold you embark on a journey to discover how the unfulfilled dreams and secrets of her mother and father precipitated the tragedy.
Why I loved it:
I'm strangely drawn to family dramas—it's somehow comforting to read about the dysfunction in other families and to be assured that no one is perfect! And the portrait of the Lees navigating life as "others" combined with the suspense surrounding Lydia's death was a gripping combination. It was so interesting to hear the story told from each family member as they experienced the same situations very differently.
What are you excited to read this summer? Share the books on your current reading list in the comments below!