Have you booked your summer vacation yet? Disney World, Yellowstone and white sandy beaches are great, but our fashion director is doing her family getaway a little different this season—and we love it! Heidi grew up visiting her grandparents in Seattle every year. First generation German immigrants, they lived in a neighborhood of families from all over the world, and Heidi wants to share the special memories made there with her three kids, while making new ones. There's something about visiting a city—experiencing the culture, food and unique rhythms of a new part of the world—that feels exciting in a different way than riding every rollercoaster in a theme park, don't you think? We caught up with Heidi before she takes off to find out what's going inside her Seattle suitcase—so if you're up for trying something new this summer with an urban adventure, your bag is already packed!
After the kiddos' bags are packed, it's time to focus on your own—and with Heidi's tips, the process is painless. Choose pieces within a similar color palette so you can mix and match everything throughout the week. Stick with mostly knit or brushed fabrics that don't require ironing and skip the heels for city adventures. If you won't wear it more than once, don't pack it—those pretty stilettos are just taking up valuable suitcase space that you could use for souvenirs on the way home (and you know there will be souvenirs). For the flight, a black knit skirt seamlessly takes you from one climate to the next and won't show any mid-flight grime, spills or wrinkles. Wear your heaviest layer—a versatile denim jacket is an investment worth making—to save space in your suitcase and keep you comfortable in chilly airport terminals.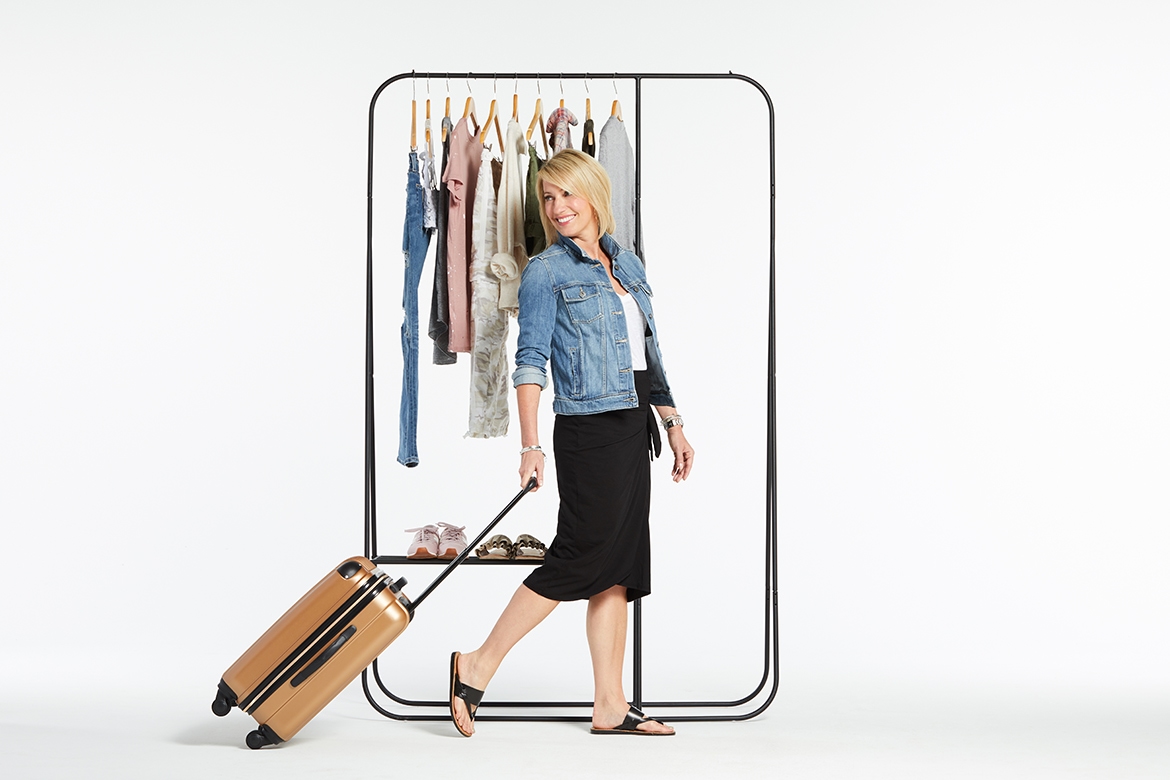 Shop Heidi's travel look: Paige Denim Jacket (sold out, similar here—Heidi is 5'4″ and wearing size XS) | Michael Stars Tee (one size) | Michael Stars Skirt (wearing size XS) | Seychelles Sandals (wearing size 6)
Once you land, you need an easy uniform to ease the transition to a new place and time zone. When you wake up in an unfamiliar hotel room and aren't quite ready for a real bra, our Free People bralette is your go-to—you could actually sleep in it to make the morning scramble even smoother. Your beloved espresso machine probably won't fit in your suitcase, but our Good Vibes graphic tee will put you in a good mood as you venture out in search of the nearest local coffeehouse. Wear it with denim leggings and an off-the-shoulder sweatshirt for cooler mornings as you plan your day over breakfast.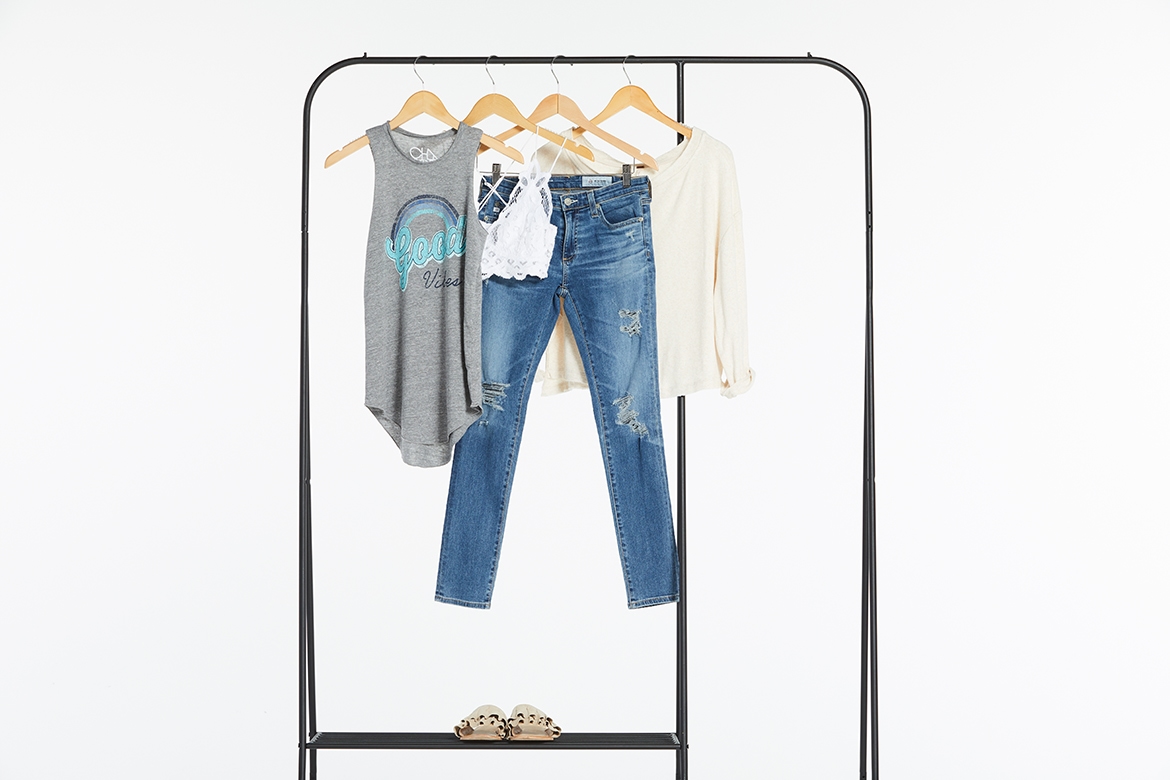 Shop the look: Chaser Tank | Free People Bralette (3 colors) | AG Jeans | Free People Sweatshirt | Rebels Slides
As the week gets rolling, you have to be prepared for lots of variety and lots of walking. A lightweight cotton button-down can be worn as a jacket if a cool breeze blows off the Sound or tied around your waist while lunching on a sun-drenched patio. Joggers or utility pants are a little lighter than denim for trekking around the city, and our Sanctuary Terrain Crops are some of our favorites. They make it easy to get on your kiddos' level to inspect the catch of the day at Pike Place together, and they have you covered if you end up at a restaurant where jeans are too casual. Comfy and cute sneakers will keep your feet happy as you explore museums and tour the storefronts and sidewalks of the Seattle Underground.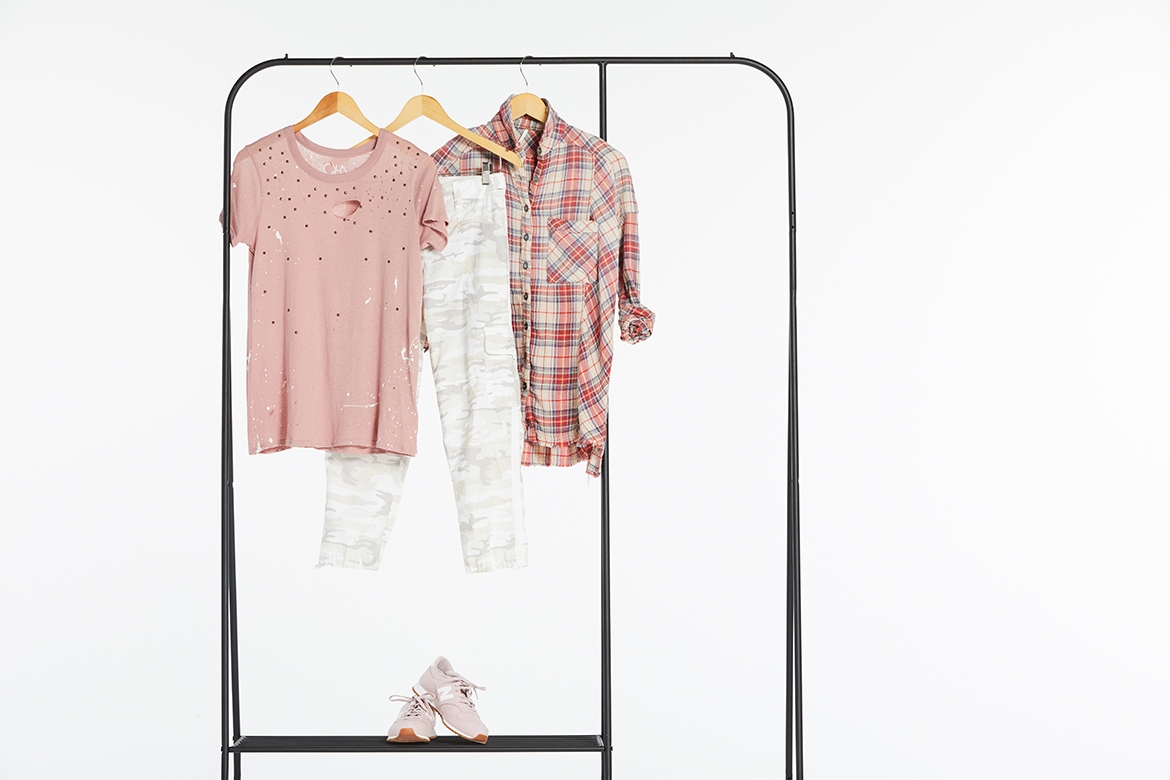 Shop the look: Chaser Tee | Sanctuary Pants | Free People Button-down | New Balance Sneakers
Don't forget to pack at least one outfit that you can pull out for special experiences. An easy knit dress is more elevated than your jeans and joggers for dinner at the Space Needle (and you can wear it during the day, too). The adjustable waist lets you get your most flattering fit and the subtle scoop neckline shows a hint of skin or peek of your bralette—just because it's a family trip doesn't mean you can't flirt with your spouse! Wear it with an unexpected long cardigan to give the look a little more interest.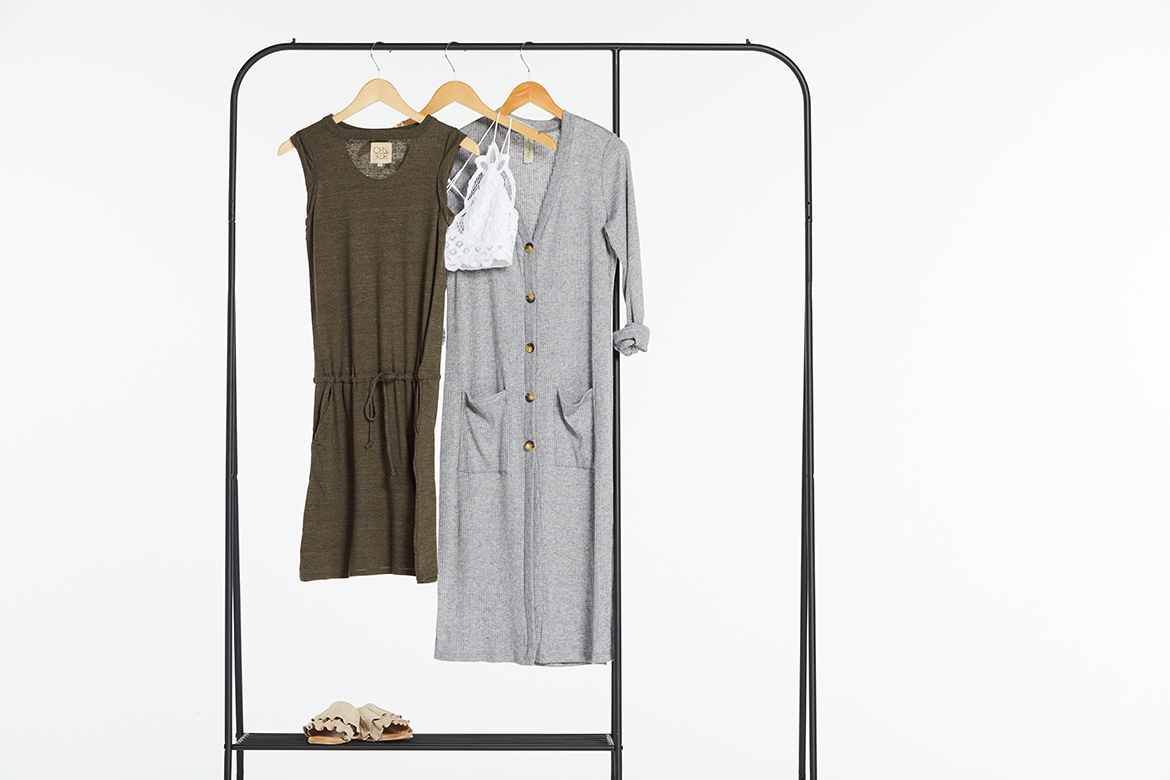 Shop the look: Chaser Dress | Free People Bralette | Allison Joy Cardigan | Rebels Slides
Once you decide what to pack, figuring out how to pack can be a struggle (um, dump everything in at the last minute?). Heidi follows these simple steps to maximize suitcase space, keep her clothes wrinkle-free from here to there—and start vacation on the right foot.
Put your dresses in first, perpendicular to the top of your bag.
Add anything else that is longer (like a long cardigan and pants) in next, parallel to the top of your bag.
Half-fold everything else and stack on top.
Wrap everything up in the reverse order, so the dress folds into your bag last. This creates a cushion instead of a flat fold so that nothing gets wrinkled and leaves room for your shoes on the sides.
Once you wear something, roll it up—when you get home, it will be easy to see what needs to be washed and what doesn't.
Would you trade your beach vacation for an urban adventure? What new city are you excited to explore this summer?