I believe we can all agree that there is a difference between a vacation and a trip. Vacations typically involve sitting on a tropical island, a fruity drink in your hand, with just your significant other or friends by your side. A trip on the other hand is the opposite of that. It typically involves kids who are off their schedule, overtired and melting down. Regardless of the meltdowns and the stress that goes into getting a family ready to go on vacation, a family trip is one of the best chances to build lifelong memories. My parents instilled a love of travel in me from a very young age and some of my best childhood memories are from our family's travels. My husband and I have tried to instill a love of travel, curiosity and adventure in our own kids and love to travel with them. Since we have done a bit of travelling with our kids, I want to share some tried and true tips for not just surviving this year's family vacation, but making it a huge success.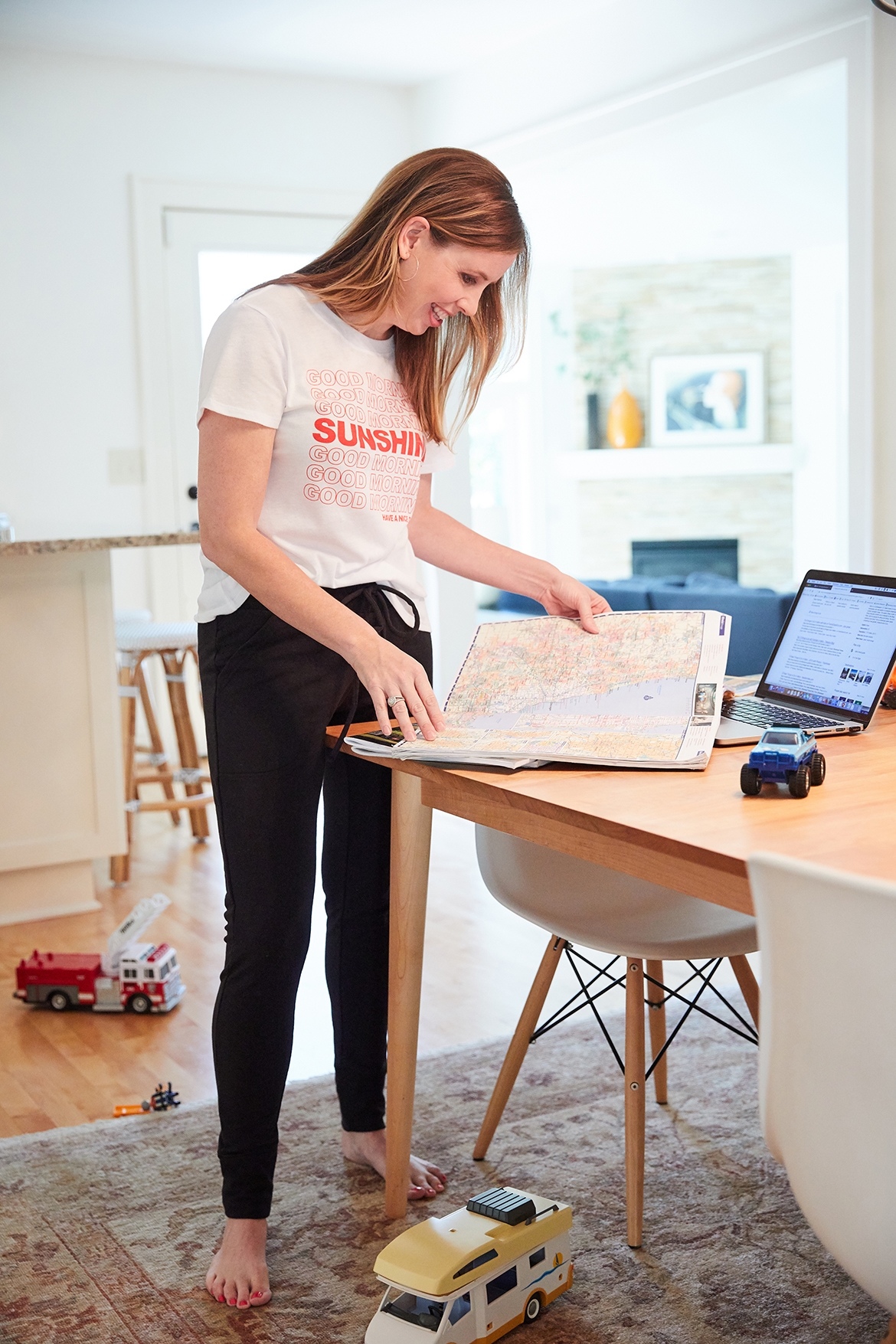 Sub Urban Riot Tee (Julia is wearing size small) | Free People People Jogger (Julia is wearing a size small)
Choose Your Destination Wisely. I am not suggesting that all family vacations involve a trip to Disney, but you want to make sure that you are choosing a destination that will fit the age and stage of life that your kids are in. One of the things that I like to do is plan trips around things that the kids are studying in school. For instance, when the boys start learning about colonial history or the Revolutionary War we will take trips to places like Williamsburg or Boston. On the flip side, don't plan a trip where you will be spending all day in and out of art museums if you know that will make it difficult for your young kids to behave and be engaged. Knowing your kids' interests—and their limits—will make for a much less stressful, more enjoyable trip for everyone.
Plan, Plan, And Plan Some More. I have never been a spontaneous kind of girl when it comes to planning travel. I feel like I haven't really visited a place if I haven't seen the sites, taken the tours and visited the destinations. I know this is definitely not everyone's cup of tea, but I will say it is a definite benefit when it comes to traveling with kids. Before we take a trip, I spend a lot of time researching our destination city. I like to have a plan for kid-friendly places to eat, modes of transportation and routes to get us to the places we want to go, tickets to any attractions we will be visiting to eliminate time spent waiting in line, and a list of kid-friendly activities and attractions we want to visit. We took our boys, ages eight and six, to New York City for Spring Break, and I can promise you that when you are in a new city, this advanced planning will be a life saver.
Make a List and Check it a Million Times. If you didn't gather from the above tip, I am a planner by nature. Some might call me a control freak (#dontjudge), but it just makes me feel so much calmer when I am organized going into a trip. We all know that as moms, the responsibility for getting the entire family packed and ready for a trip falls squarely on our shoulders (I am looking at you husbands). It is so easy to forget something in the chaos of trying to remember EVERYTHING, we typically end up forgetting something critical. Nobody wants to arrive at their final destination and realize Mom forgot to pack everyone's underwear. That is why for big trips, I typically make a packing list in Excel—again #dontjudge—that includes everything we will need for the trip down to the boys' favorite stuffed animals.Allison Joy Tank (Julia wearing a size small) | Allison Joy Cardigan (wearing size small) | Sanctuary Shorts (wearing size 26) | Kut from the Kloth Jacket (wearing size small)
Know Your Kids' Limits. All the planning, list making and advance preparation in the world will not help if you are pushing your kids past their breaking point on vacation. When we traveled while our kids were still young, we would try as hard as we could to maintain their schedules. That meant breaking for nap in the middle of the day and spending more than one night sitting in a dark hotel room because we wanted the boys to go to bed as close as possible to their normal time. I know it is so tempting to spend one more hour on the beach, squeeze in one more attraction to visit, or hop on one more ride, but at the end of the day if the kids are over-tired and miserable, everyone in the family will be miserable.

(Why does no one tell you that when you look up the definition of mom in the dictionary it says sherpa? I am constantly lugging thirty different things for everyone on vacation!)
Have Fun! I know some of these tips make it seem like I am sucking all of the fun out of a vacation, but I promise I am not. Even with advance planning, I still love to deviate from the path, do things not on the schedule, or change plans on the fly based on what the kids want to do. Some of my favorite travel memories from childhood involve spontaneous silly moments, like a family sing-a-long or a disastrous trip on a tandem bike (true story). None of these moments could ever have been planned, but those are what stick out in my mind. Make sure that you remember: above all else, a family vacation is a chance to spend time with the people you love most and make memories— so let go, let loose and have fun!Allison Joy Tank (Julia wearing a size small) | Allison Joy Cardigan (wearing size small) | Sanctuary Shorts (wearing size 26) | Seychelles Sandals (wearing size 7.5)


We are always on the lookout for more great trips for traveling with kids. We would love for you to share some of your tried and true tips with us below.