Do you ever wish you could take a summer vacation? We aren't talking about anything elaborate—just one day where you could check out from all of your responsibilities and do whatever you wanted. Maybe you would take a friend or your partner—or even just yourself—and spend time doing the things you always wish you had time to do, but never get around to.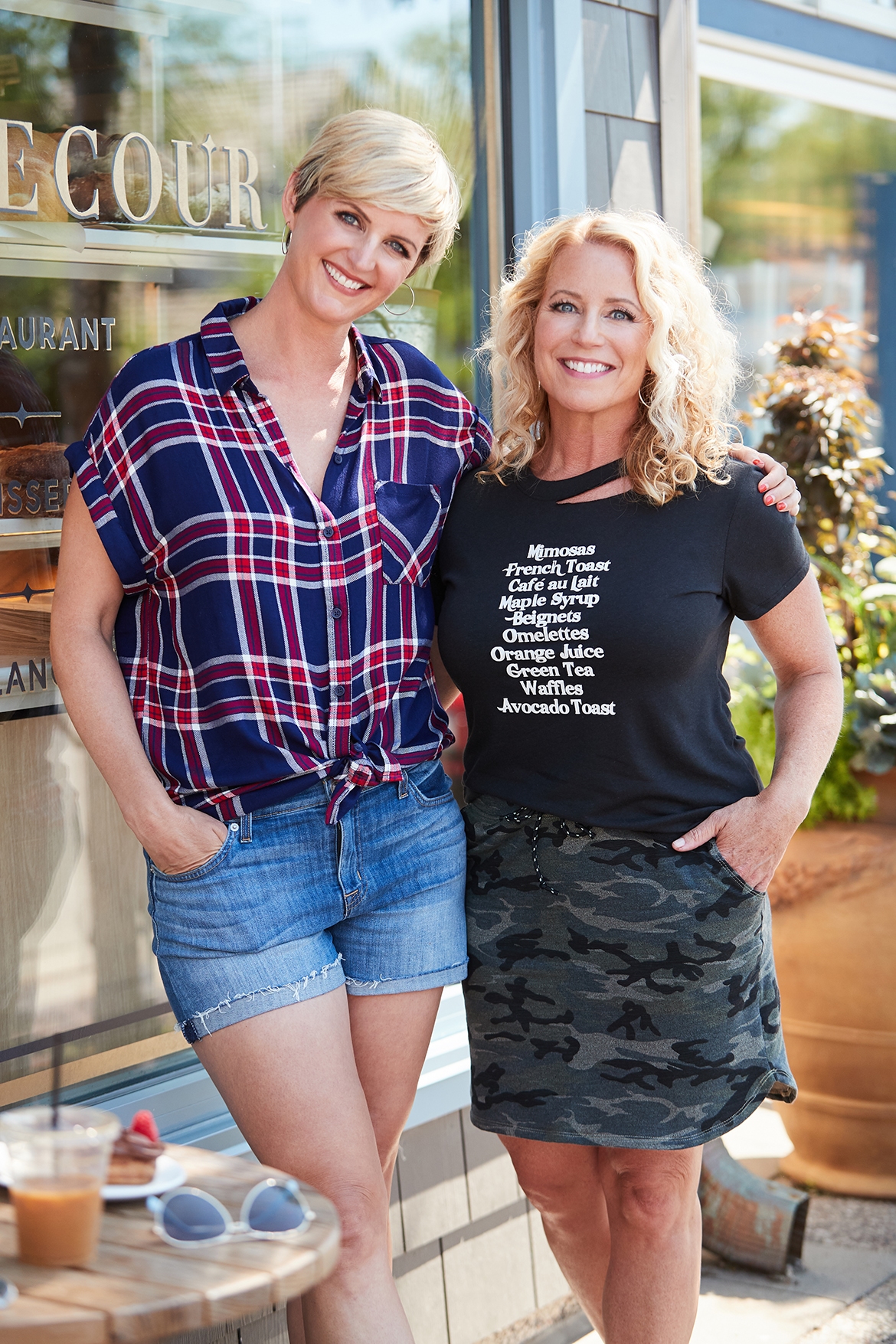 On Sara (Left): Allison Joy Plaid Top | Hudson Denim Shorts
On Sarah (Right) Sub Urban Riot Tee | Sundry Camo Skirt
As multitasking women, it's hard to carve time out for ourselves and our relationships. Sometimes the people that mean the most to us get pushed to the bottom of the priority list. This summer, schedule a vacation day for yourself. Take a day off work, schedule a babysitter, sign the kids up for a camp—whatever it takes to give you one full day of freedom to just do you. We challenged one of our own employees to take a getaway for a day, and she and her girlfriend let us tag along on their lakeside shopping trip. They spent the day in Wayzata shopping along the beautiful shores of Lake Minnetonka and then ended the day with a happy hour at Cov, one of our favorite spots for dinner, drinks, and beautiful lake views.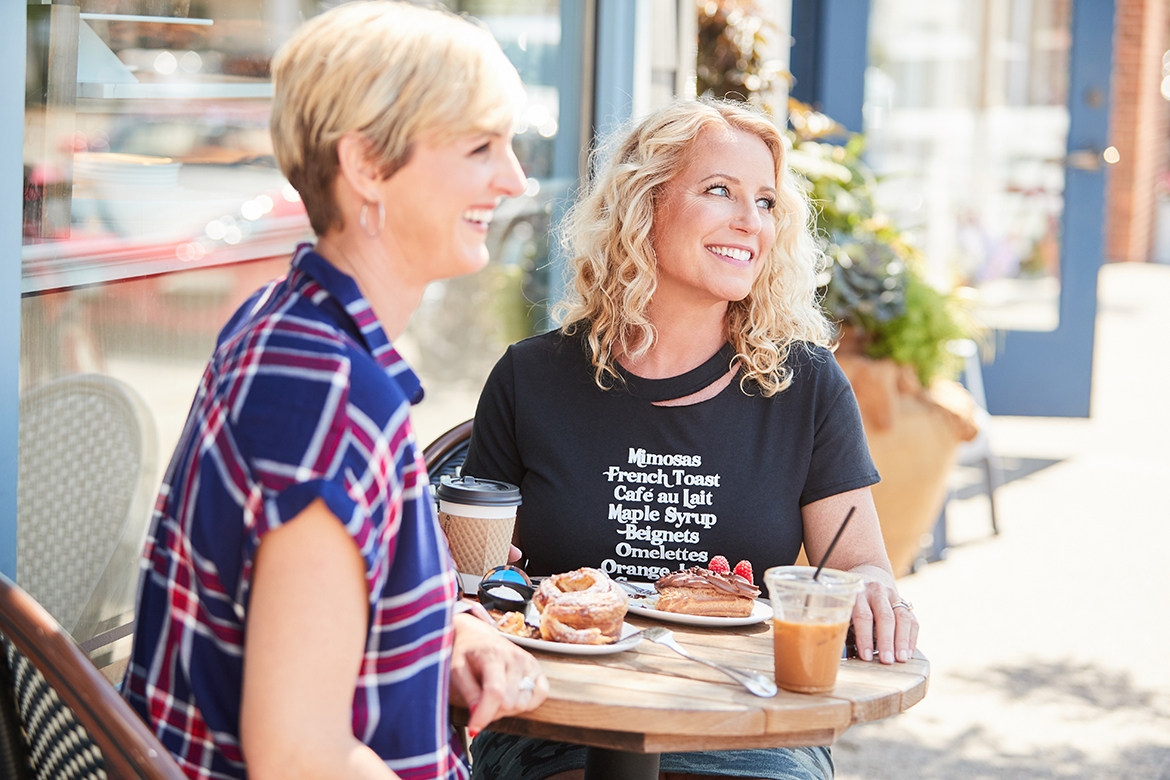 Meet Sara and Sarah
Sara, below left, is a planner on the Evereve buying team and has served Evereve in many different capacities throughout her long career here. In fact, she was one of our first employees! She and her best friend, Sarah, met through their kids, how many great mom friendships begin. Because they both have full-time jobs and children with busy sports and life schedules, it can be really hard to fit in time just to themselves. They both love shopping so when they decided to take a summer vacation day together, they thought they would hit some stores and spend time recharging doing something they both love. Sarah had such a good analogy about the importance of spending time just doing something that you love to recharge every once in a while. She said, "Think of it as putting your own air mask on first when you're on a plane—if Mom isn't breathing, how can anyone else?".
On Sara (Left): Michael Stars Dress | On Sarah (Right): Allison Joy Jumpsuit | Kenneth Cole Sandals
10 Ways to Take a Summer Vacation:
Be a tourist in your own city. Sign up for a bike tour of your city and learn the history of where you live.
Get outdoors. Find a local park that offers zip-lining, take a hike, head out on a paddleboard or rent a boat and spend the day out on a lake.
Relax. Try reflexology—a cheaper alternative to a massage—and get your nails done.
Eat. Book a cooking class at a cooking school or take a walking food or brewery tour in your city. Book a reservation at a restaurant you have been dying to try. There is no shame in eating alone!
Shop til you drop. This one needs no explanation, but we all could use some retail therapy every once in a while.
Be entertained. Go see that movie you have been dying to see—the one without cartoon characters in it. Or check out a local band or concert in the park.
Get cultured. Visit your city's art museum or take in a matinee performance by the ballet or local theatre company.
Binge it. Who says you have to be active on your summer vacation day? Stay in bed, binge-watch your favorite show, order take-out—and don't feel guilty about it at all.
Get your sweat on. Maybe you never have time to get in a tennis match or a golf game anymore. Or perhaps there has been a new Pilates or spin class you are dying to try. Put on your work out gear and sweat your way through your vacation day. You can be one of the only people in history that gets fit on their vacation.
Sleep through it. If you are a mom, you know that nothing sounds more luxurious than a full day to catch up on sleep. If you really want to splurge, book yourself a hotel room and sleep in the dark luxury of a place you don't have to clean up. Maybe you can even swing an overnight trip if you are really lucky.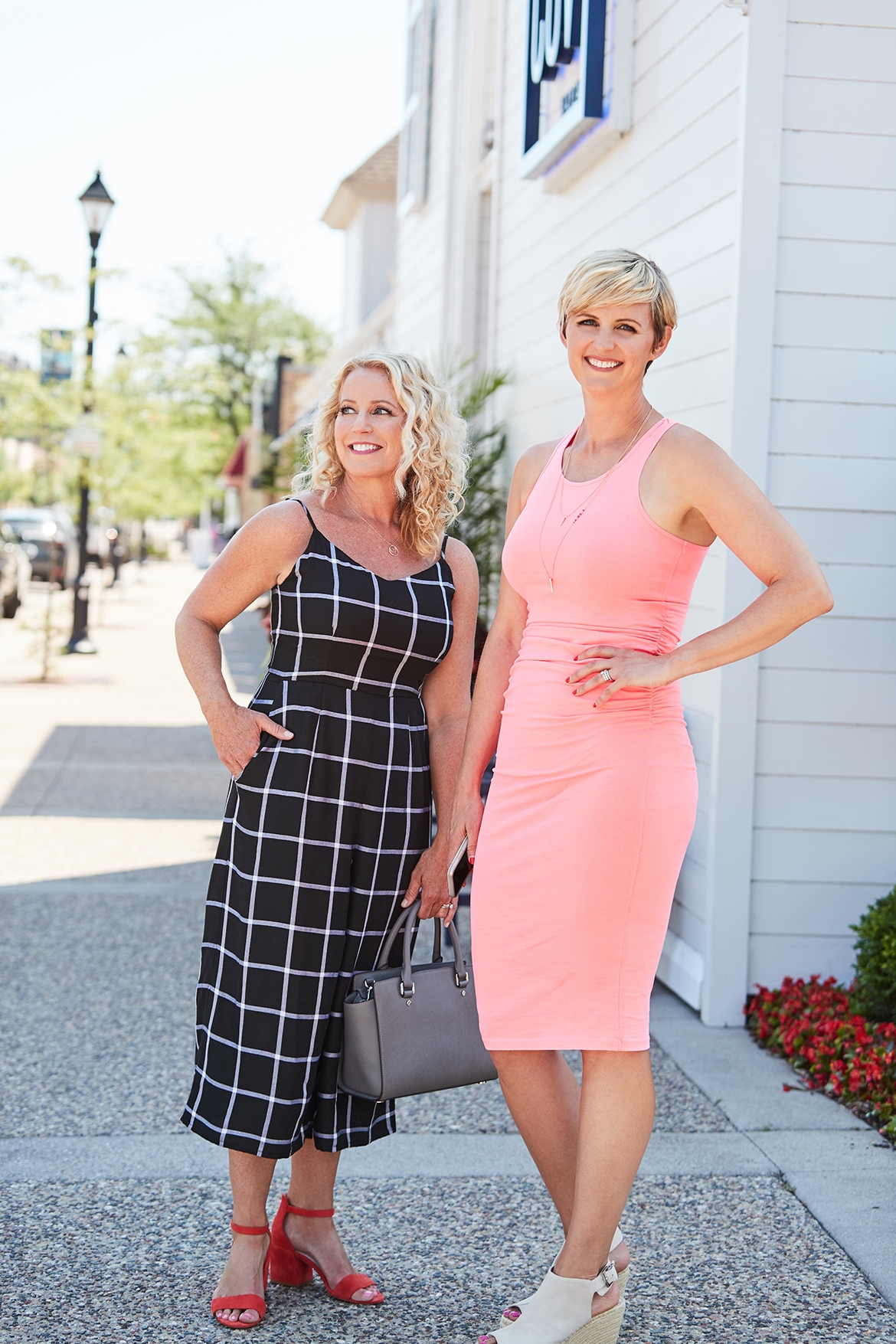 Fit and Sizing: Sarah is 5′ 4″ and wears a size medium in tops, a size medium or 8 in bottoms and a size 9 in shoes. Sara is 5'10" and wears a size medium in tops, a size medium or 8 in bottoms and a size 10 in shoes.
If you could take one day off, just for yourself, what would you do?