Do you hear that? It is the sound of school bells ringing. It is also the sound of moms across America cheering. Summer is such a fun, family-filled time, but let's be honest, it can also be stressful and a lot of work. If you are a working mom, it is the never-ending juggle of camps and babysitters, as well as the sight of all of your money flying out the door to said camps and babysitters. If you are a stay-at-home mom, it is the constant chorus of I'm bored or hungry or bored and hungry that sometimes feels like it will never end. It is enough to drive even the strongest mom behind the safety of the locked bathroom door. We get it. That is why we want to encourage you to fully embrace this back-to-school season and truly celebrate Mom's New Year.
What exactly is Mom's New Year? Have you ever made resolutions at the start of the new school year or maybe established a new routine to guide your days or even celebrated the back to school period with a get together with girlfriends? If you have done any of these things, then you have been unknowingly celebrating Mom's New Year. While this time of year can be emotionally charged—for mama as well as the kids—it is perfectly fine to acknowledge the closing of one chapter and recognizing the beginning of a new one. Celebrate this time and stage in your life! Celebrate all the fun you had over the summer. Celebrate the comfort and familiarity that the school routine brings. Celebrate that your kids are back in school and you can get a little bit of your life back. Celebrate the fact that you survived another summer with your sanity intact and the kids still healthy and happy. It is time to party. So whether you are working to set a mini-resolution or planning a huge bash for your girlfriends to let loose, take advantage of the little bit of extra free time that comes with the school year and focus on you.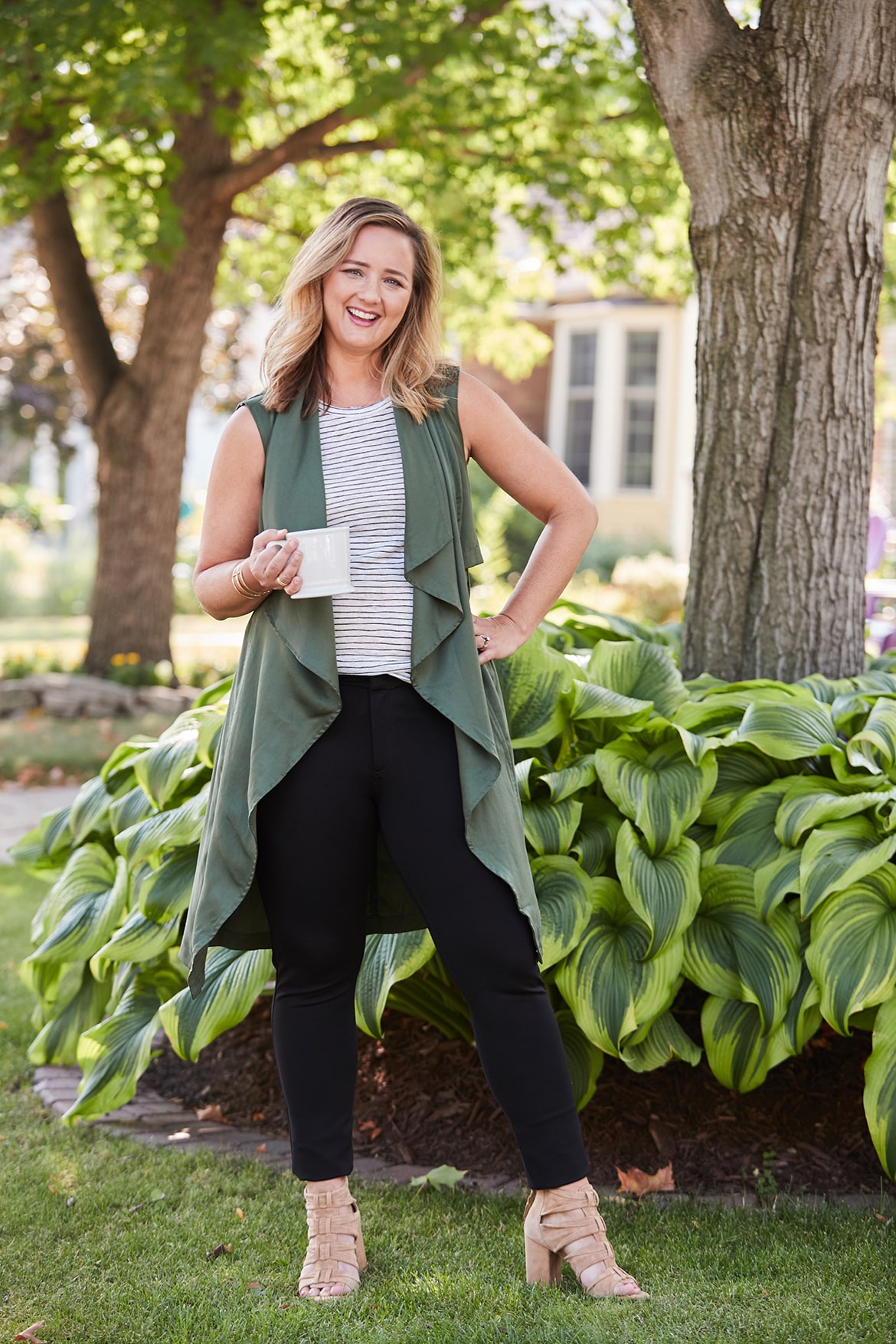 On Teri: Cupcakes and Cashmere Vest | Allison Joy Striped Tank | Kut From The Kloth Pants | Splendid Heels
Teri, mom of two and our Creative Project Manager, has a very close-knit group of neighbors made up of five women who are moms to thirteen kids ranging in age from second grade to eighth grade. They have an amazingly eclectic background that varies from former Art History professor to a member of a band to a working mom and two stay-at-home moms. They are an inspiration because they all have different goals and hopes for the back-to-school time period.
Teri often feels a little bit bittersweet about summer coming to a close—and she freely admits that her kids feel more bitter than sweet about it. This has been a transition year for Teri because her youngest is starting middle school. They have had to say good-bye to the school they have known and grown up in and are moving on to a new chapter. That is causing a little bit of extra emotion on Teri's part, so she is so grateful that she has a group of girlfriends who have walked this path before her and will be there to support her during this transition.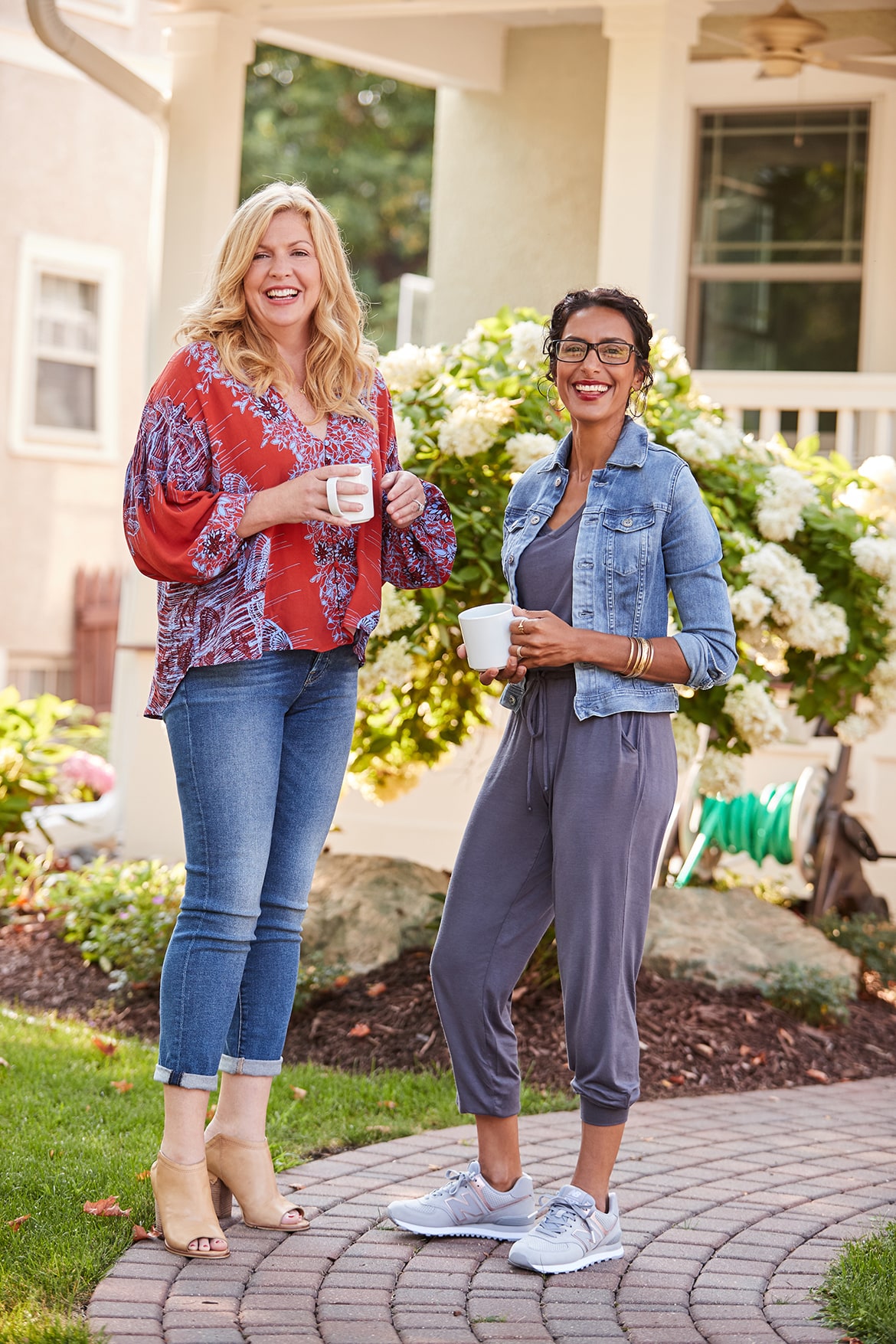 On Nicki (Left): Free People Top | Articles of Society Cuffed Jeans
On Nassim (Right): Michael Stars Jumpsuit | Kut from the Kloth Denim Jacket | New Balance Sneakers
Nicki, mom of two, is a member of a band and last fall decided to start taking voiceover lessons. She took the summer off from pursuing this dream but is headed back into the studio now that school is back to record a demo and get her website site up and running. Going for your dreams and trying something unknown can be scary, but she is not letting fear get in the way of her chasing what she wants.
Nassim, mom of three girls, is making some bold choices to start the new school year off and we are so impressed. She has decided to delete social media off of her phone! What a bold step and one that will surely free up her time to pursue other ambitions. We wish we could say that we were brave enough to make that leap. She is also going to work hard at getting back into a healthy lifestyle—both physically and mentally—and has plans to work meditation back into her day to feel more centered and balanced.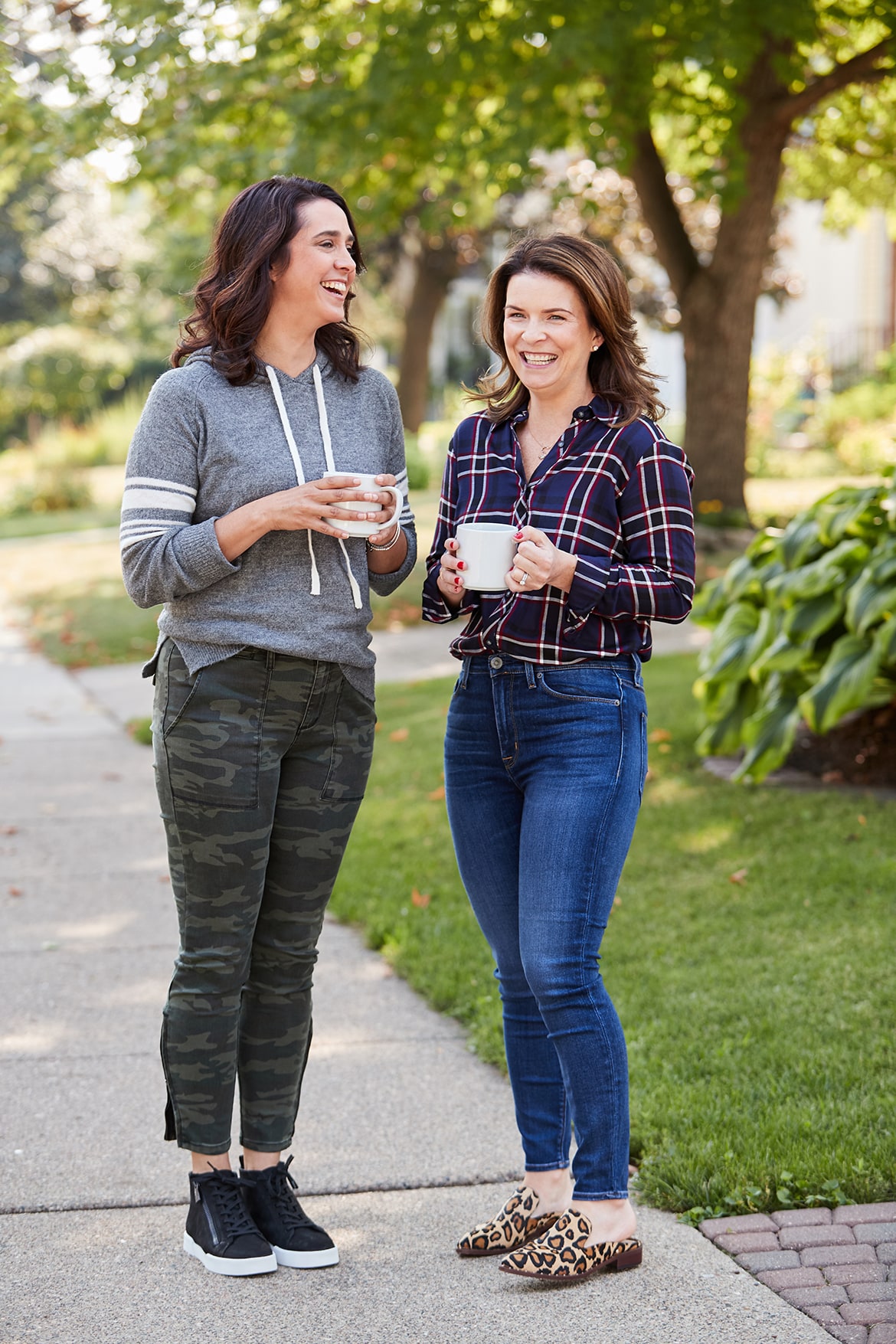 On Allison (left): Heartloom Hooded Sweater | Sanctuary Camo Chinos | Kenneth Cole Sneakers
On Shawna (right): Michael Stars Plaid Button Down | Hudson Barbara Jeans | Sam Edelman Leopard Print Loafers
Shawna, mom of three, who is wearing the fantastic plaid button down from Michael Stars, is making all of our Mom's New Year's resolutions come true and had a couple of great ideas to get the school year started off with a bang. She spends the entire first week of school purging and organizing her home to get it back in order after the craziness of summer. She also decided to set aside one hour each week to work on a project that she has been putting off. She is starting with tackling all of the family photos that are currently sitting on cameras, computers, and phones. We don't know about you guys, but we definitely could use a Shawna in our lives.
Allison, mom of three, is focusing on self-care. Self-care is something that can fall by the wayside during the school year. No one wants to take their kids to their doctor appointments, hair appointments or to get a manicure. There is nothing less relaxing than having your kids with you at those things. Allison catches up on all of those self-care appointments and tasks that she has been putting off over the summer. While it might not be glamorous, taking care of yourself is such an important component of self-care.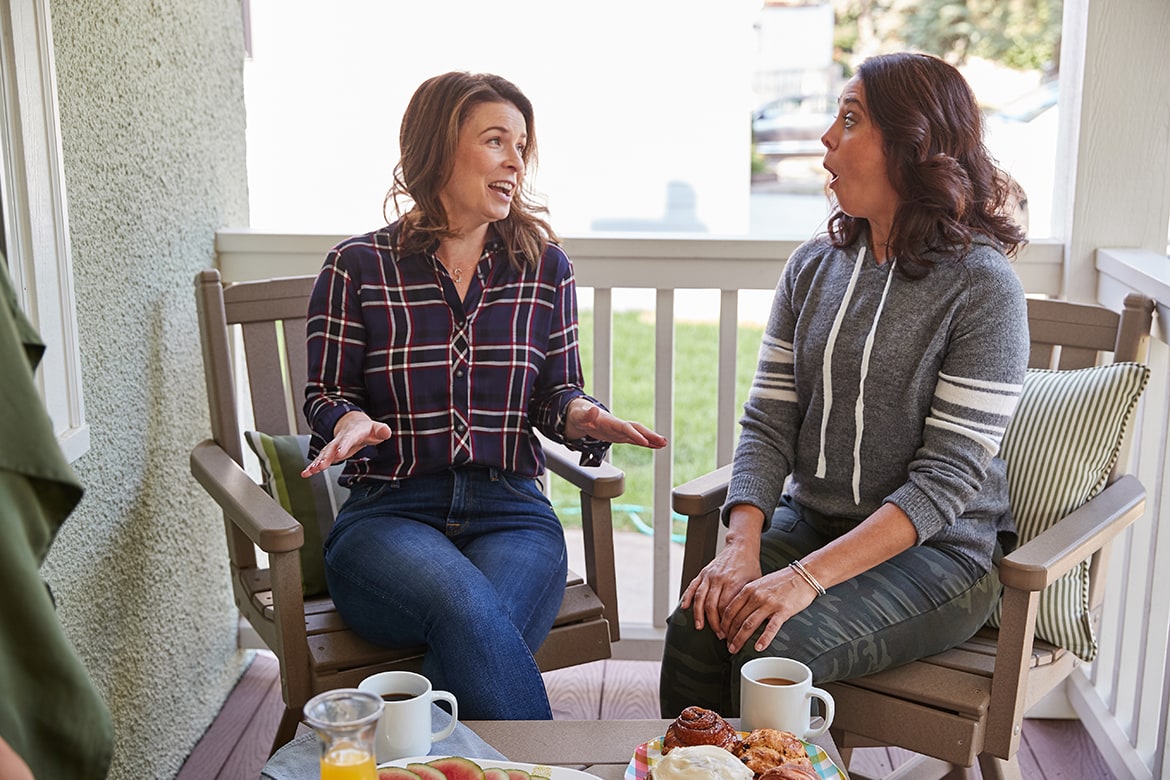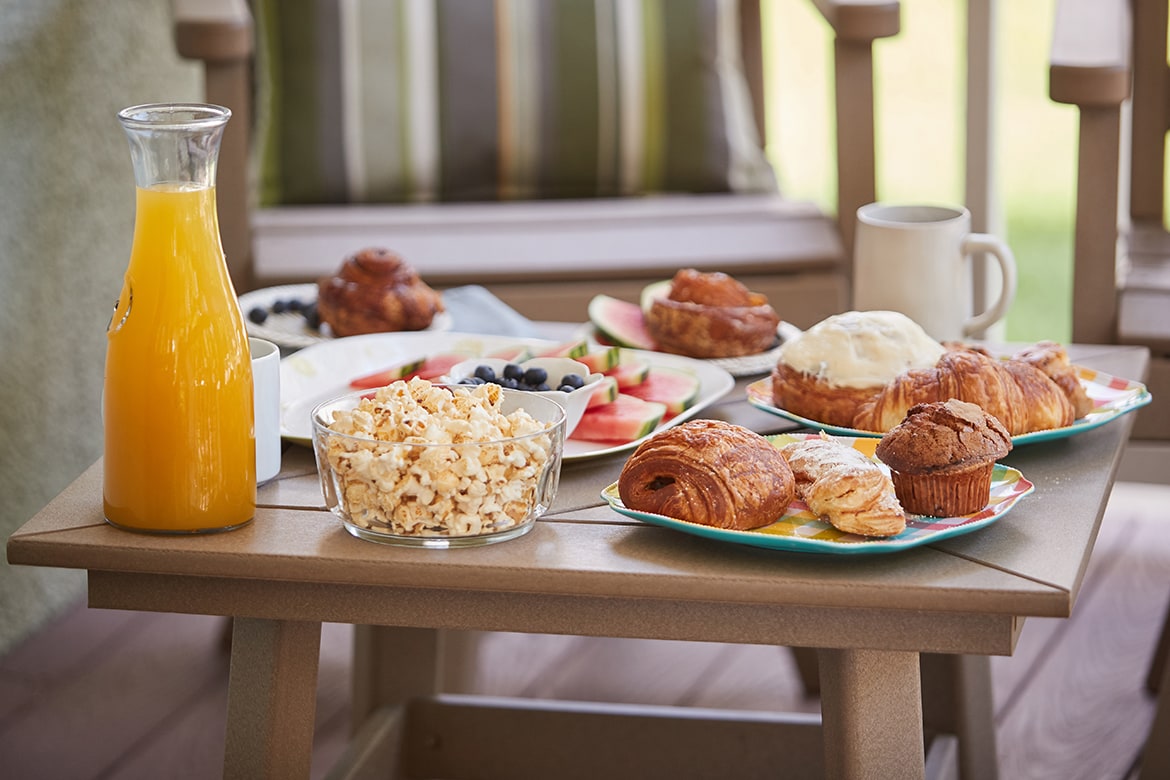 The best part about this group of women is that they have taken the opportunity of the new school year to celebrate each other and their friendship. Whether it is a simple coffee date with a girlfriend, a brunch you are hosting to celebrate all the moms in your life or a raging New Year's Eve-style party, take this time to celebrate yourself and your friendships. You are all worth it!