Five or six months into my first job out of college, I called my dad, crying. Writing had always been my thing—it had never been a question in my mind that I would one day make a career out of it. And yet, I found myself in a job tracking purchase orders of plastic skeleton heads and pumpkin string lights into ports on the East and West Coasts. While others thrived in the role, I felt far from the creative career I had hoped for when I graduated from Journalism school.
Fast forward eight years and—as the Evereve Copy Manager—I'm feeling pretty on track. I don't have the most glamorous or most successful career—other women my age have lit up the silver screen and started six-figure businesses—and I definitely don't have it all figured out. But I love what I do every day and that's worth something to me. Here are three things that helped me get from crying to dream career.
1. Prioritize Your Side Hustle
If you're not getting what you want at work, give yourself what you need after work.
The side hustle—I know, it sounds exhausting. If you love your day job, then there's no need to dedicate all your off-duty hours to a passion project. But when my job had nothing to do with writing and I wanted to be a writer, the side hustle was exactly what I needed. So I started a blog with the intention of showcasing the creative retail copywriting I desperately wanted to do. I commissioned a logo, figured out Blogger (ha) and gave up nights to write. Less than a year later, I secured the interview I was hoping for—an interview that probably wouldn't have popped up if I had just crossed my fingers and wished it into happening. Blogging was fun, and it was fuel—and it propelled me forward in the pursuit of something more.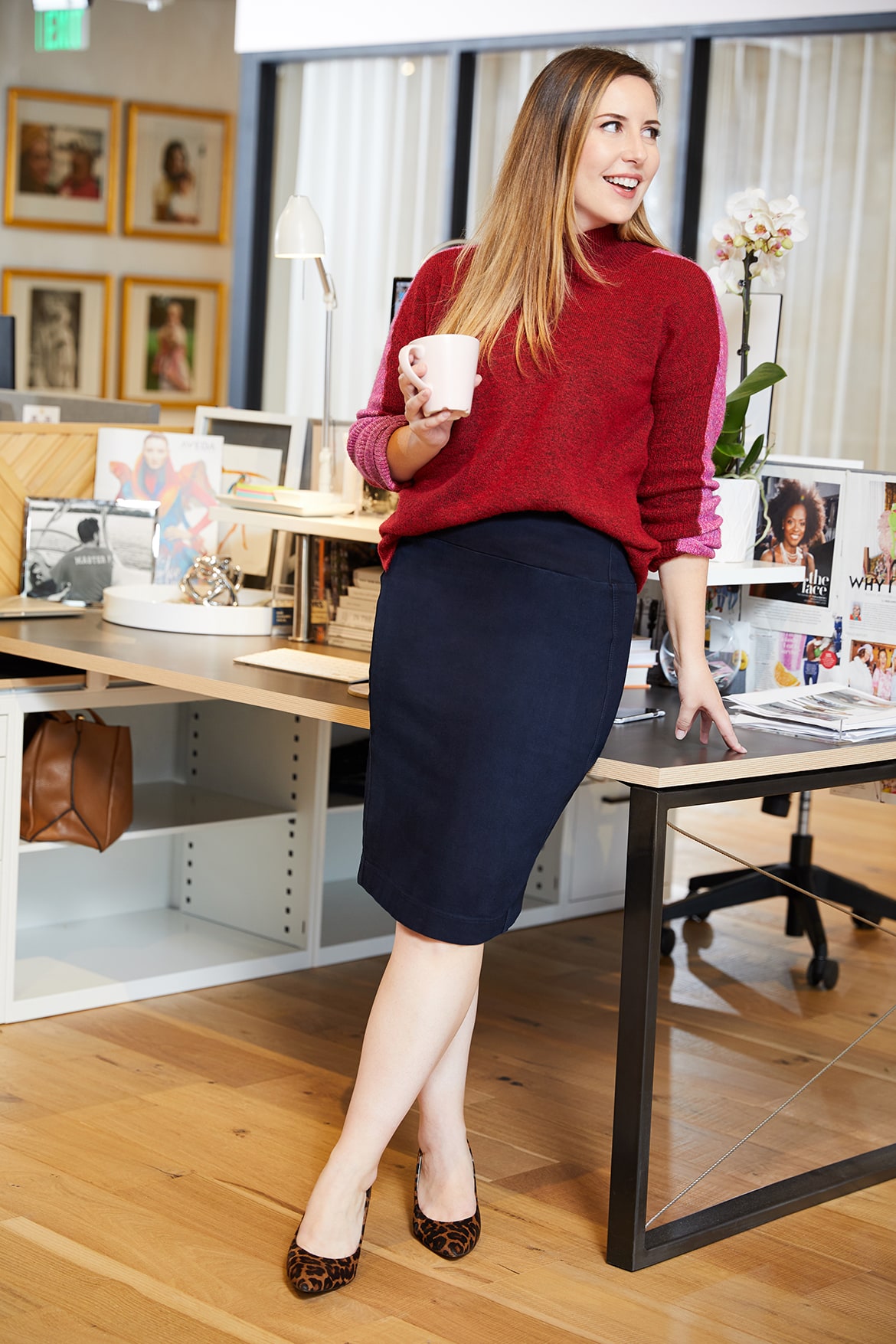 Shop the look: Heartloom Sweater (color love!) | Level 99 Skirt (easy pull-on and so stretchy!)| 1.State Heels (wearing these literally every day) | Kendall is 5'6″ and wearing size S top, size S skirt and size 9 shoes.
2. Take a Risk
Make a sacrifice now to get something you want later.
Three years after that phone call with my dad, I was in Marketing for that same company, slowly climbing my way up. But packing clothes to be shipped to photo studios throughout Minneapolis one day, I had an epiphany: I was done waiting. I would have moved anywhere in the country to be a retail copywriter, preferably in apparel—and when a position opened in Wisconsin, I didn't hesitate. It wasn't easy telling my boss I was leaving. It wasn't easy moving to a city where I didn't know anyone. But each new job I've landed since has stemmed from stepping out on that limb. And I'm happier now for not letting familiarity or fear stop me then.
3. Stay the Course
Don't give up when things get hard—the grass isn't always greener.
You know the drill—good things take time. Writing for With Heart is one of my favorite parts of my job, and while it was part of the conversation when I interviewed, it didn't launch until a year after I was hired. That seems like a short time in retrospect, but in the moment, it can be hard to be patient about the opportunities you really want. Whenever I get tripped up or feel stuck, I think about that girl who was tracking skeleton heads and how badly I wanted the situation I have now. It always helps shift my focus, and the small struggles pale in comparison to the bigger wins. Like a true millennial (and spontaneous Aries), I'm not afraid to make a change—but sometimes perseverance pays off.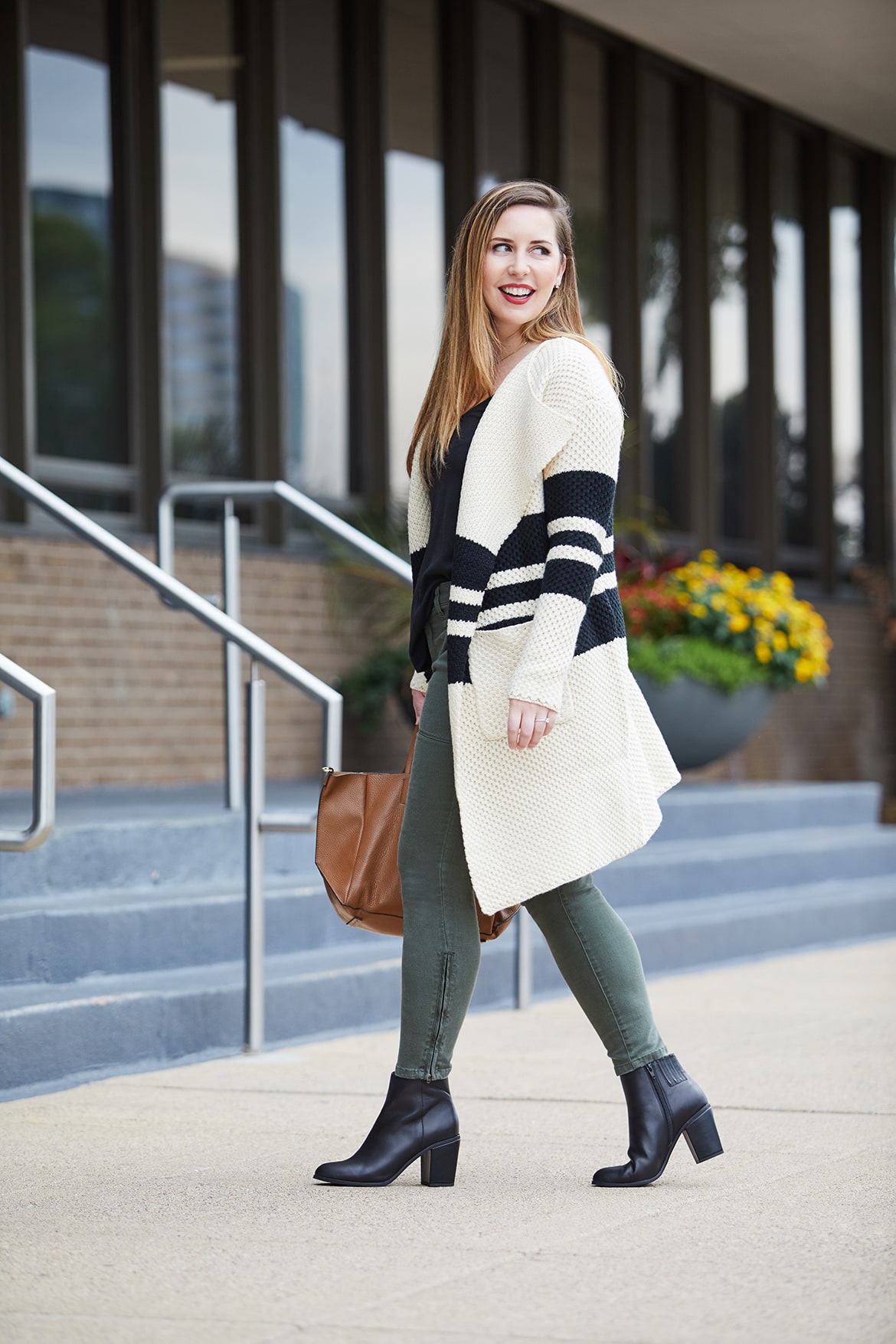 Shop the look: Anama Cardigan (doubles as a jacket) | Peyton Jensen Tank | Sanctuary Chinos (this color goes with everything!) | Seychelles Booties (super versatile heel height) | Kendall is wearing size S tops, size 29 pants and size 9 shoes.
What's your dream career? Are you doing it?
P.S. Has anyone read WorkParty? It's the new book by the founder and CEO of Create + Cultivate, who shares how she cultivated the career she wanted, plus stories from other crazy talented female entrepreneurs. My coworker suggested it when I told her I was writing this post—ordering now!