Cardigans can be a tricky piece to style. They can make an outfit look really cool and pulled together—or they can make you look like your grandpa if you aren't careful. It is all in the way that you pull the outfit together. Today we teamed up with Molly, the Operations + Presentation Manager at our Edina store, for all the tips and tricks you need to style a cardigan like a pro. Molly spends all day not just working on merchandising our store, but also styling our customers. She is an expert and knows exactly what it takes to take a cardigan from frumpy to fantastic with a few simple tips.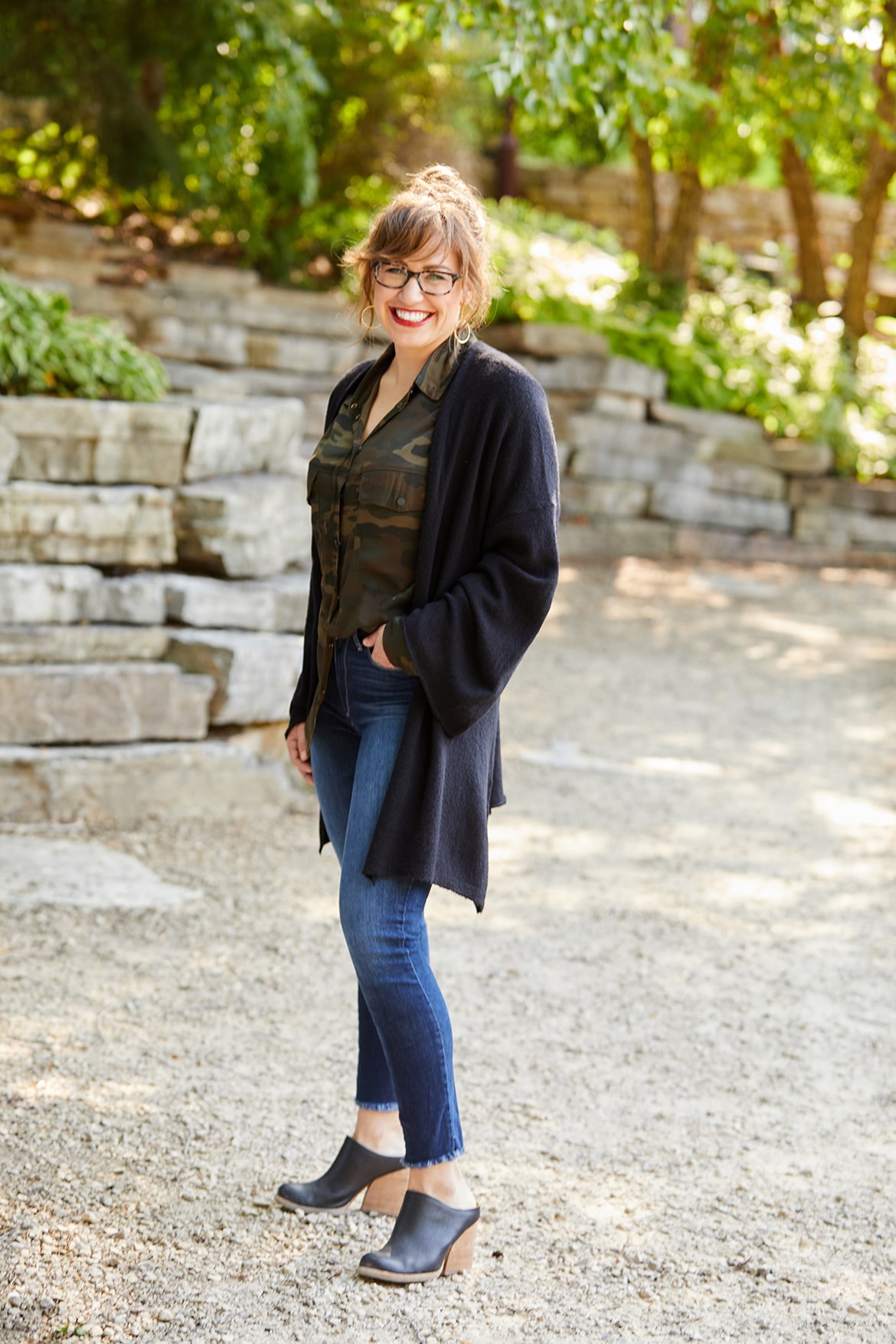 Everly Kimono Cardigan | Sanctuary Camo Boyfriend Shirt | 7 for All Mankind Jeans | Kork Ease Clog | Circle Drop Earrings
One of the biggest challenges with styling a cardigan is trying to figure out what to wear underneath them. Molly suggests wearing something more fitted so that people can still see your shape under your layer. That keeps you from feeling frumpy and is a great way to try a more fitted piece while still having the safeguard of the cardigan. People don't always think to wear a button-down under a cardigan, but it is such a great, elevated look. Molly recommends going with a half tuck to draw in your waist and help you keep a little shape. Molly was hesitant to try the Everly Kimono Cardigan because she has broad shoulders and a larger bust, so she thought it might be too much volume. She was pleasantly surprised and ended up loving the fresh silhouette and the beautiful shape. By pairing it with a camo button down, she keeps the neckline open, which helps break up the line of her shoulders and feels really fresh and edgy.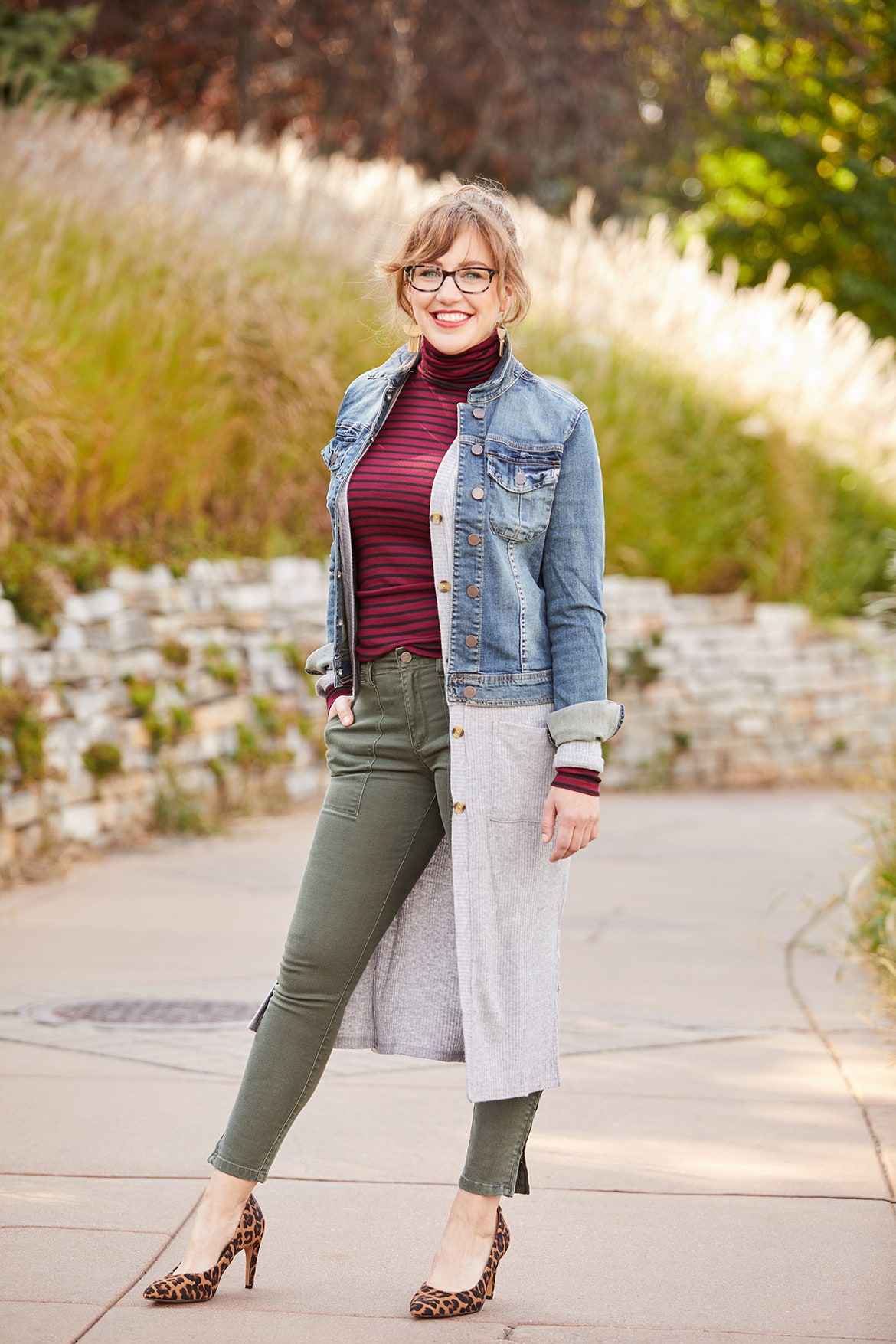 Kara Cardigan | Kut from the Cloth Denim Jacket | Splendid Striped Turtleneck | Sanctuary Fast Track Chino | 1. State Leopard Heel
She shared another great tip, which is don't be afraid to pattern mix with your cardigan. You don't always have to wear a plain t-shirt underneath. Go for stripes or a great print like a plaid or the fantastic Sanctuary Camo Boyfriend shirt she is wearing. Pair a plaid shirt with this fantastic striped cardigan or be bold and go stripe on stripe with the Heartloom Mila Striped Cardigan over this striped tunic top. Because the scale of the stripes is different, this stripe on stripe look totally works.
Molly always tries to stress that your size or the size of the cardigan should not stop you from trying it. Duster length cardigans are trending right now, and a lot of our petite customers come into the store and assume they can't wear them. Molly suggests trying our Kara Cardigan, which has been one of the top-selling pieces at Evereve this fall. It is perfect because it is lightweight and doesn't add bulk to a small frame. You can always add a half-tuck and a pair of heels or wedge to elongate the leg and give that little bit of extra height. Another really hot trend right now is oversized, destructed cardigans. While they are roomy enough to size down, they lose their cool factor when you do that.
We have so many great cardigans in-store right now, and Molly shared her 3 must-have's for your closet this fall.
JOA Varsity Striped Cardigan | Stitches and Stripes Speckled Cardigan | Sanctuary Camo Hooded Cardigan
What is your number 1 styling tip for cardigans?