At Evereve, we believe we can learn from everyone and strive to be lifelong learners, inside and outside the classroom. In honor of World Teachers' Day (tomorrow!), we asked Katie—Teacher Katie, as she's affectionately called by students and parents alike—to take us through a typical day at her preschool near our Minneapolis HQ. Ahead she shares the importance of learning self-help early, what's on her Spotify playlist and the Sorel boots she counts on to keep up with fifteen curious three-year-olds.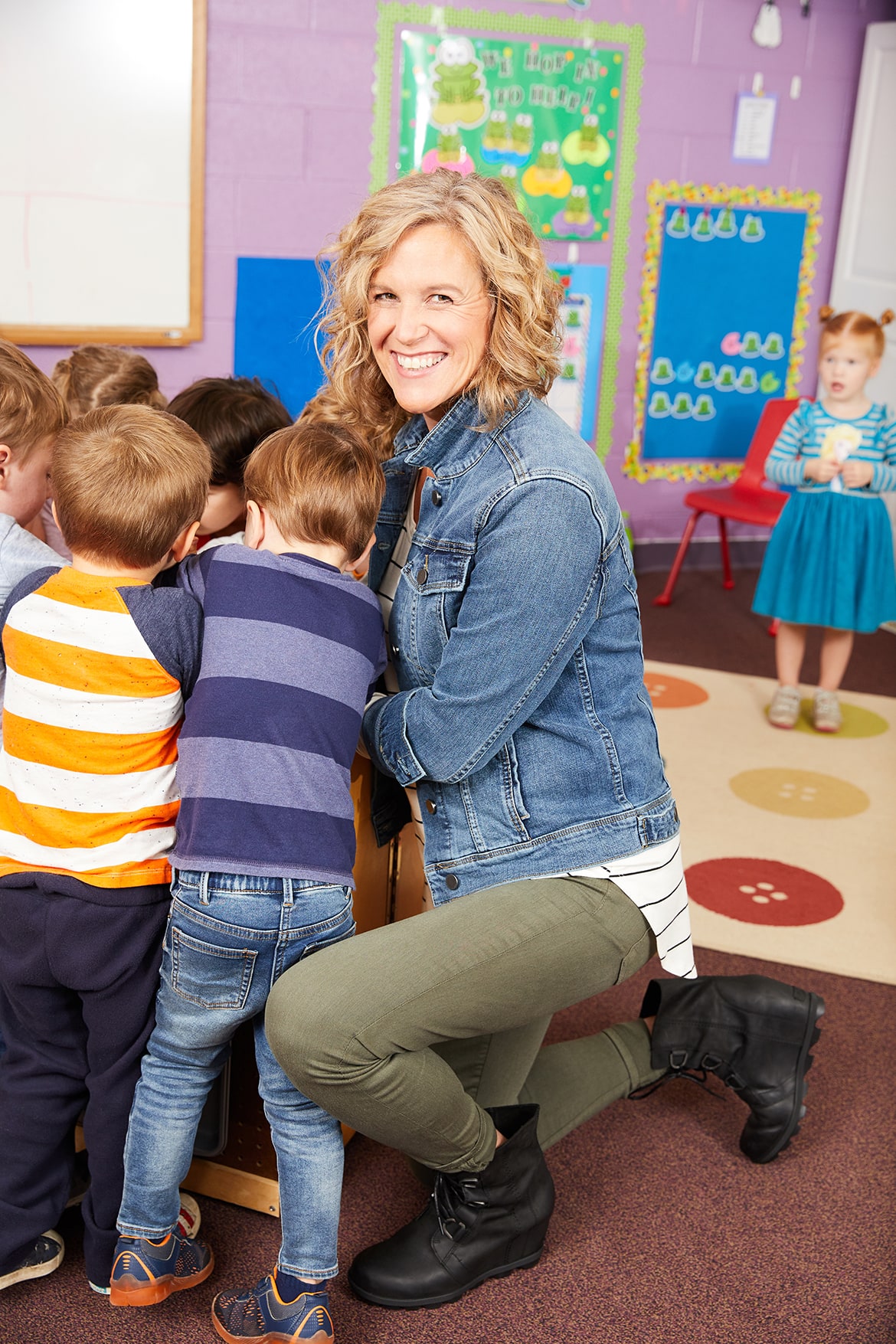 7:00 A.M.
I don't usually sleep through the night, so mornings can be rough. Coffee helps me get moving, along with a few minutes of stretching. I'll eat a paleo zucchini muffin—I have lots of guilty pleasures, but try to be guided by some form of nutrition—while making breakfast for my youngest before he leaves for school. I have three kids (21, 19 and 15) and my older kids cannot believe I do this for him. But he's the only one left in the house and I know how quickly that time goes. He shovels it in while I drink a second cup, and we have a three-minute conversation that I cherish before we both head out the door.
8:15 A.M.
As I get the classroom set up for the kiddos' arrival, I add a few drops of doTerra On Guard essential oil to my diffuser to keep our room smelling fresh and safe from naughty germs (at least that's what I tell myself). I take a lot of pride in my classroom and what I do—I loved elementary school from the beginning and always wanted to be a teacher. My first crush was my fifth-grade teacher, Mr. Schultz, Lincoln School, Wauwatosa, WI, where I grew up. He loved teaching and it showed in everything he did. I'm reminded of him as I go about my morning rituals and daily prep.
9:30 A.M.
The day gets started with a good morning song, distribution of daily jobs and the weather report. At this age, we focus on routine and self-help skills by encouraging kids to hang their own coats, for example, and other small tasks they can do on their own. Parents are amazed to learn that their children who are so dependent at home are so capable and independent at school! Knowing what to expect when they arrive each day and what is expected of them sets them up for success early on.
Shop the look: Peyton Jensen Tunic Tee (3 colors)| Articles of Society Denim Jacket (under $100) | Level 99 Cargo (bestseller) | Sorel Wedges (also in taupe) | Katie is 5'9″ and wearing size S top, size M jacket, size 28 jeans and size 9 shoes.
10:30 A.M.
During story time, I sometimes add a little tidbit from my own life. These little listeners really tune in when they hear about my kids misbehaving or the toad I found in my flower pot over the weekend! I love my students—without question the best part of my job. They love to be silly, and they love when I'm silly. They love to learn. And they love graham crackers. It's a magical age.
12:00 P.M.
My assistant and I eat lunch with the children and share in conversations at the table with them. We practice good manners, dining etiquette and proper use of napkins. I'm up and down quite a bit with milk refills, milk spills, yogurt clean-ups and wiggly kiddos, so I always wear comfortable clothes. Most days, it's a flannel shirt and jeans. And in the fall and winter, I love Sorels—they take me from school to my sons' football and baseball games in the evening. Not too clunky for the classroom, and rugged enough for sloppy stadiums and chilly fields.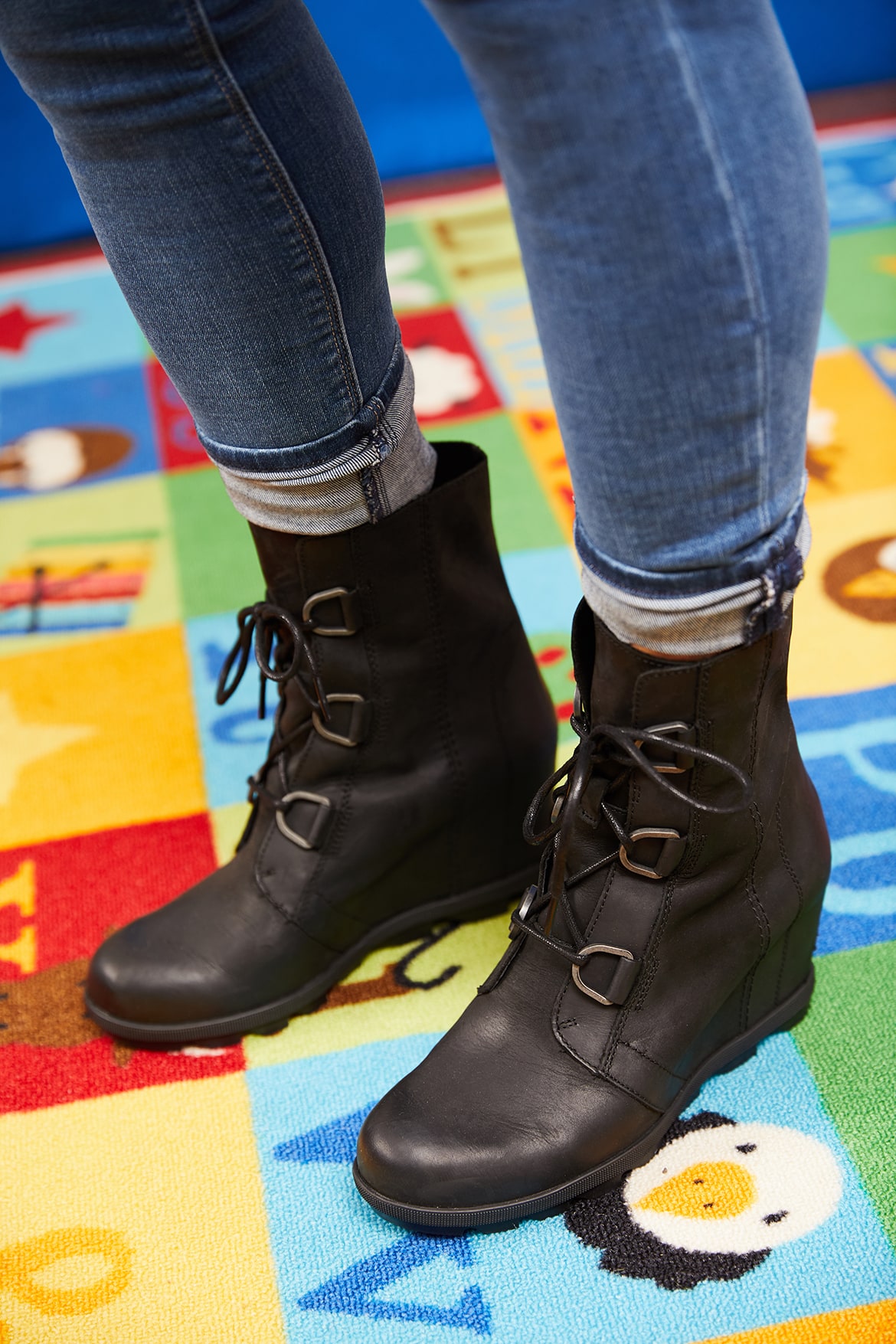 2:00-4:00 P.M.
When parents arrive for pickup after puzzles, science, outdoor playtime and several highly orchestrated bathroom breaks, we connect briefly about the day. It's tough when I have to share the not-so-good stuff with parents. But I do—it's important. As a parent myself and teacher for 16 years, I have lots of insight to offer, but I also look to my colleagues and directors for help and advice. It never really gets easier, sharing the not-so-good stuff. But each challenging situation and conversation helps us all learn and grow—the kids. The parents. Me.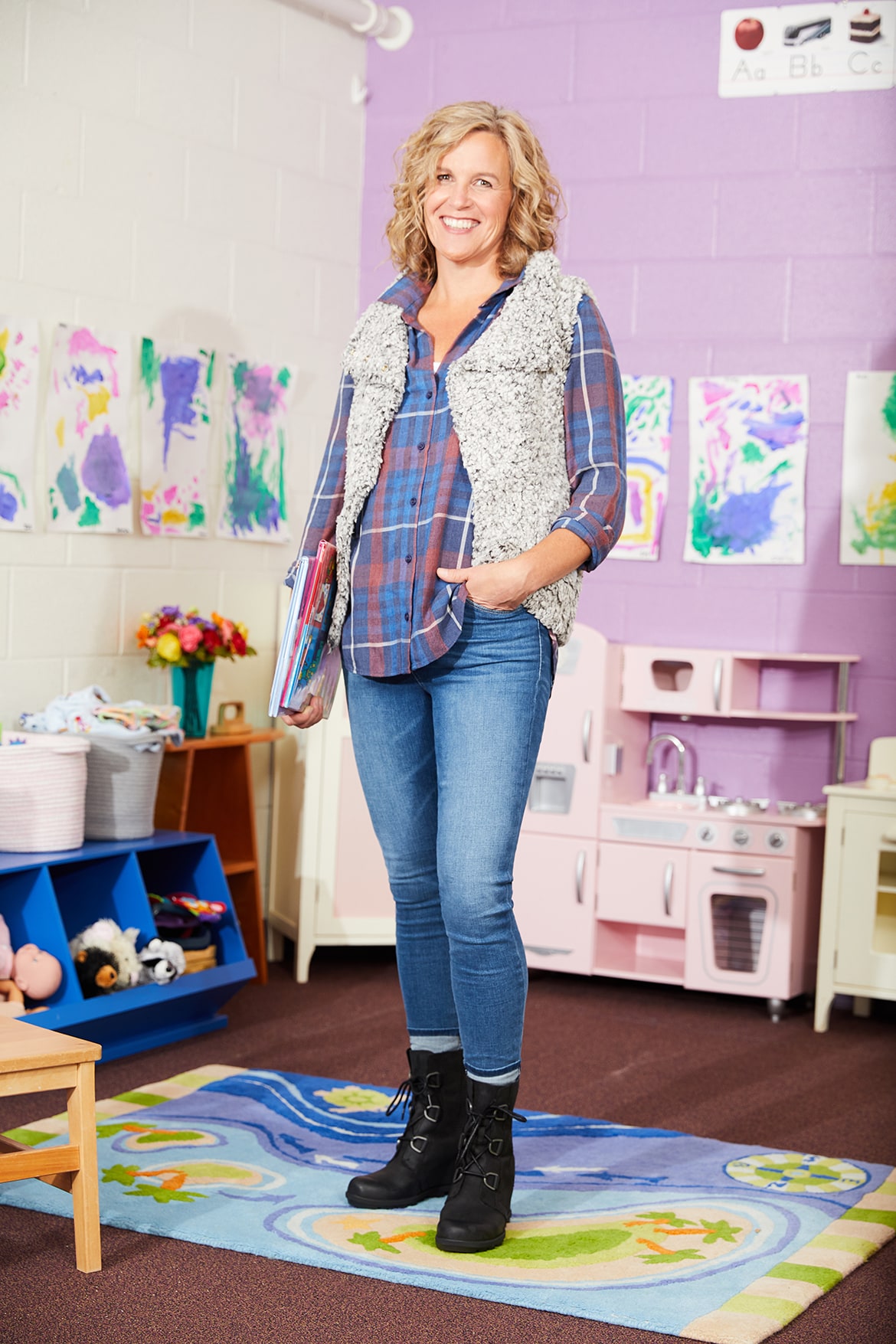 Shop the look: Cloth and Stone Button-down | Dylan Vest | Hudson Jeans (bestseller)| Sorel Wedges | Katie is 5'9″ and wearing size M tops, size 28 jeans and size 9 boots.
7:00 P.M.
I drive to and from baseball practice twice a week and happily listen to the playlists my kids have created for me—Bon Iver, Creedence Clearwater Revival and Coldplay, Vance Joy, Joni Mitchell, Ed Sheeran and Eva Cassidy are some favorites. I embrace my carpool duties because I know how quickly they will fade. Dinners are late those days, but we can all fend for ourselves. I often make a big pot of soup with my CSA veggies that we all dig into throughout the week. After dinner, I make lunches for the next day, read or listen to podcasts. My favorite show is Call the Midwife—season seven is now on Netflix! It's a special show. Lots of Kleenex needed.
9:00 P.M.
I dabble in professional development as much as I can to keep my teaching license up to date and get online for lesson planning. Sometimes my best planning happens at 3:00 A.M., when I scrap my original idea for something more complex, more fun, more involved and so worth it! I'm known to make last-minute runs to the store before school to complete a project, snack or activity I thought of in the middle of the night. I light a candle that my daughter gave me, Manhattan Beach, to quiet my brain and just before bed, apply Annmarie Gianni Wild Fruit Serum to my face. I'm 50 this year and really beginning to own it. Then it's lights out and sporadic amounts of sleep before my next classroom idea stirs me.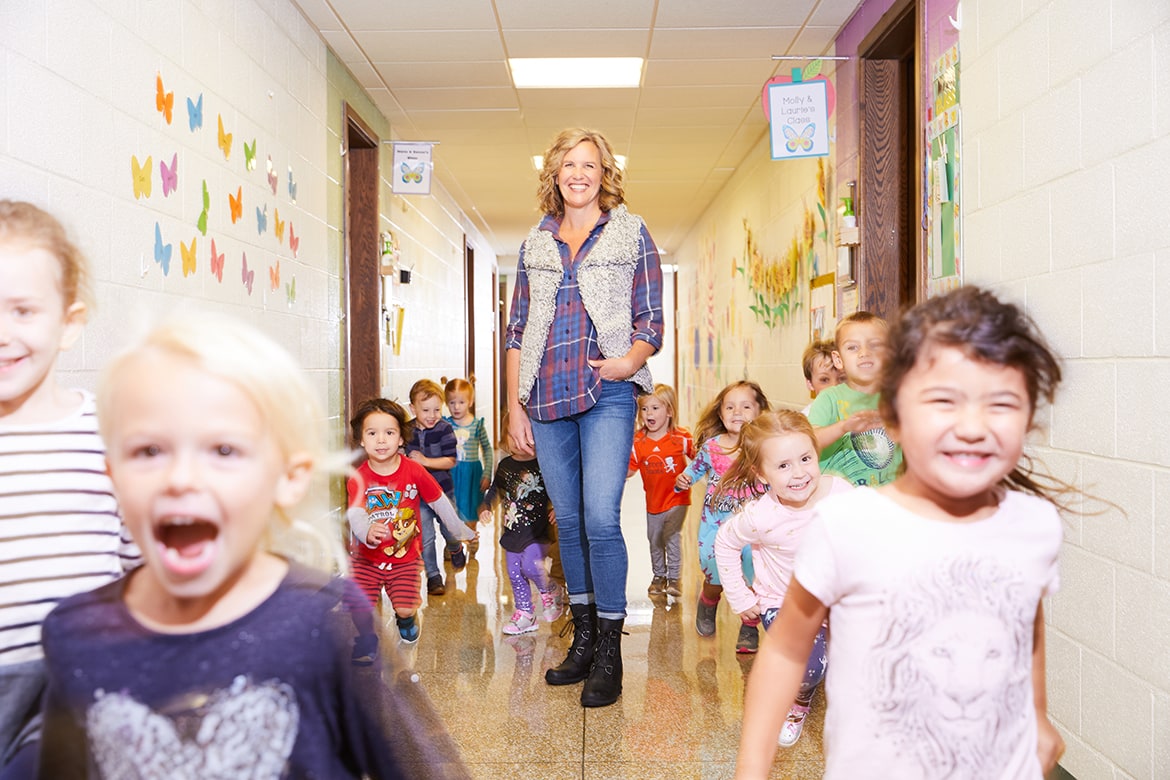 Thank you, Teacher Katie! And thank you to all of our teachers.
FIND THE SORELS FOR YOU
Lexie Wedges (also in grey) | Out 'N About Booties | Chelsea Wedges (also in brown) | Shearling Wedges
Shop all Sorel boots now.