At the end of October, we hosted the winners of our first annual Evereve Friendsgiving contest for a time of celebration, shopping, food, and fun. When we first launched the contest, we did not know what kind of response to expect from our customers and followers. To say that we were overwhelmed was an understatement. The stories of friendship were so inspiring and a true testament to the power of female relationships in our lives. Whether it was just a story of how much a friend has meant to you and how she makes you laugh or a story of friendship that has seen you through some of the darkest days of your life; each of the 1400 entries were so deserving, and it was nearly impossible to narrow the responses down to our five winners.
The Winners: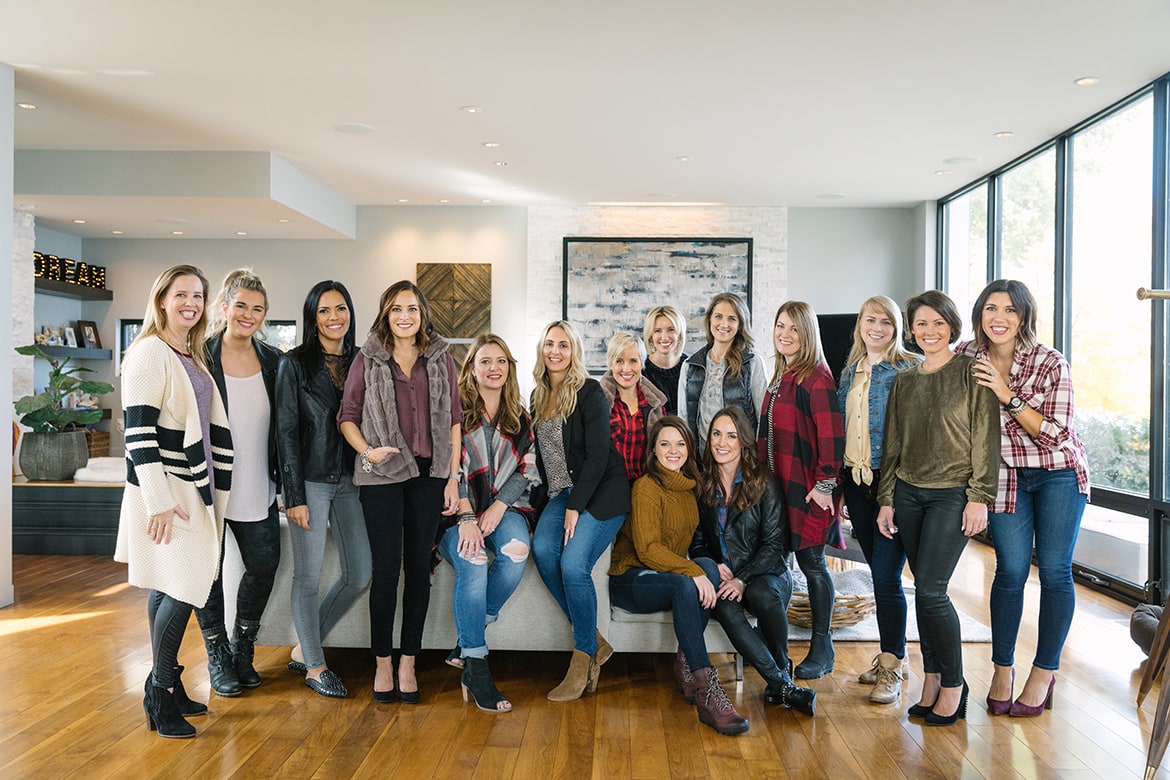 We were so lucky to have friend pairings from around the country represented in the contest winners- from Arizona to North Dakota, Virginia to Ohio and beyond. These women all had such incredible testaments of friendship- many having experienced unimaginable loss and suffering in their lives- but through the help and support of their friends still held so much joy and happiness in their lives. We, as an Evereve team, learned so much from these women and felt like we were the contest winners having the opportunity to experience the love, joy, and friendship of these women.
The Experience:
Winner's arrived at our home office in Minneapolis on Tuesday night where they were treated to a welcome reception, a behind the scenes tour of our home office and sneak peek of all the goodies we have coming into stores for holiday. After that they were transported to the beautiful Hotel Landing in Wayzata, so they could rest up for the big day of shopping and celebrating that we had planned for them. We brought them to our Wayzata store where they were treated to a one-on-one styling experience from our Wayzata styling team. Our stylist's personal relationships with customers is something that we truly pride ourselves on here at Evereve, and it was so fun for our entire team to get to spend so much dedicated time with our customers and learn so much about them and their personal style. We also brought in our Evereve glam squad, who helped these women look and feel their absolute best.
Once the shopping spree was over, the group was able to spend an afternoon at our co-CEO and co-founder's house, celebrating each other over a delicious lunch from the Wandering Kitchen. In a world that sometimes feels consumed by busy schedules, social media, and never-ending demands on our time, it was nice to slow down and share a meal among friends. It was beautiful to get to see these women celebrate each other and their bonds surrounded by the beautiful florals from Rooted by Design and the fabulous spread from Wandering Kitchen. As women, it often feels like when life gets busy, and we have to start sacrificing things to maintain our sanity, that our friendships are often the first things that suffer. In busy seasons, it is so easy to put that part of our lives on the back burner, and this celebration was a perfect reminder of why friendships are critical to the health and well-being of women and that they are worth fighting for and making time for.
What to Wear
One of the fun things about this experience is that we all got so many great ideas for what to wear to for your fall celebrations… whether that includes Friendsgiving, Thanksgiving, or both! Each of the girls had such great style, and it was so great to see them in so many different types of looks. Whether you or dressy or casual for the holiday season, there is something there for everyone!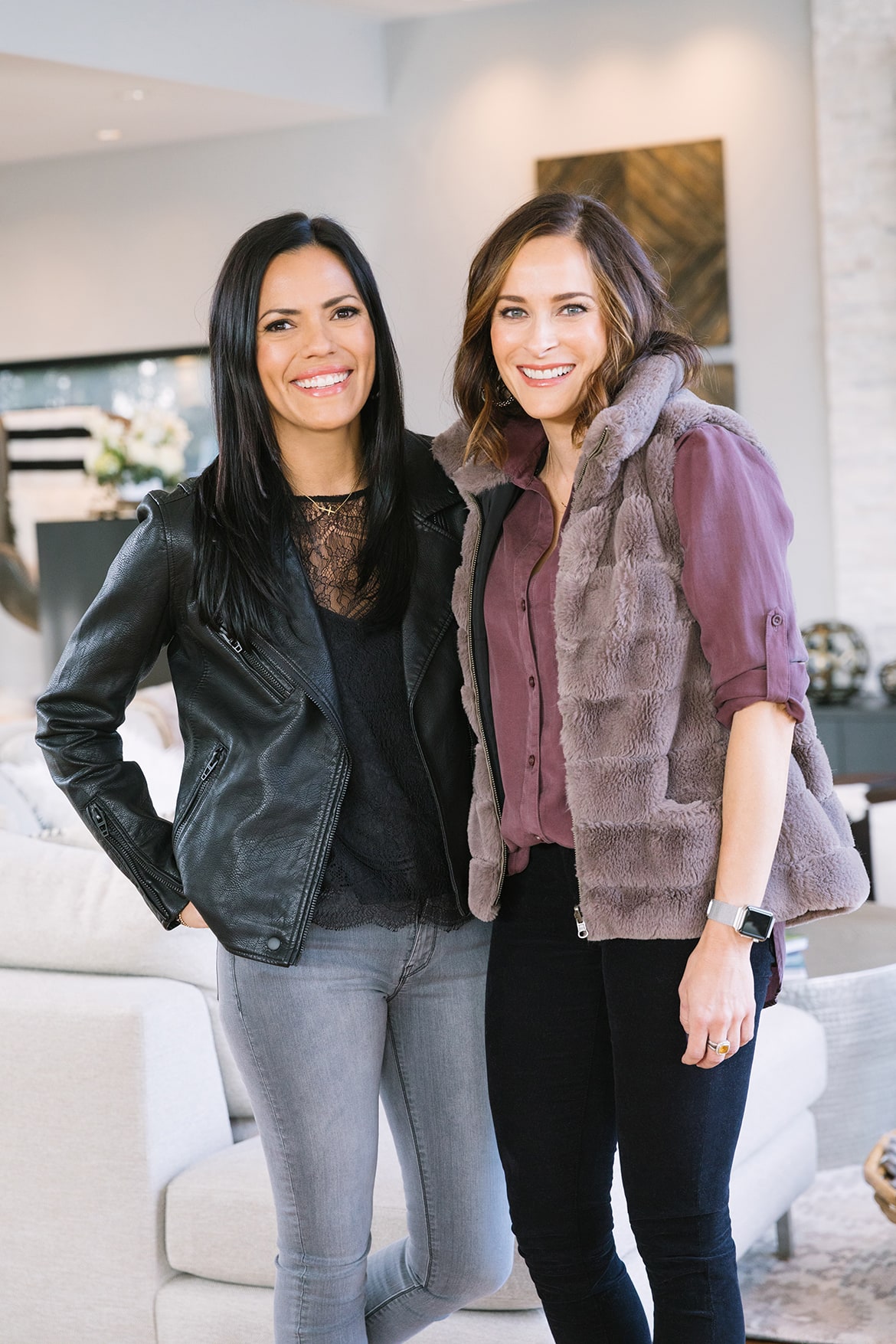 Meiling and Anya from Virginia Beach
On Meiling (Left): Blank NYC Moto Jacket| Hudson Gray Jeans | Top available in select stores
On Anya (Right): Dylan Faux Fur Vest | Cloth and Stone Button Down | Articles of Society Black Jeans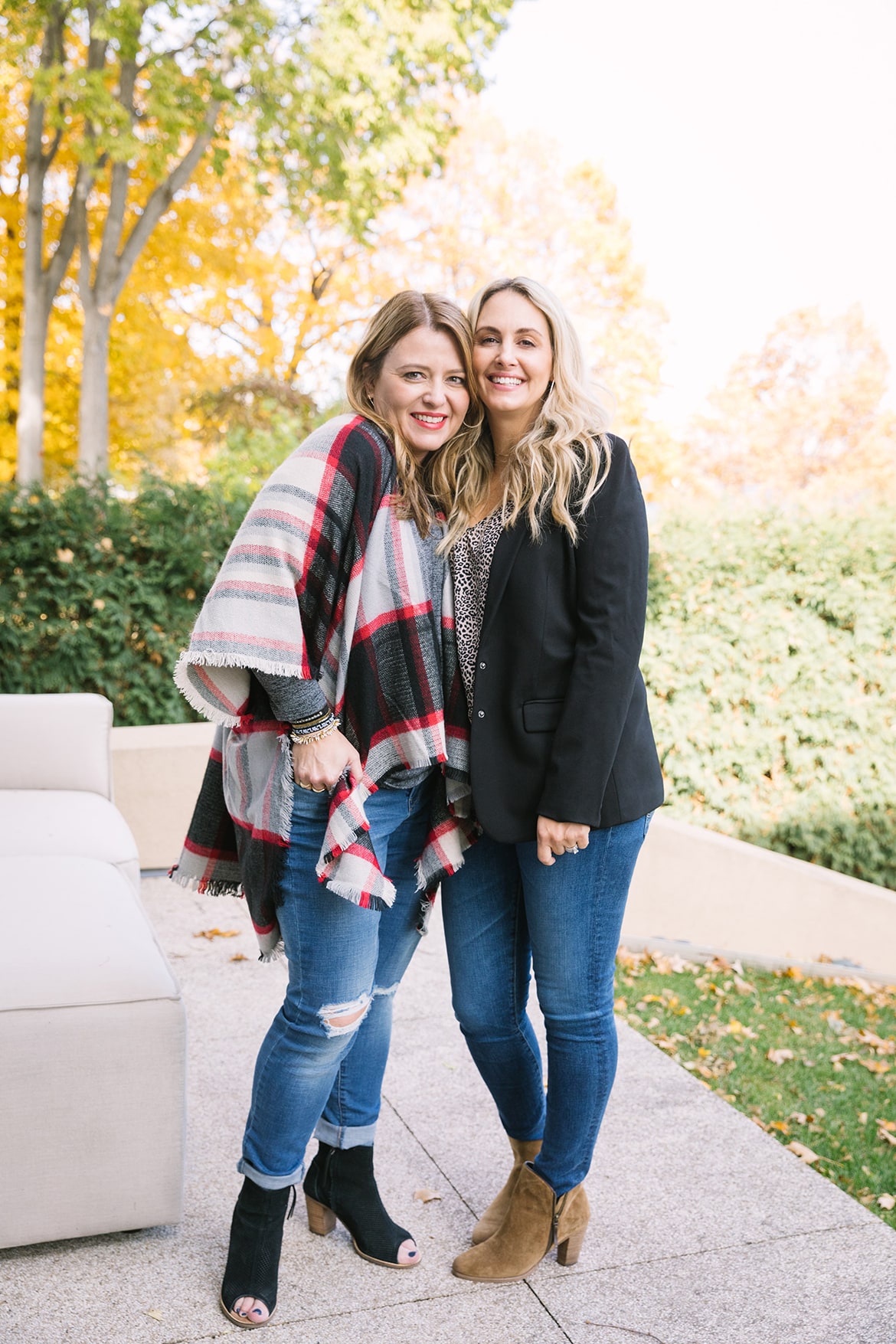 Julie and Amy from Cleveland
On Julie (left): Plaid Poncho | Gray Twist Front Tee | AG Legging Ankle Jean
On Amy (right): Jamison Black Blazer | Leopard Print Cami | Kut from the Kloth Mia Skinny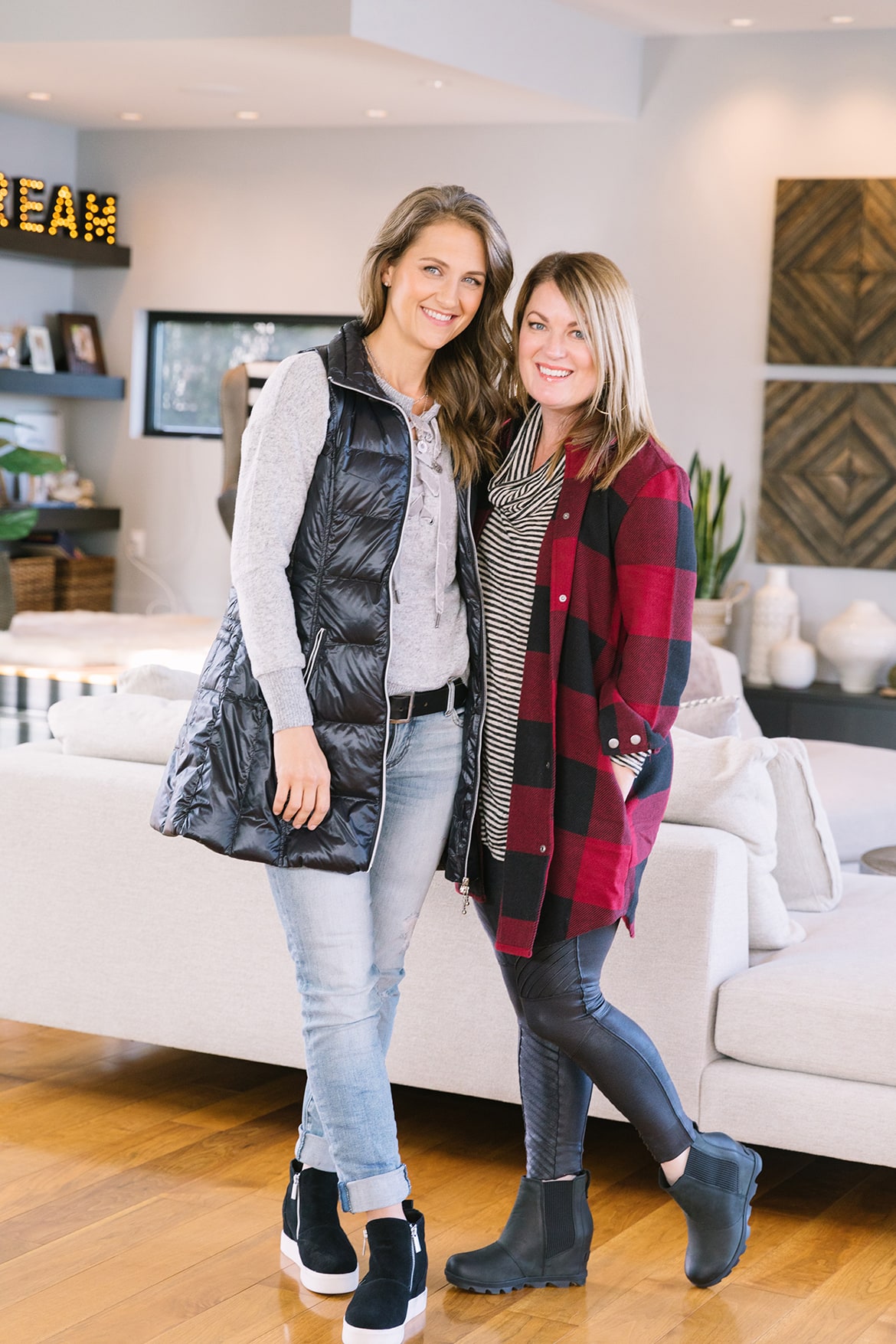 Andrea from Phoenix and Mary from Bismarck
On Andrea (left): Black Puffer Vest | Tie-Front Sweater | Kut from the Kloth Jeans | Black Wedge Sneakers
On Mary (right): BB Dakota Plaid Jacket | Striped Tunic (similar) | Spanx Moto Leggings | Sorel Chelsea Wedges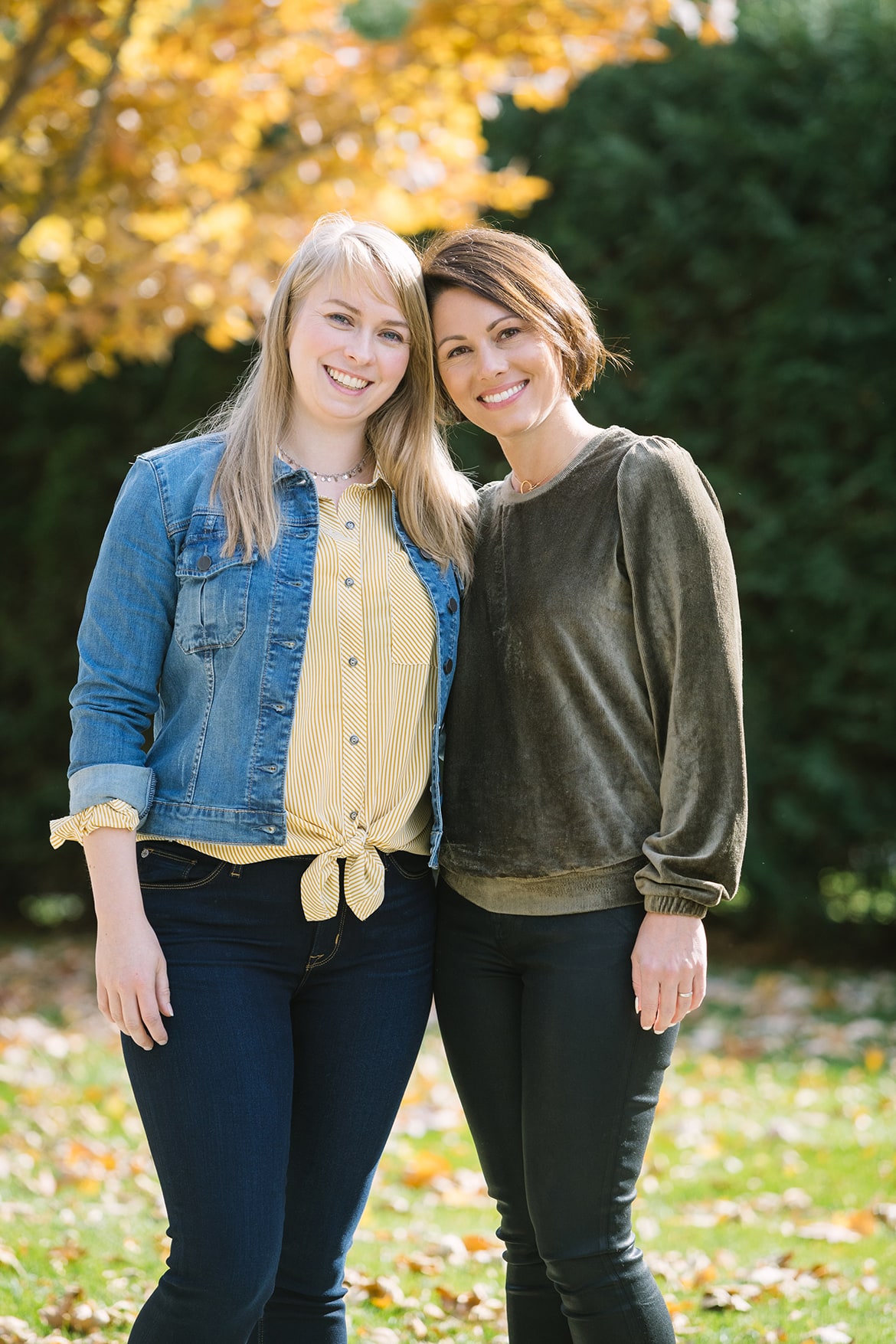 Elizabeth and Casey from Minneapolis-St. Paul
On Elizabeth: Kut from the Kloth Denim Jacket | Striped Button Down | Hudson Nico Jeans
On Casey: Heartloom Alli Sweatshirt | Black Coated Denim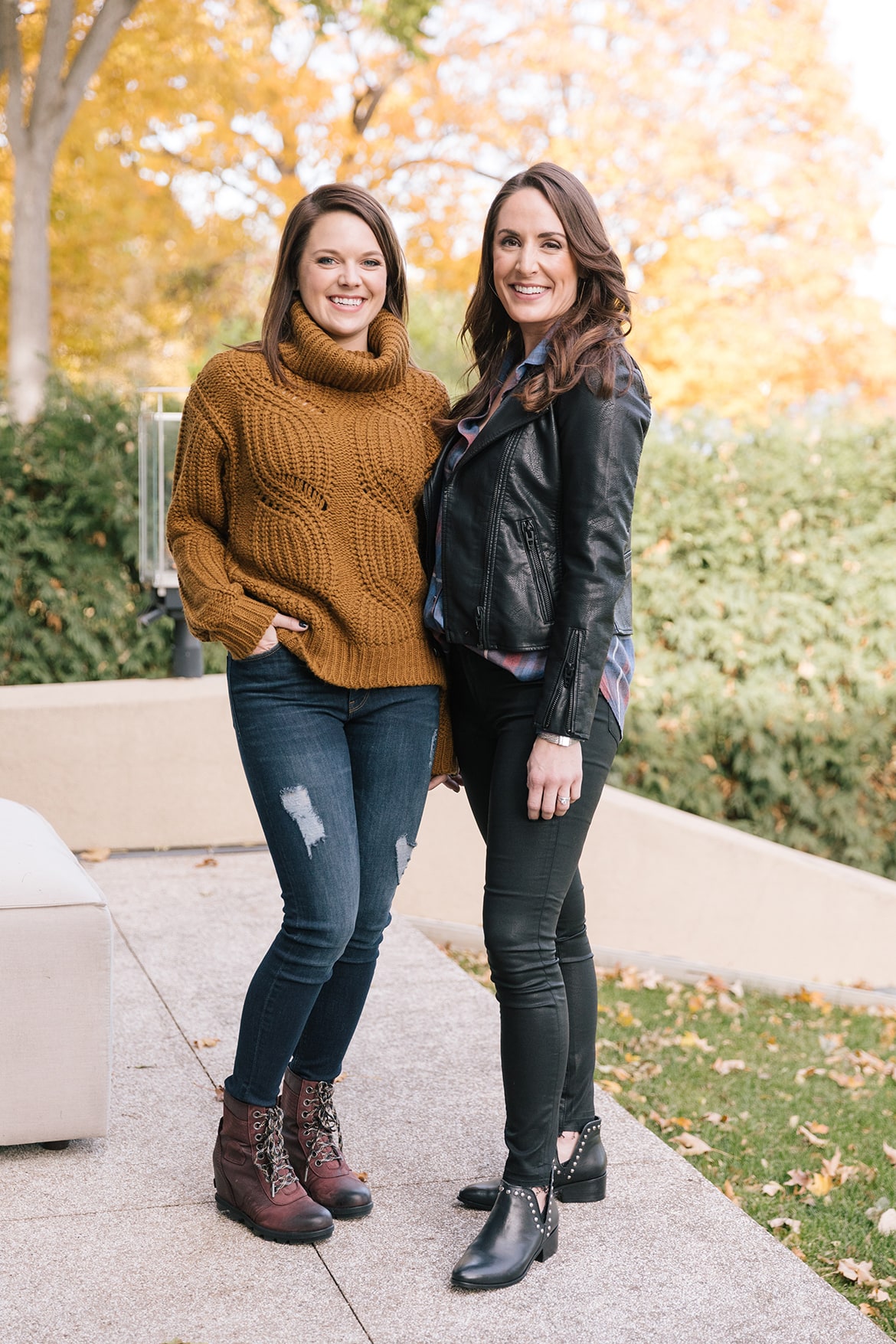 Jenna and Sandy from Madison
On Jenna (left): Allison Joy Chunky Knit Turtleneck | Hudson Jeans | Sorel Lexie Wedge Bootie
On Sandy (right): Blank NYC Moto Jacket | Cloth and Stone Button Down | 7FAMK Jeans | Studded Bootie