Is there anything better than that first warm day? ? Something about spring makes us feel like new people! Below: Ash, Heidi and Kristina share what they're most excited about this season.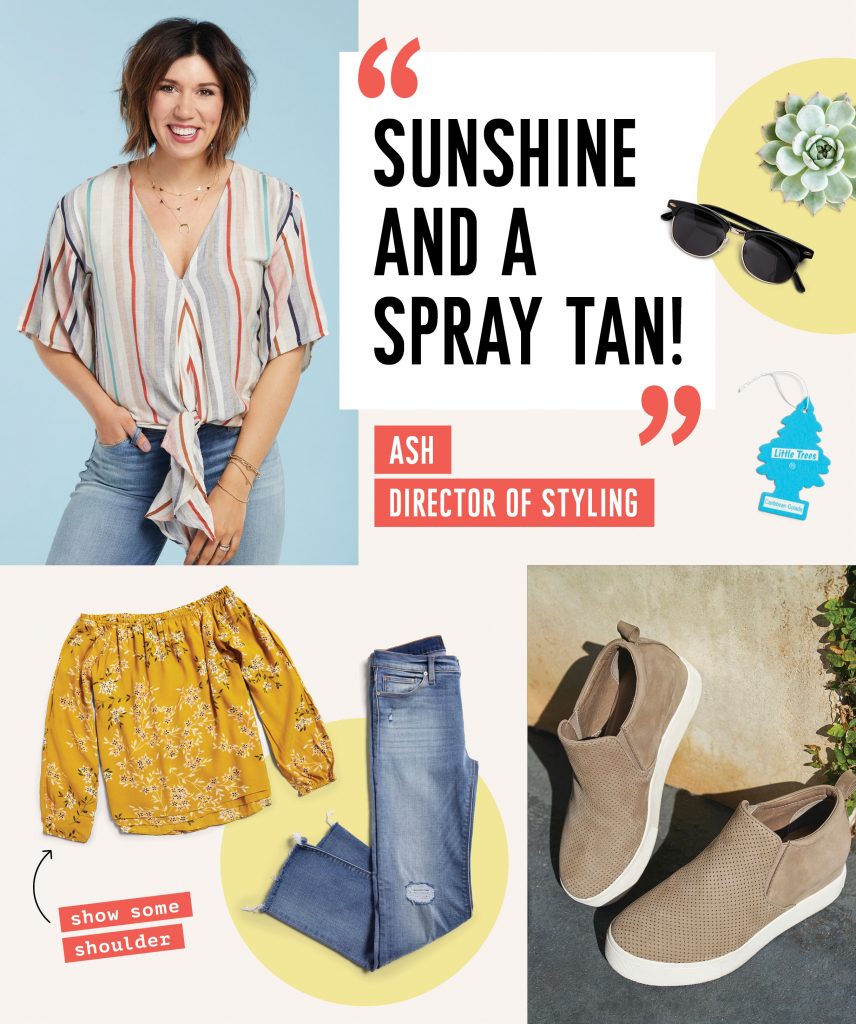 "My daughter's toys and snacks collect in my car all year. I just cleaned everything out and washed it, and my whole life feels more organized! Is that crazy?! I also love getting a new pair of sunglasses for spring since the sun is finally shining again in Minneapolis—and a spray tan is a must for shorts weather!"
Shop Ash's Picks: Sanctuary Top (a fresh print from one of our bestselling brands)| Hudson Ankle Jeans (love this lighter wash for spring!) | J/Slides Sneakers (perfect for running around on the weekends)
Keep up with Ash every week!

MONDAY NIGHTS: ON OUR RADAR on Instagram Stories @EVEREVEOFFICIAL
must-have new arrivals and hot sellers
WEDNESDAYS: HOW IT'S DONE on Instagram Stories @EVEREVEOFFICIAL
styling tips and tricks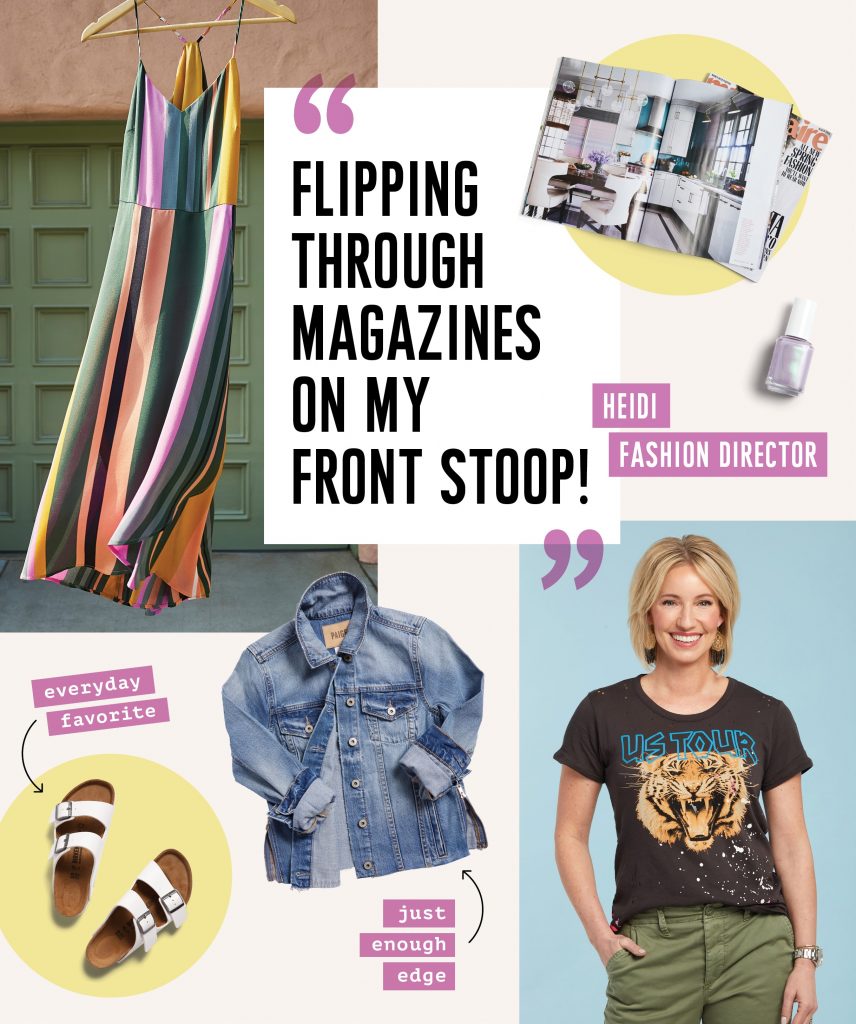 "Now that it's warm, I love to post up on my front stoop with a stack of fashion and home magazines and cheese and crackers. A pretty new polish is also a must for me—the new Tokyo collection from OPI is full of fun floral shades, and I'm dying to try Kanpai OPI! Lavender is everywhere for spring, and what better way to dip your toe into the trend than with a pedicure?!
Shop Heidi's Picks: Lost and Wander Dress (perfect for parties and Easter brunch) | Paige Denim Jacket (living in this all season!) | Birkenstock sandals (my "by the door" shoe—also in rose gold)
Keep up with Heidi every week!
THURSDAYS: FACEBOOK/INSTAGRAM LIVE @EVEREVEOFFICIAL
outfitting solutions and inspiration
FRIDAYS: 3 DAYS 3 WAYS on Instagram Stories @EVEREVEOFFICIAL
what to wear for the weekend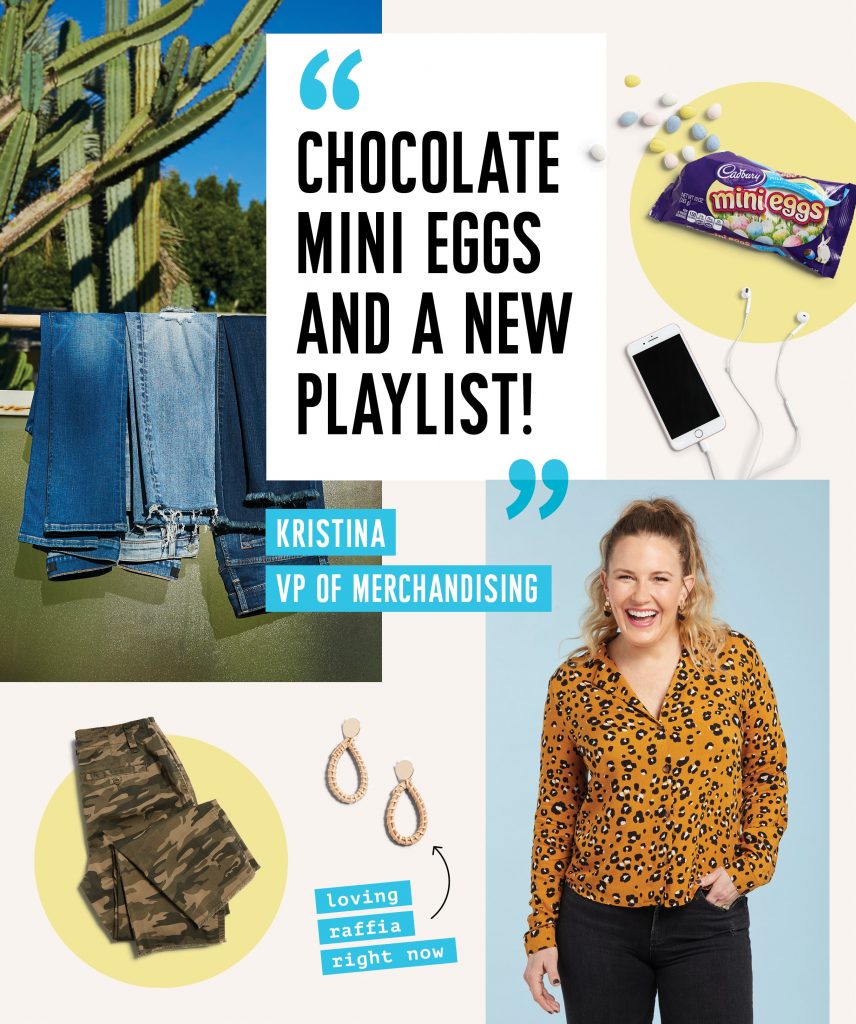 "I LOVE the chocolate mini eggs that hit shelves this time of year—I try not to go overboard, so I draw out the process of eating them. It's a little obnoxious! I'm also obsessed with Spotify right now. All the Feels, A Perfect Day and Front Porch are my current favorites for running outside, and they'll be on heavy rotation during my trip to Jamaica later this month!"
Shop Kristina's Picks: Straight Leg Jeans (the cut of the season!) | Sanctuary Combat Crop (under $100) | Thirty-nine 42 Earrings (so lightweight)
Keep up with Kristina every week!
THURSDAYS: STYLE FORMULA on Instagram Stories @TRENDSENDOFFICIAL
what you need in your next Trendsend box and how to put it all together
FRIDAYS: CUSTOMER Q&A on Instagram Stories @TRENDSENDOFFICIAL
Kristina answers yours burning questions!
What's putting the spring in your step? Tell us in the comments!