BEACH DAY! With the heat wave sweeping the country, there's really nowhere else to be. We're packing up and escaping the city this weekend, so we asked Kristina, Ash and Heidi to share what's inside their beach bags. Scroll for cute looks to throw over your swimsuit and a few summer reads to take along! Stay cool and hydrate, everyone!
Inside Kristina's Beach Bag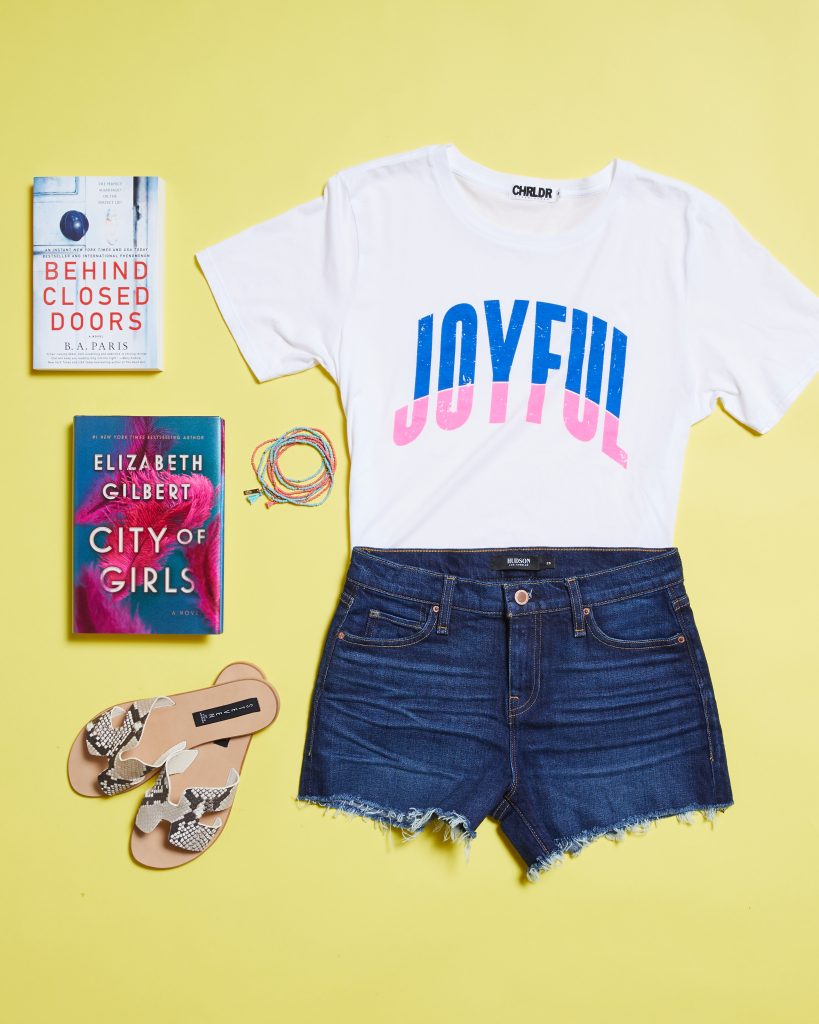 Shop the look: Chlrldr Graphic Tee | HUDSON Shorts | Steven Greece Sandals | Thirty-Nine 42 Bracelets
Wearing:
"I'm kind of a freak about sun protection, so I love a short-sleeve tee to cover my shoulders. This JOYFUL graphic is SO soft (100% pima cotton) and comfy for a day of lounging."
Reading:
Behind Closed Doors. "I cannot watch a scary movie to save my life, but I can READ them! I love mysteries and thrillers, and I'm really good at solving them."
City of Girls. "This is the first fiction book from Elizabeth Gilbert (author of Eat Pray Love), so I was really interested to see how she tackles this new genre."
Inside Ash's Beach Bag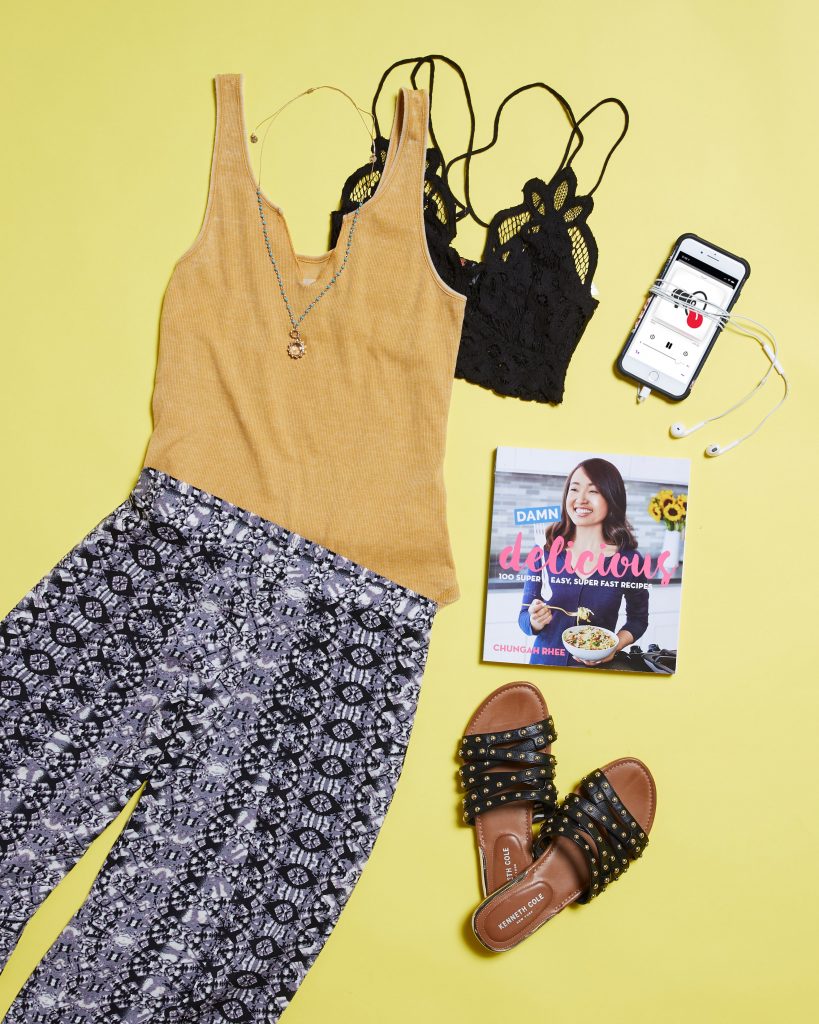 Shop the look: Chaser Tank | Free People Bralette | Peyton Jensen Pants | Kenneth Cole Sandals | Thirty-nine 42 Necklace
Wearing:
"I'm not always a huge fan of shorts (and chafing!), so I love these lightweight pants for an equally breezy option. They'll take me straight to dinner after a long afternoon in the sun."
Reading/Listening:
Damn Delicious. "Cookbooks are at the top of my reading list! I'm always looking for creative new ideas for my family.
Armchair Expert podcast from Dax Shepard. "This explores the 'messiness of being human'—it's encouraging to hear others' stories of imperfection and Dax Shepard is a great host."
Inside Heidi's Beach Bag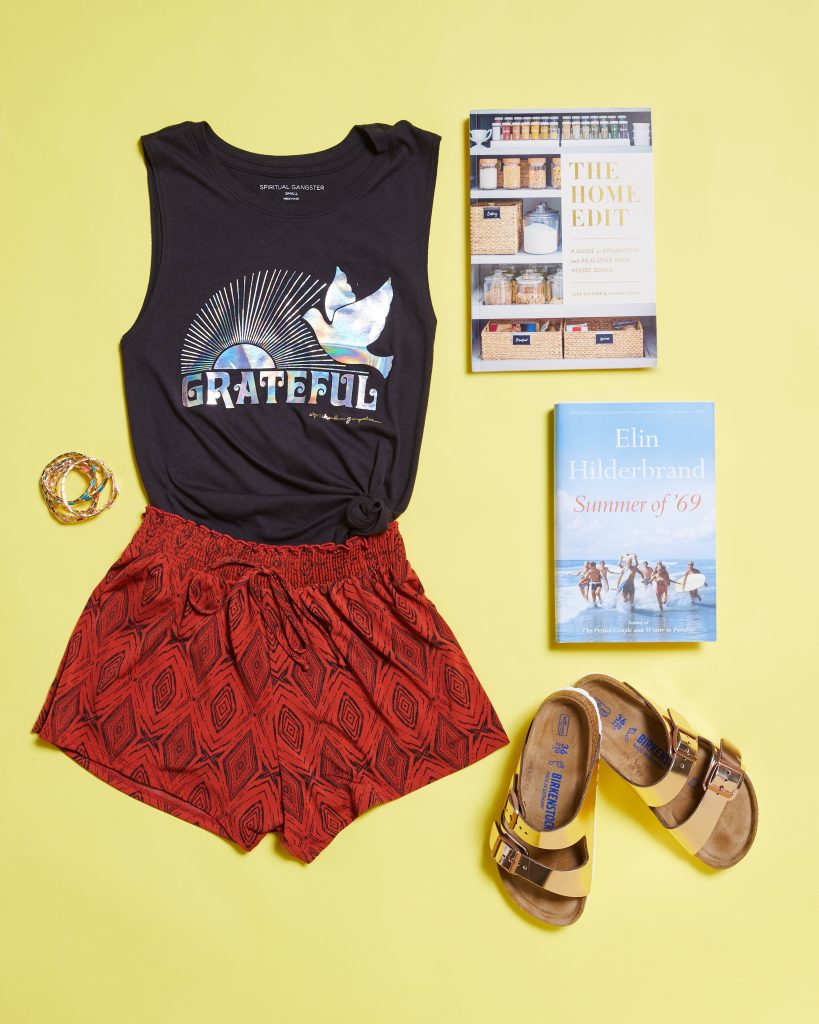 Shop the look: Grateful Tank | Peyton Jensen Shorts | Birkenstock Sandals | Thirty-nine 42 Bracelets
Wearing:
"Soft shorts for sure! Perfect for walks, wading up to my knees in the water and digging in the sand with my kiddos—they feel like wearing nothing!"
Reading:
The Home Edit. "I'm dying to make every drawer in my new house as organized (and color-coded) as everything in these pages! The ultimate for home organization inspo."
Summer of '69. "I'm traveling this week and this will be the perfect companion. As a 25-year resident of Nantucket, Elin Hilderbrand is the expert on beach town living."
What are your beach day picks? What's on your summer reading list? Comment below!