Happy September, friends! With Labor Day behind us and school back in session, we're ready to accept that fall is here. 🍂 While it's sad to say goodbye to summer, all the new fall clothes are making the transition a little easier!
One of the things we're most excited about this season is our first ever capsule collection. Our design team has always designed individual pieces within key trends, but this season, they wanted to design pieces that mix, match and work together in your wardrobe—giving you tons of versatility and everything you need in one place.
We sat down with Erica, Director of Design, to get all the details on the exclusive collection, available in stores and online now—read on below!
Congratulations on the fall capsule collection! What made now the right time for the launch?
Erica: Thank you! Designing into collections is pretty common in the industry, and now that we have the team, resources and capabilities to do it at EVEREVE, it was a natural next step. But more importantly, we wanted to highlight our private labels in a new way. Peyton Jensen and Allison Joy are two of our bestselling brands, and it made sense to feature the brands she's loving and wanting more of in a more prominent way for fall, which is the biggest stock-up season for our customer.
I love literally every piece in the collection! What was your inspiration?
Erica: The collection started with the prints and the colors. I was really excited about new color combinations like rust back to purple and blue with chartreuse accents. And the prints let us present those colors in updated ways, like you'll see in the Cora wrap top and Teddy tank. We tend to design printed woven tops in-house because many in the market don't align with our style aesthetic—they're either too junior, too vintage or too romantic. So, after creating some of those tops, it was about adding complementary silhouettes and styles to complete the collection.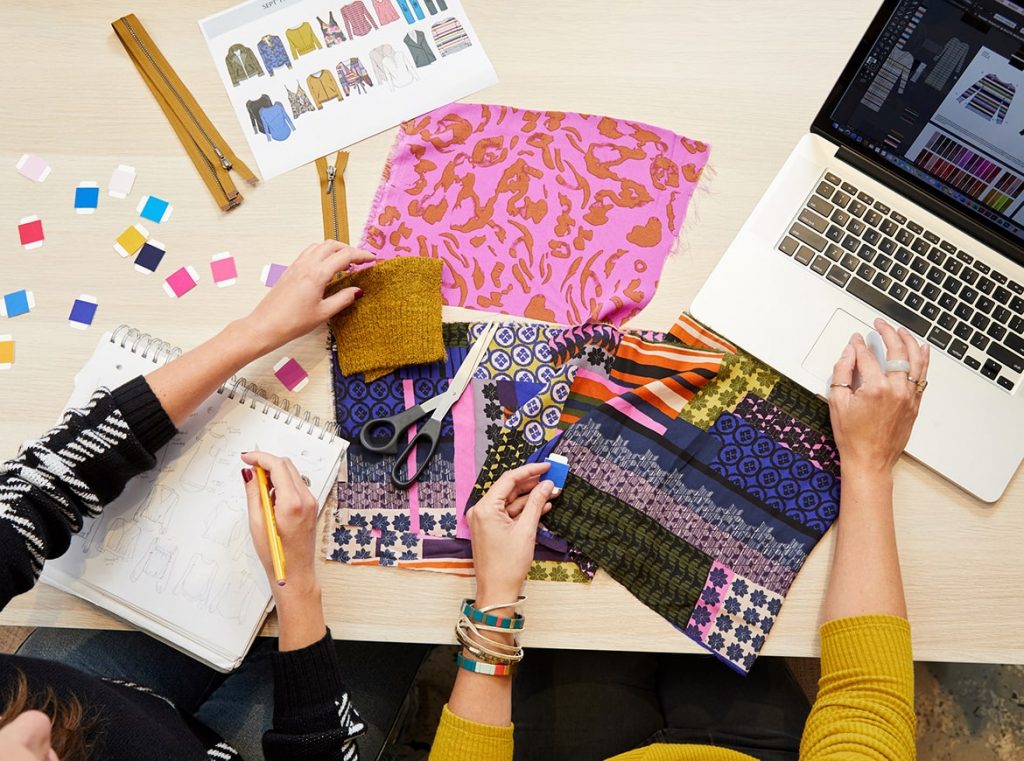 So interesting! What was the process like from start to finish?
Erica: It was about a six-month process end to end. We started by selecting prints, then reworking the colors. Next, we hand-sketched and sent styles to vendors, then did Illustrator sketches and filled the prints and colors into the bodies. From there we reviewed everything with the buyers and fit samples on our fit model. We go through three to five fit rounds with every sample to make sure we're happy with how the garment is going to look on our customer (and ensure she'll love it too)!
What are some of your favorites from the collection?
Erica:    It's so hard to pick one favorite because I'm really proud of the entire collection, but I'd say the Maison top, if I had to choose. I'm really happy with the fit, love the elevated fabric and the two-color graphic floral back to black feels updated and fresh. Plus, the contrast fabric is such a fun detail that's still really easy to wear. It's perfect for work or date night—versatility is something we aimed for in all the pieces in the collection.
Love that top! Will there be more EVEREVE capsule collections in the future?
Erica: This is the only collection for the fall/holiday season, but we are planning something for spring! And depending on how she responds to this first run, we could absolutely do Peyton Jensen and Allison Joy capsule collections more often. One thing I love about EVEREVE is we're flexible, fast and always prioritize what our customer wants—so we'll be watching and waiting to see what she thinks about the fall collection and respond accordingly! I'm pretty sure she's going to love it!
Tune into The Inside Scoop on Instagram Stories every Tuesday to hear more from Erica about product design and EVEREVE exclusives! DM us with your questions and feedback on the fall collection!