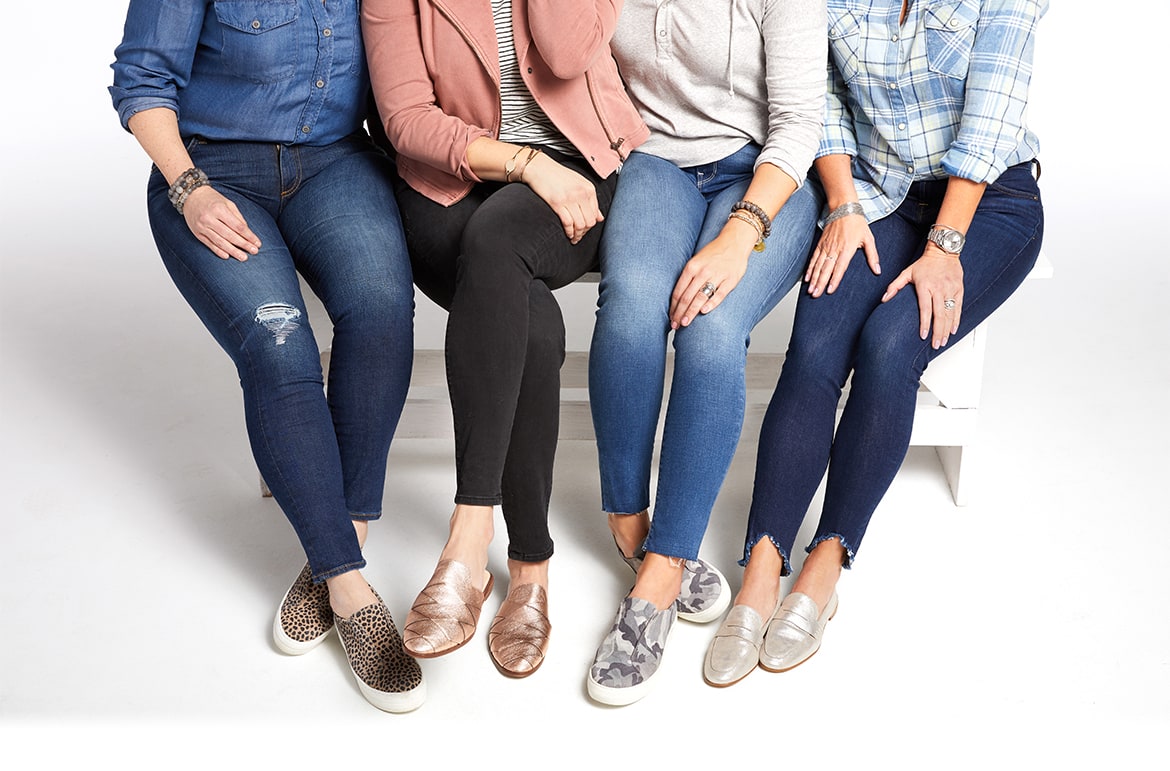 Happy Sunday, friends! First things first: there is a Hudson Jeans GIVEAWAY live on our Instagram today, so hurry over and enter to win if you haven't yet! Our big Annual Denim Sale is happening now—15% OFF all jeans—and we've been talking all weekend about the best styles to buy for your shape. January is refresh time for our closets (KonMari Method, anyone?) and as the foundation of every good wardrobe, denim is the best place to start.
There are three things that make jeans shopping at Evereve different, so before you dive into the sale, let's discuss! First, we curate our denim assortment. You won't find every style from every brand here, but you'll find the best from premium brands like 7 For All Mankind, Hudson and AG. No wading through endless racks or questioning quality—we do the filtering for you! Finally, right?! Second, we pay special attention to fit and stylists in every store will help you find the right rise, fabrication and inseam for you. And because sometimes the hardest part isn't figuring out what to wear but HOW to wear it, we'll also style you from head to toe. It's an experience that's bigger and better than a single pair of jeans, and we're in it with you every step of the way.
Whew—we're feeling more organized already, what about you?! Without further ado, here are the four styles you need to refresh your denim collection now, worn by a few of our favorite Evereve faces.
WHAT YOU NEED: HEM DETAILS
One of our new favorite ways to give our look that signature edge is a cool shark bite hem. This hem style elongates your legs by exposing more of your ankle than a traditional hem—and who doesn't want longer legs? If your legs are longer, rock this style as a crop and slide straight into spring.
Heidi, Fashion Director | SHOP HEIDI'S LOOK: 7 for all Mankind Jeans in Serrano Night (great for petites!) | Sanctuary Shirt | Vince Camuto Loafers | Shop 7 For All Mankind | Shop Raw Hem Jeans | Heidi is wearing size 26 jeans, S top, 7 shoes. 
WHAT YOU NEED: BLACK DENIM
We don't like to focus on trends, but black denim is TRENDING. This pair is under $100, so it's a great way to add a fresh look to your denim collection and mix it up without breaking the bank. Melissa wears black and grey denim almost exclusively—so try it out and you just might find your new obsession.
"Our customers fell in love with black denim this year and I'm so happy since I personally love the look! The full-length inseam is also great—at 5'10" these hit right below my ankle which means they work with any shoe."
Melissa, Denim Buyer | SHOP MELISSA'S LOOK: KUT from the Kloth Jeans in Fulfill (great for long legs!) | Marrakech Moto Jacket | Sunday in Brooklyn Tank | Seychelles Slides | Thirty-Nine 42 Necklace | Shop Kut from the Kloth | Melissa is wearing size 29 jeans, M tops, 8 shoes.
WHAT YOU NEED: SPRING-FORWARD WASH
Start lightening up your wardrobe for spring with a pair of lighter wash jeans—such a refreshing feeling after all the heavy textures and dark colors of winter! This pair is an Evereve exclusive and made from customer-favorite Enhance fabric—slimming stretch denim that sucks you in and holds you in. Sign us up!
"These jeans feel amazing—like a legging with a buttoned waistband! I love the higher rise so I can sit pretzel-leg and play "kitchen" with my two-year-old daughter without exposing anything."
Ash, Director of Styling | SHOP ASH'S LOOK: Hudson Jeans in Riviera (great for athletic shapes!) | Chaser Hoodie | J/Slides Sneakers | Simbi Haiti Bracelet | Thirty-Nine 42 Necklace | Shop Hudson Jeans | Ash is wearing size 28 jeans, M top, 11 shoes.
WHAT YOU NEED: RIP & REPAIR DESTRUCTION
We love the distressed look, but when it's cold outside, bare knees aren't the most practical. Rip and repair denim is the solution—the destruction is patched from behind so your skin isn't exposed—and this style holds up longer overall than full distressing. More to love? The back pocket placement on this pair is perfect for curvier bottoms, making these look as good as they feel.
Kristina, VP of Merchandising and Founding Leader | SHOP KRISTINA'S LOOK: AG Jeans in Shiftedmended (great for hourglass shapes!) | Sanctuary Shirt | Thirty-Nine 42 Earrings and Bracelet| Shop AG Jeans | Shop Distressed Jeans | Kristina is wearing size 29 jeans and M top.
SHOP DENIM (the Annual Denim Sale ends Monday, January 21!)