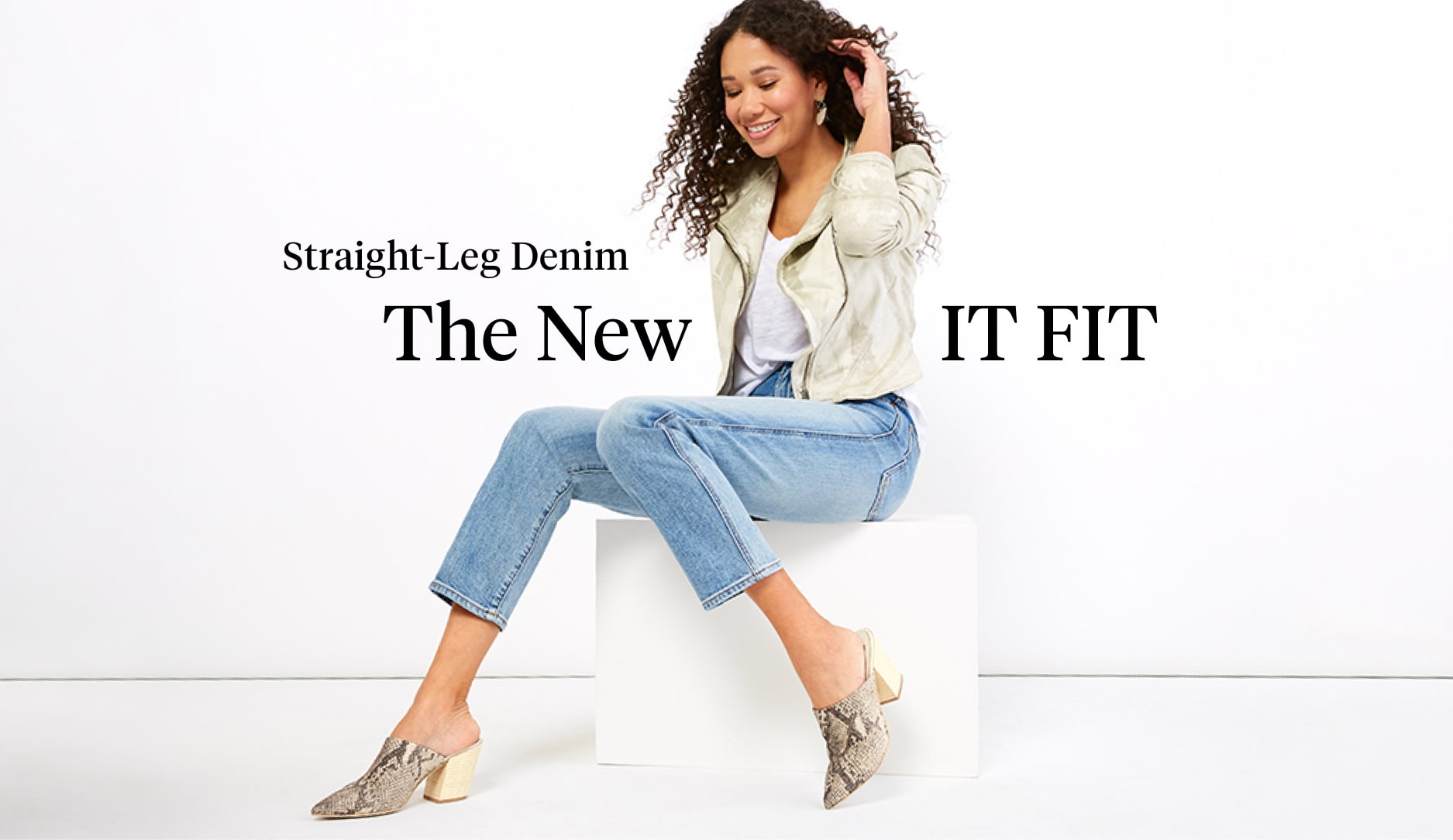 You've been seeing straight-leg denim pop up in our emails and Instagram feed, but maybe you still have a few questions about the silhouette and how to wear it. Today, we're breaking down everything you need to know about denim's "it" fit. With spring right around the corner, it's the perfect time to refresh your look with this must-have silhouette.
What is a straight-leg?
The hot new hybrid of a skinny and boyfriend: fitted through the waist like a skinny, and more relaxed through the leg like a boyfriend.
Where can you wear it?
Everywhere from work to weekend. The Kut Reese in black and 7FAMK Straight Crop are great for work with a blazer and pumps. For a casual weekend or everyday look, we love something with more distressing, like the AGOLDE Nico—it's soft, comfortable and has a cool vintage look.
What shoes work with a straight-leg?
Straight-leg denim pairs well with sneakers, heels and sandals to give you tons of versatility. If you're not sure where to start, try a shoe with some lift for spring, like these Dolce Vita mules.
Why do we love it?
We love having an alternative to skinnies, especially as the weather starts warming up and you don't want that skin-tight feel. The silhouette is super flattering because it shows off your slimmest parts: your waist and ankles. And it has a cool vintage look that reminds us of the '90s (but better).
Who can wear it?
Everyone! All of our current styles have stretch for comfort, whatever your leg shape. (And as we start carrying 100% cotton options, you'll be surprised by how comfortable they are, too!) We carry mid and high rises, as well as different inseams so you can find the rise and length that works for you. You can also hem straight-leg jeans or cut the hem yourself without worrying about where the knee breaks. Just remember: not all straight-leg silhouettes are the same—leg openings and how they fit on your leg shape will vary, so visit a store and try a few pairs!
What are the best buys?
This season, our best sellers are the AGOLDE Nico and Kut Reese (for $89!).
Is straight-leg here to stay?
Yes! The straight-leg silhouette will be a big trend through holiday 2020.
shop our favorites: 7FAMK High Waist Straight | Kut Reese | Hudson Nico | AGOLDE Toni
Come see us in-store and try on a pair of straight-leg jeans—we'll help you find your perfect pair.
Click here to find a store.