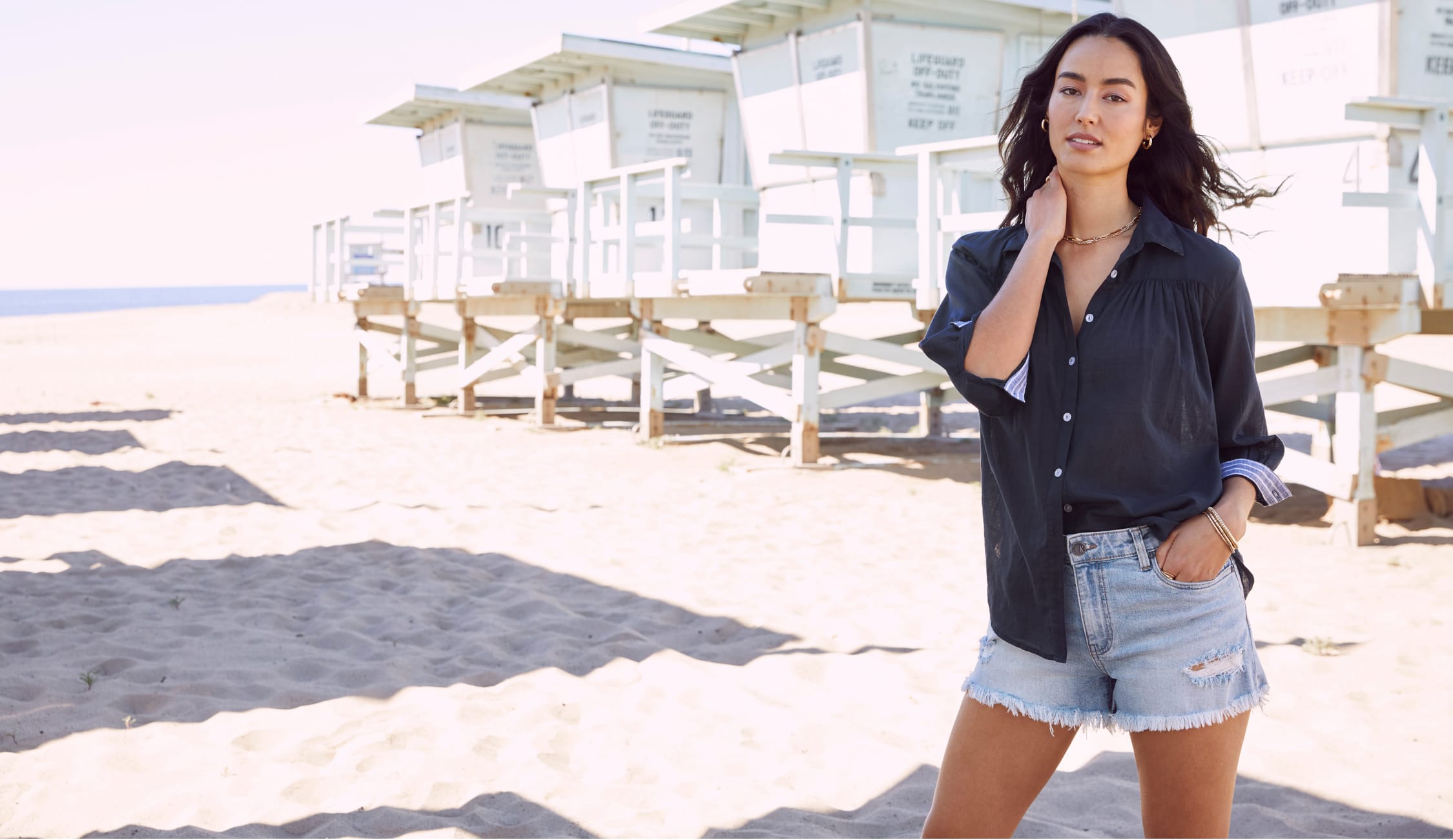 Jean shorts are a summer staple because of their endless versatility. We've gathered up a few of our favorite cutoff looks so you no longer have to wonder how to style denim shorts. Here, chic styles that made the cut!
1. Jean Shorts and a Chic Tank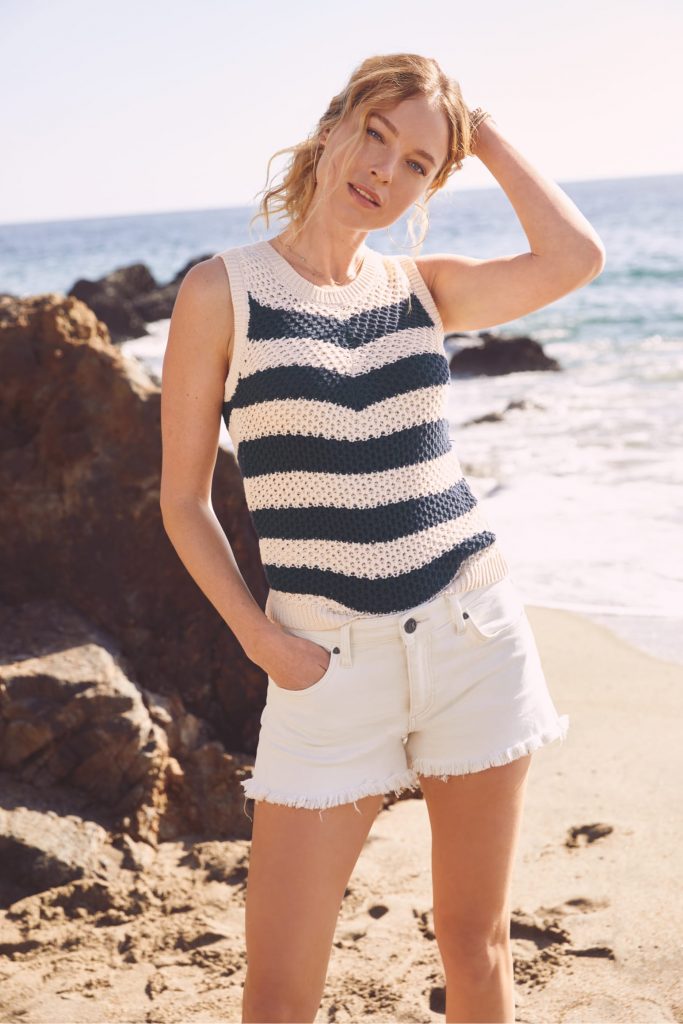 We love the play on textures with these two looks—the soft denim against a chunky knit sweater tank and a breezy, linen cami. And the bold patterns play well off the light denim washes.
Shop The Look: Shop Clarissa Chevron Tank | Shop Jane Cutoffs | Shop Logan Smocked Cami | Shop Parker Long Shorts | Shop All Shorts and Cutoffs
2. Jean Shorts and a Button-Down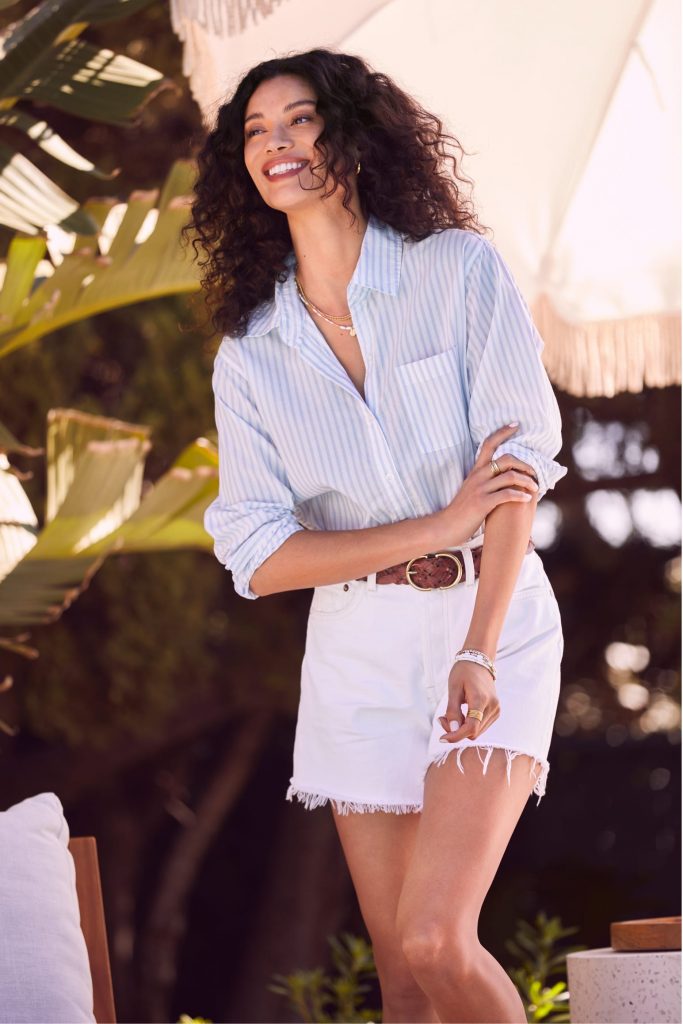 Is there a more iconic summer duo? We love this timeless ensemble (that's especially trending right now thanks to #CoastalGrandma), as it's the perfect look for an endless array of summer activities. From morning coffee runs, to afternoons on the sidelines (the long sleeves provide extra sun coverage), and worn over your swimsuit at the pool, investing in these two pieces will pay dividends for seasons to come.
Shop The Look: Shop Pop Stripe Button Down | Shop Parker Short | Shop Robyn Button Down | Shop Jane Short | Shop All Shorts and Cutoffs
3. Jean Shorts and a Statement Top
Perfect for nights out, the proportions of this combo (shorter shorts + longer sleeves) create an easy, elevated vibe. Add your favorite slide sandal, hat and go—a patio and cocktail are calling!
Shop The Look: Shop Jess Blouse | Shop Parker Long Short with Cuff | Shop Cassidy Raglan Blouse | Shop Parker Long Short | Shop All Shorts and Cutoffs
Jean Shorts FAQ
Have more questions? We've got answers. Let's jump in!
Should jean shorts be tight or loose?
While it can be a style choice, jean shorts are often most comfortable when they're slightly looser around your leg. This will also depend on the style of short you opt for. To learn more about denim short styles, check out our denim style guide.
How do I style bermuda shorts?
Contrary to popular belief, bermuda shorts can be effortlessly stylish. Pair with wedges and a blouse for a flattering summer look, or a graphic tee and sneakers. If you want to rock a denim short this summer but are looking for something a little more modest, bermudas may be the perfect choice for you! Read more in our guide: How to Wear Bermuda Shorts: 5 Outfit Ideas to Try This Summer.
How do I style high waisted denim shorts?
High waisted denim shorts can be a flattering look for warm weather. Pair with a tucked-in t-shirt or blouse, or a bodysuit with bangles for a night out. To lengthen your legs, add a pair of heels or wedges for the perfect chic look.
Say Hello to Summer With EVEREVE
We've got all the summer style inspo! Discover which best-selling AGOLDE Parker short is best for you and see more ways Heidi styles a button-down.