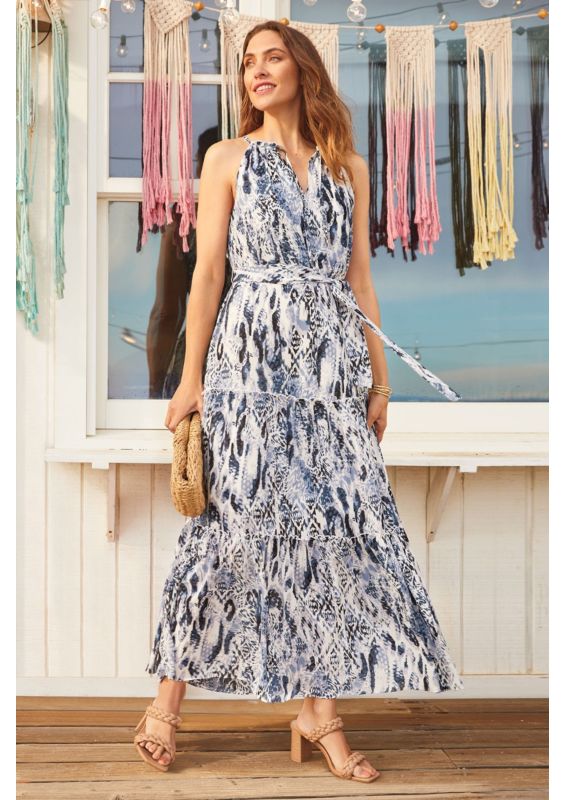 From beautiful flowy skirts to vibrant floral patterns, boho style still shines through in modern fashion. While Boho style has a lengthy history, it became increasingly popular during the 1960s and 1970s, inspired by the free-spirited Bohemian travelers (very similar to hippies!).
Whether you're a boho connoisseur, or just dipping your toes into this fashion-genre, the staple closet piece is a modern boho maxi dress.
Boho dresses come in a variety of styles, and are incredibly versatile. If you've ever wondered how to style a boho dress, you've come to the right place! Follow along for some of our favorite boho dress outfit ideas.
1. Tiered Floral Boho Tank Dress + Bangle Bracelets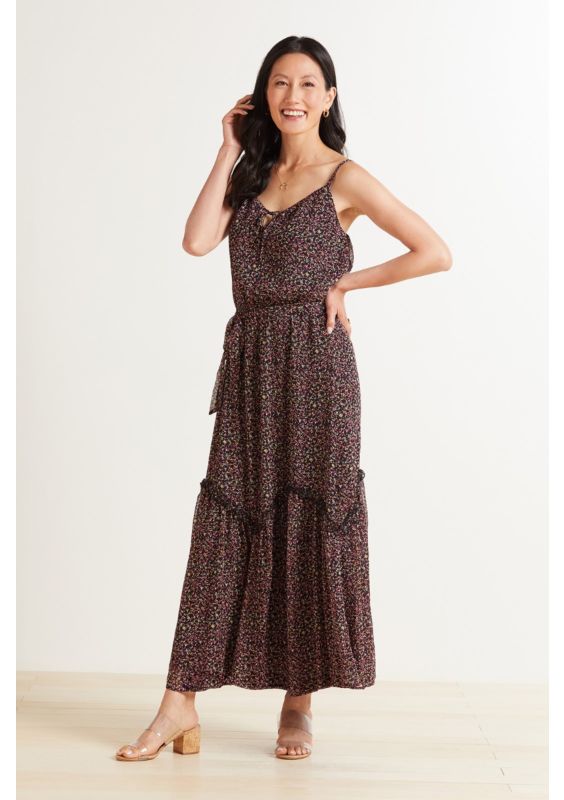 Long and flowy tiered floral dresses are a must-have when it comes to boho style. Whether it's muted patterns or bright florals, find a boho dress that speaks to you! Sleeveless boho dresses are a great opportunity to accessorize your neck with some jewelry.
Add your favorite stackable bracelets, bangles, and necklaces for some flare. Go barefoot for a night on the beach, or wear a pair of chunky heel sandals to create an outfit you can move and groove in all day long.
Shop the look: Jacklyn Floral Dress | Pineapple Delicate Necklace | Candice Chain Bracelet Pack
2. Halter Boho Dress + Stackable Rings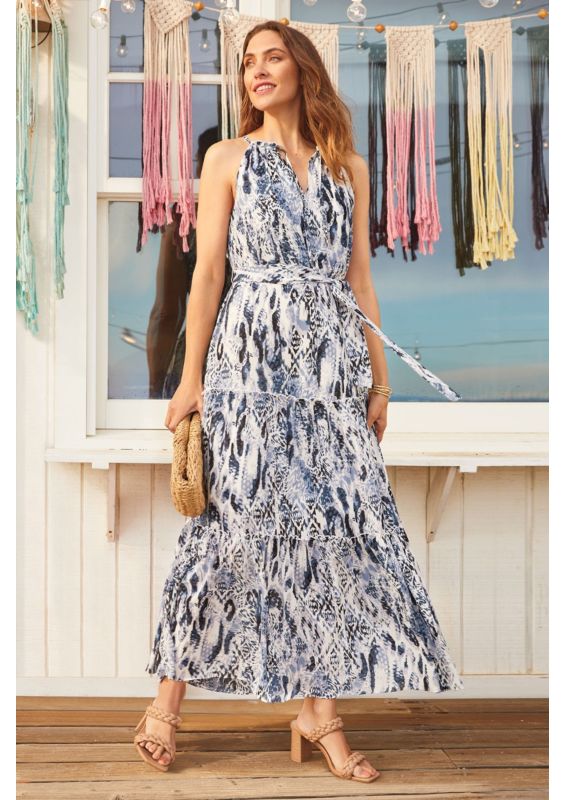 Haltered boho dresses are incredibly flattering and great for dressing up on a warm summer night. The halter neckline is part of the traditional boho style and often features a bit more coverage in the front.
Step out in a statement boho dress paired with some stackable rings and bangles. You're ready for that dance floor!
Shop the look: Naomi Tiered Halter Dress | Dannie Chain Bracelet Pack | Lainey Ring
3. Long Sleeve Boho Dress + Platform Sandals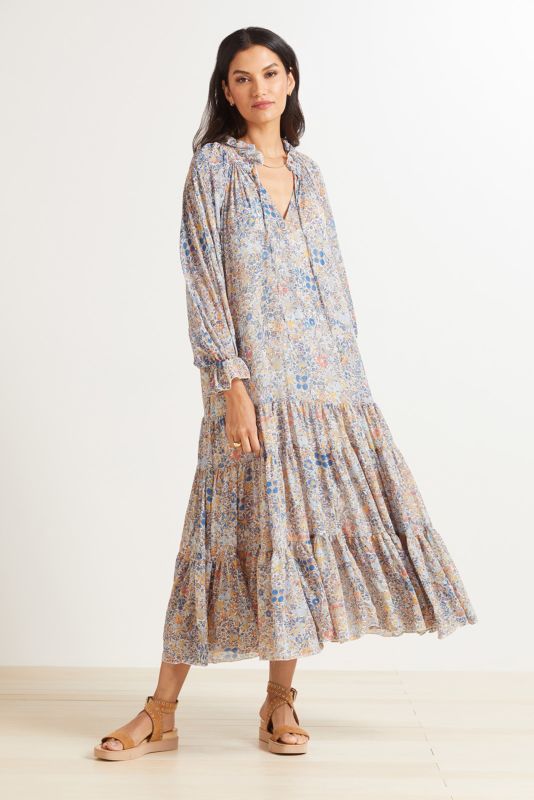 Long sleeve boho dresses often feature flowy sleeves that emulate the carefree and comfortable nature of boho style clothing. Keep it comfy and stylish for date night with a pastel floral boho maxi dress.
Accessorize with a pair of platform gladiator sandals, or a pair of earth-toned slides. Whether you're going out or staying in, this outfit is simple yet stunning!
Shop the look: Feeling Groovy Maxi Dress | Panko Studded Flatform | Brynn Double Strand Coin Necklace
Related Reading: How to do Summer When You Don't Do Sleeveless
4. Solid Color Maxi Boho Dress + Hoop Earrings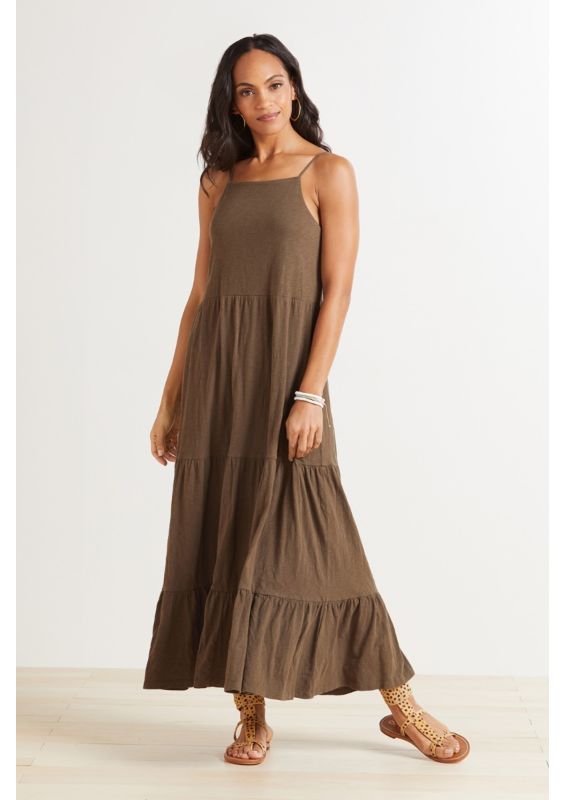 Not feeling the colorful patterns but still want to create an amazing boho-inspired look? Wear a solid color, earth toned maxi dress to flaunt your boho-style while staying true to your taste. Accessorize with some gold hoop earrings, sequin bracelets, and platform sandals for a classy summer outfit.
Shop the look: Rory Tiered Slub Dress | Cora Wire Wrap Hoop Earring | Maisie Sequin Bracelets | Panko Studded Flatform
5. Strapless Boho Dress + Huggie Earrings + Cork Sandals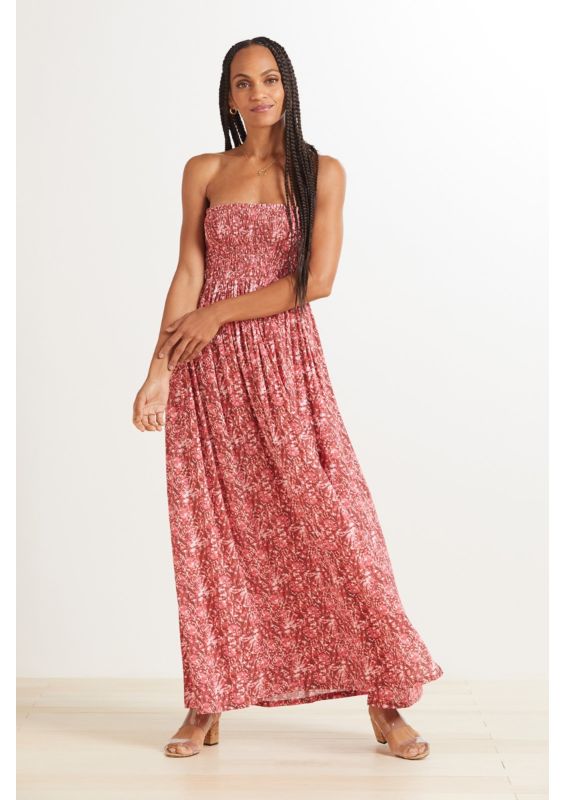 Flaunt your collarbones with a strapless boho dress! Catch some rays and celebrate summer in a printed maxi. Add a necklace and some huggie earrings to lightly accessorize the look. Dress up with a pair of cork heeled sandals, or your favorite pair of leather slides. A strapless boho dress will help you fully embrace the care-free yet stylish nature of boho style!
Shop the look: Tatum Strapless Dress | Victorie Sandal | Crescent Pendant Necklace | Celeste Earring Pack
6. Short Boho Dress + Platform Sandals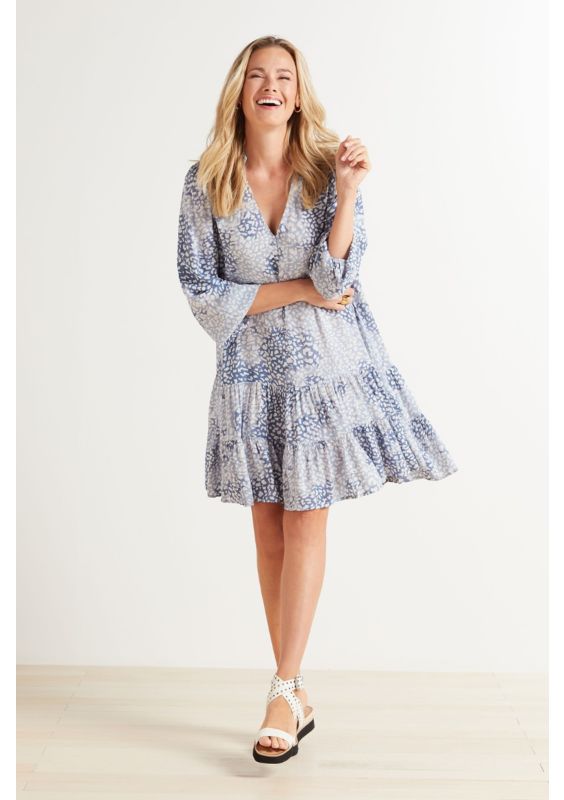 Boho dresses don't have to be maxi! Want to show off a little leg? Wear a short boho dress with tiered detailing for a fun outfit to take on any summer day. Elongate your legs with a pair of platform sandals or chunky sandal heels. Add some small hoop earrings for an effortless and fresh outfit.
Shop the look: Animal Print Dress | Panko Studded Flatform | Georgia Earring Pack
Boho Chic FAQ
Have questions? We've got answers. Here's everything you need to know about styling your Bohemian attire:
What type of dress is typical of boho chic?
Boho chic dresses are typically flowy, multi-tiered, and long. But, modern boho dresses can fall above the knee too. They are the perfect summer dress because of their light and airy bounce. Dress them up or down with sneakers or wedges for the perfect summer look.
What colors are considered boho?
Boho chic colors are historically bright and warm, ranging from deep pinks to vibrant oranges. However modern boho style can feature a variety of different colors outside of the traditional palette.
How can I dress bohemian chic without wearing a dress?
If you're not feeling a boho dress, you can opt for long and flowy pants, skirts, and blouses paired with long necklaces, bangles, and even rings. Have fun mixing together different earthy and vibrant colors, and if you're up for it, mix a few patterns together for the ultimate boho chic outfit.
Find Your Boho Style with EVEREVE
It's boho season, and we want to help you look your best! Adding a touch of Bohemian style to fashion makes any outfit expressive, colorful, and relaxed. Whether it's boho dresses or layered necklaces, EVEREVE has a wide variety of pieces to choose from to help you dress for any occasion.
Visit our summer lookbook for more outfit inspiration, or head to the summer Hit List to find what else is in this summer!