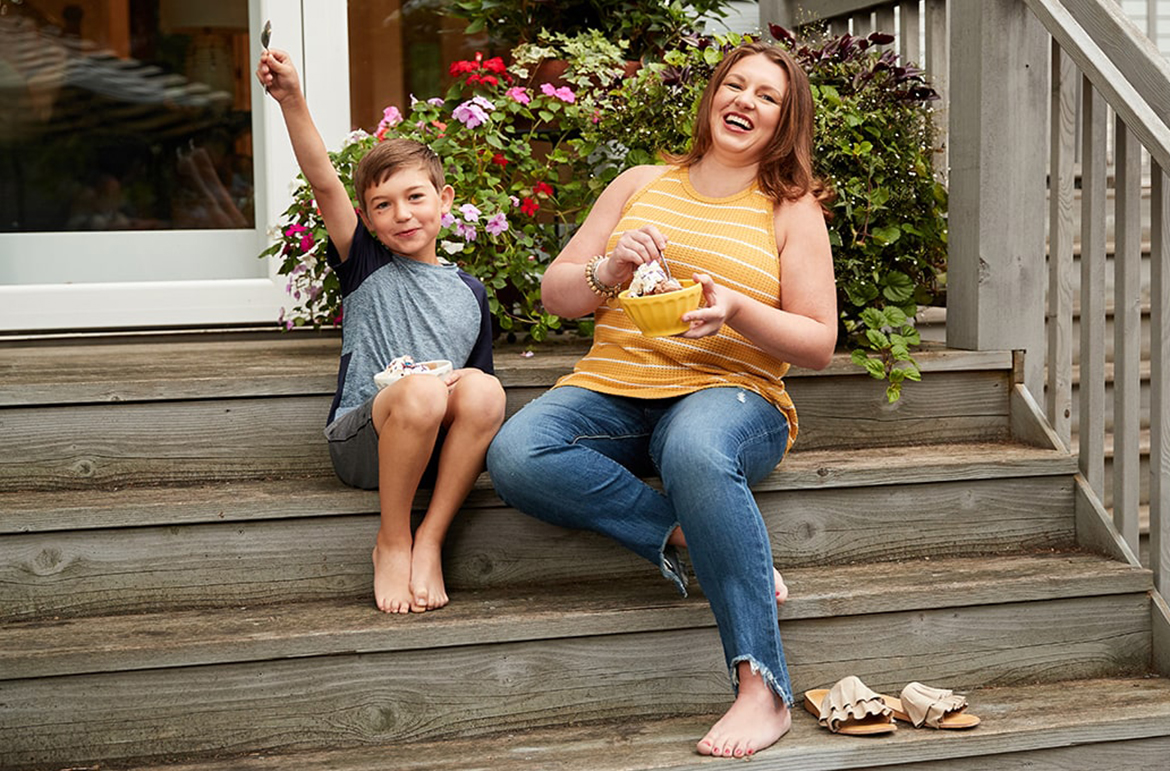 Summer is coming to a close.  In fact, in some areas of the country, it's already over, and kids are back to school.  This time can be emotionally charged. One part of us wants to run through the halls, clicking our heels singing the Halleluiah chorus, while the other part of us wants to curl up in a ball crying that this will be the last time we send our baby to school at this age.  We know the feeling. These yo-yoing emotions are normal and expected at this time of the year.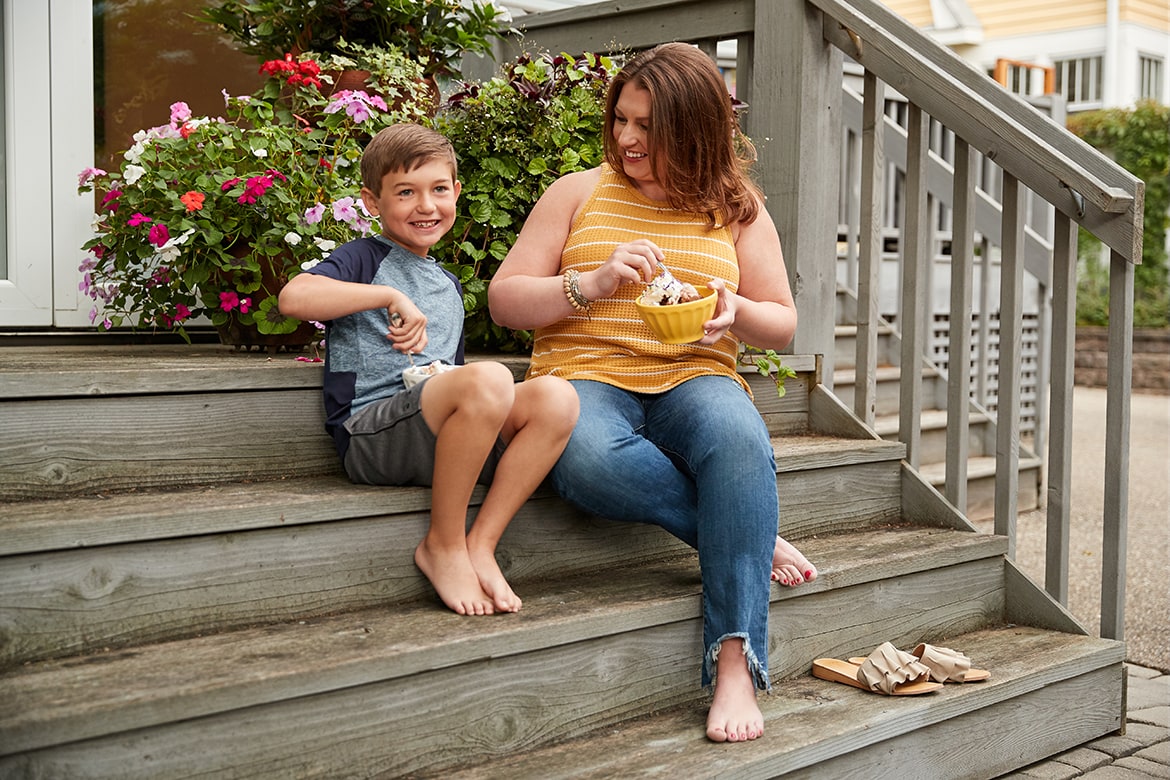 Peyton Jensen Waffle Tank | Hudson Barbara High-Rise Jeans | Ruffle Slide Sandals
Since you have spent the last two to three months in one extended interview for a position as a cruise ship entertainment director, we wanted to give you a couple of simple and sweet end of summer activity ideas that will let you enjoy the last few weeks of summer together.. These ideas will not involve lots of advance planning, tons of money, or much effort on your part.  They will include memories and moments that you can cherish and hold close to your heart the next time you hear your child tell you they are bored for the 13th time in an hour.  Remember, school will be back in session soon.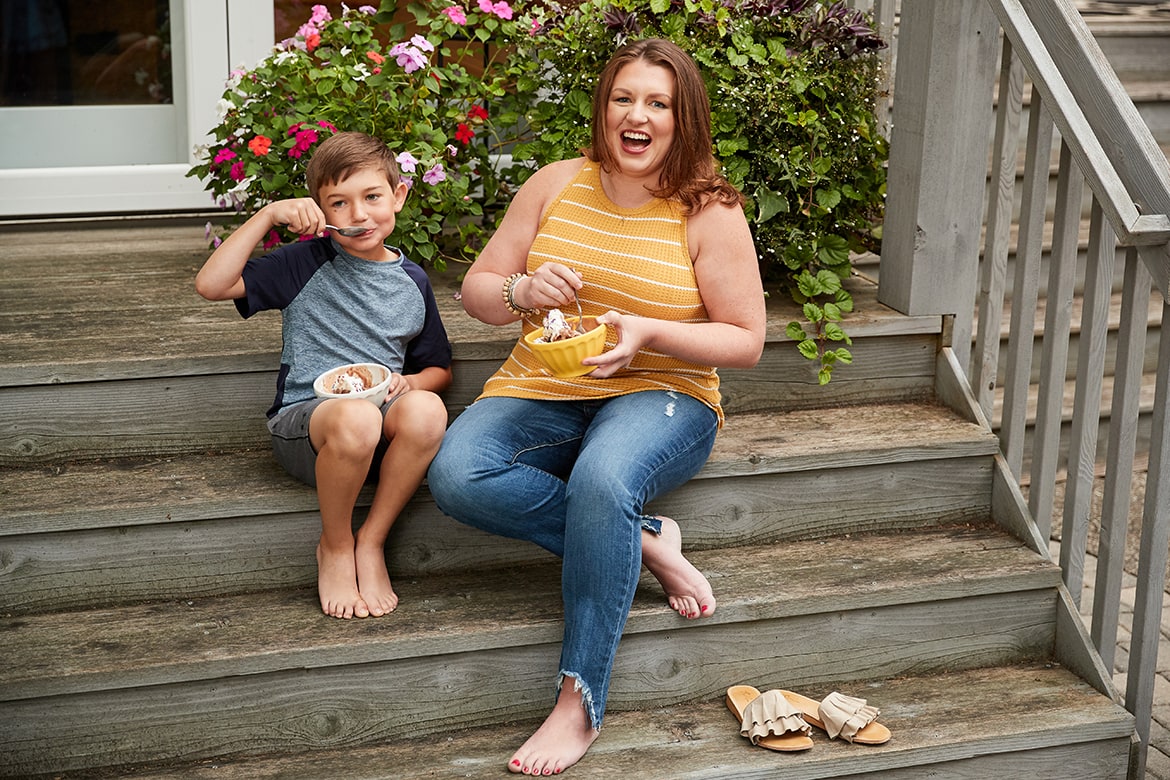 Peyton Jensen Waffle Tank | Hudson Barbara High-Rise Jeans | Ruffle Slide Sandals
Sarah, a member of our accounting team, and her 7-year-old son Ethan joined us today because they have some really fun end-of-summer traditions that they wanted to share.  Sarah's entire family are sports fanatics and especially love baseball.  In fact, Sarah even coaches Ethan's baseball team.  Talk about cool mom points!  Since we are lucky enough to have a professional baseball team here in Minneapolis, Sarah and her family always celebrate the end of summer with a trip to see the Twins play. Their other favorite tradition is to spend a night at the Minnesota State Fair. Who doesn't want to say goodbye to summer by spending an evening trying out as many fair foods as they can?  Even if you don't have a state fair in your area, you can always go to a fun festival or carnival in your town and celebrate with a night of rides and fair food.
If you don't have a professional sports team or a state fair to go to, don't worry, Sarah and Ethan helped us dream up five fun, easy things you can do to say good-bye to summer.
1. Have ice cream for dinner
Have a sweet tooth? There's nothing wrong with dessert for dinner, in moderation of course! Have an ice cream buffet for you and your little ones to enjoy on a warm, late summer evening.
2. Chase the last of summer's fireflies in the backyard
There's something so magical about fireflies lighting up a backyard in the summer evening light. Grab some butterfly nets or mason jars and see if your kiddos can catch a firefly! Watch as they light up the grass and sky around you. Making summer memories can be as simple as spending quality time in your backyard.
3. Stargaze
Put a blanket in the yard and do some star-gazing Bonus points if the kiddos get to stay up past their bedtime.
4. Take a field trip
Make one last visit to your family's favorite in town location.  Hit up the zoo, aquarium, the pool or local amusement park for a final goodbye to one of your favorite summer activities.
5. Head to the local drive-in
Pack the car full of blankets and snacks and take the kids to the drive-in theater for a night to experience fun from an era long gone.  If you don't have a drive-in near you, you can always create your own movie night in your backyard with just a sheet and a projector.