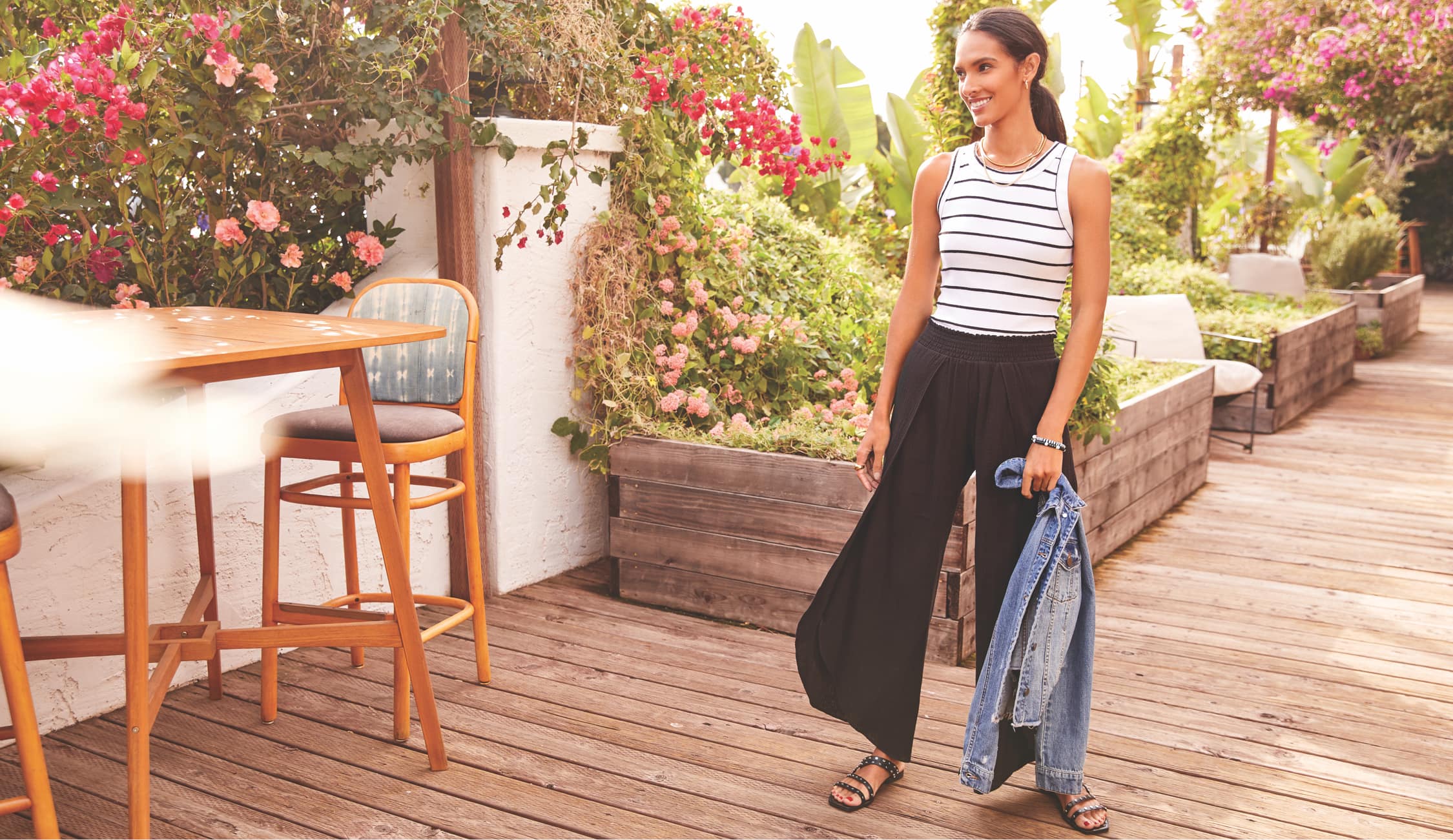 How's the weather where you live? We're coming out of a cloudy and cool streak in Minneapolis and hoping that we've turned the corner. Summer is so close! As we inch toward May, we've got some ideas for what to wear if you're not quite ready for tank tops and shorts, but want to lighten up your look. Beachy pants (with a tank or graphic tee) and relaxed shorts (with a lightweight sweater) are two wear-now looks that will make the transition from spring to summer a breeze—literally.
Beachy Pants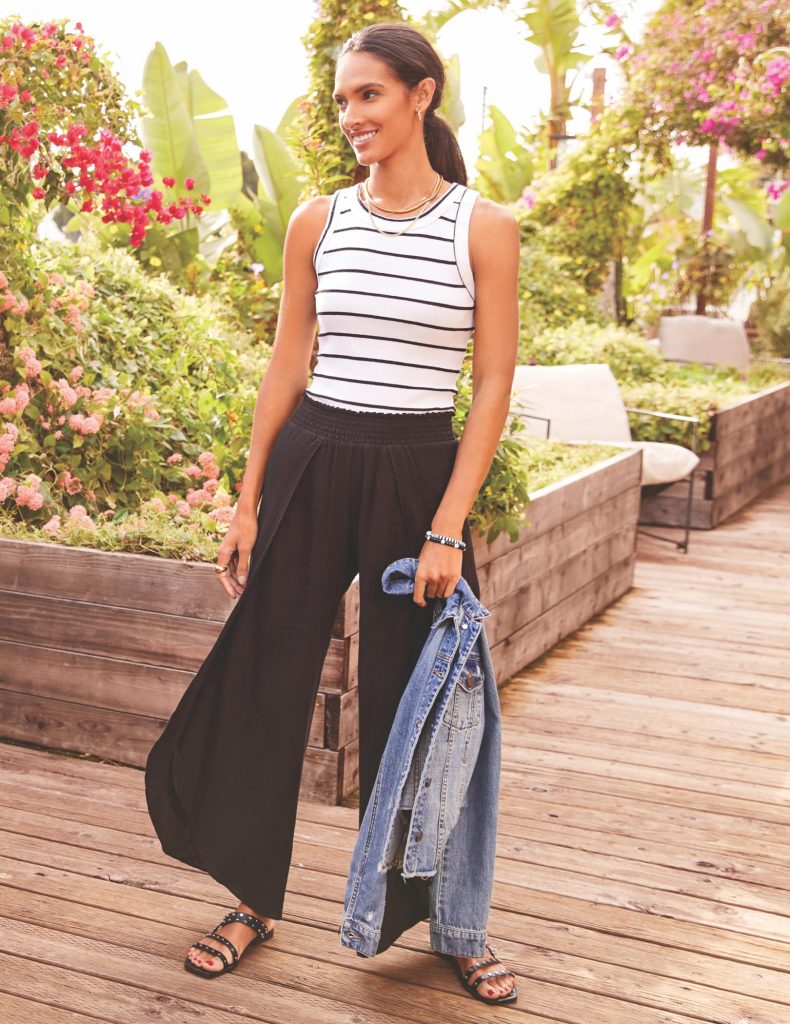 Ready for an update to your joggers? Beachy pants are the warm-weather version: all the ease and comfort, in lighter fabrications and breezier silhouettes. Pair them with a tank top or graphic for a wear-now look.
Roan + Ryan Trouser Pants: The perfect swap for your utility joggers: a similar look, but in breezy gauze that can take the heat and doesn't cling! We love the rolled hem for extra breathability (and showing off cute shoes).
Roan + Ryan Cruz Pants: If you're not a fan of shorts, you'll love reaching for these instead. The smocked waistline is a major win (easy fit—even after chips and guac) and the wide-leg silhouette feels new. These are effortless and put-together from beach walks to patio drinks.
Cloth & Stone Tie Dye Pants: Wearing a print on your bottom half is a refreshing change of pace that's especially appropriate for vacation! These make a statement, but they're still so versatile: pair with Birks for daytime and heeled sandals for dinner.
Relaxed Shorts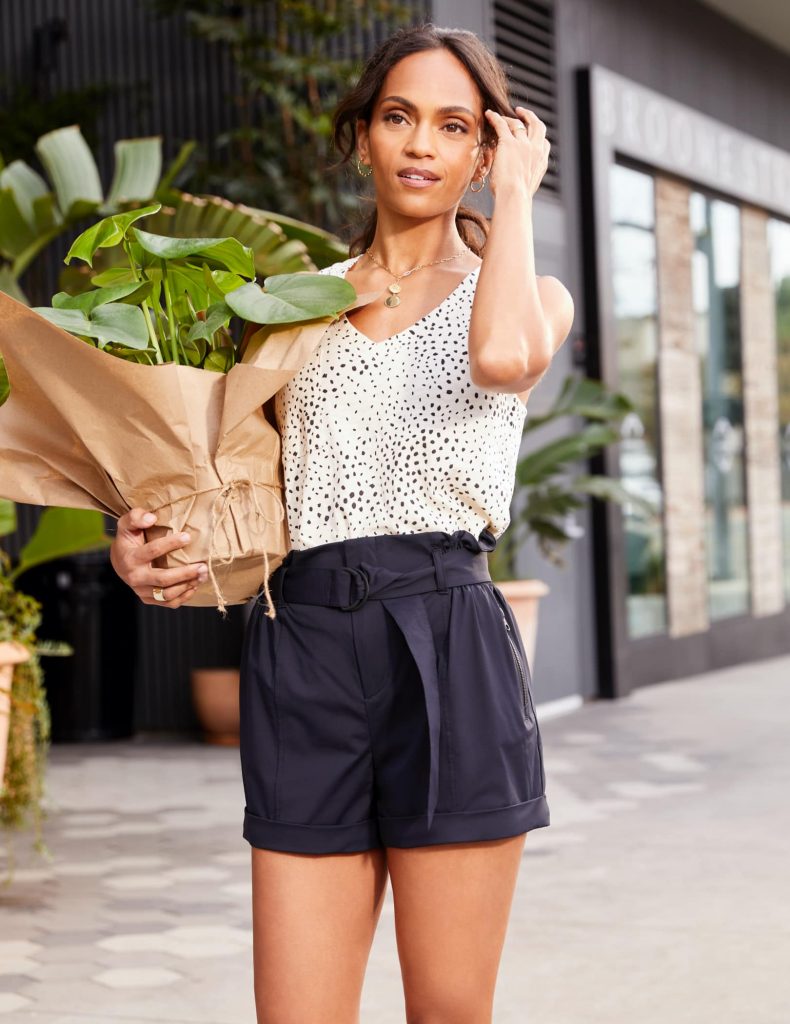 Cutoffs are a spring/summer must-have, but sometimes you need something that feels a bit more relaxed (especially when it's hot and humid). We have options! Pair these relaxed shorts with a lightweight sweater for a wear-now look.
Sol Angeles Waves Shorts: The cute and comfy (not sloppy) sweat short you've been looking for! These are that pair you'll throw on first thing Saturday morning and won't take off all weekend—perfect for all the laidback lounge-y things.
Level 99 Tori Shorts: Level 99 makes some of our favorite joggers—and now it's time to add their shorts to your stash. Made from stretch linen, these are an easy choice from watering your front porch flowers to grabbing coffee with a girlfriend. And we love the dolphin hem for a retro look!
Blanc Noir Mastermind Shorts: It's a good idea to have one or two shorts in your drawer that can dress up for dinners or casual BBQs when it's too hot for pants! The belted waist and cuffed hem on this paperbag pair from Blanc Noir pull your look together for the occasion.
EVEREVE TV
Want a closer look? Heidi talks beachy pants in this episode of EVEREVE TV and Ash talks relaxed shorts in this episode.