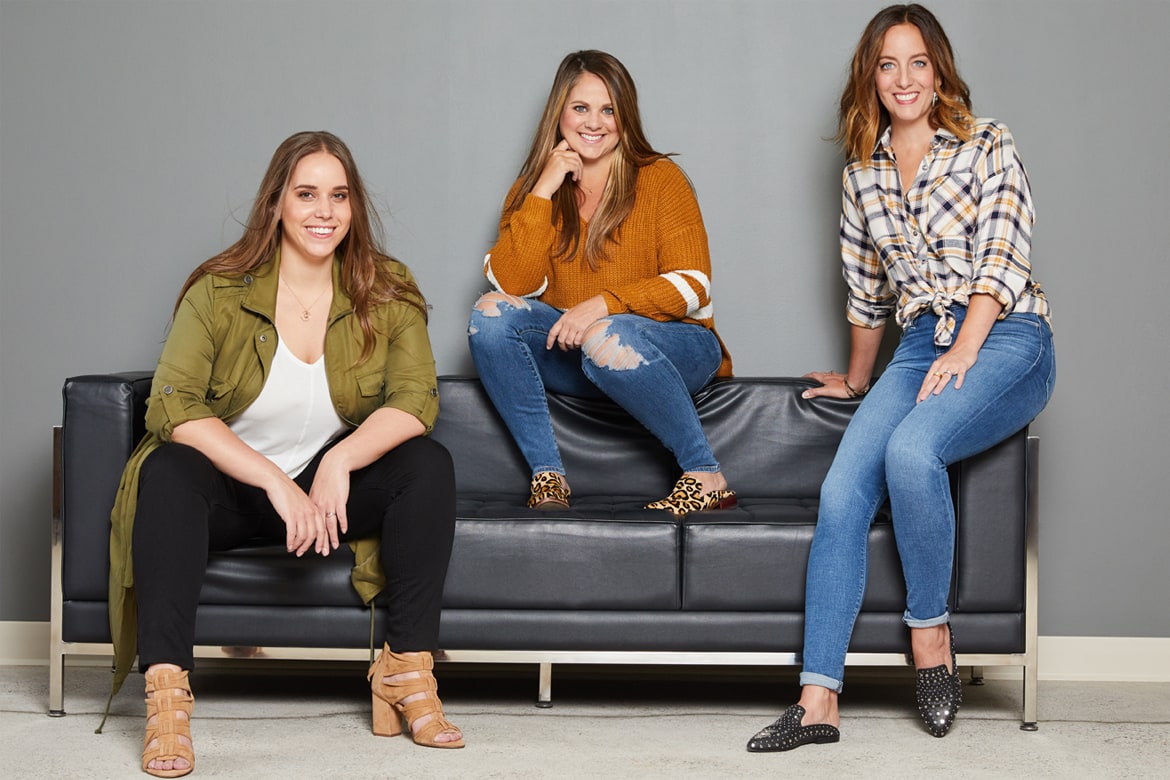 Real talk: denim is a beast. With what seems like an endless number of new brands, fits and washes hitting shelves every season, figuring out where to start is daunting. Just committing to the try-on process deserves an A for effort. And if you do find a pair that seems to work for you, styling poses another set of challenges: to tuck in your shirt or not to tuck? What shoes work? How to wear black denim? In over thirteen years of business, our stylists have seen (and solved) it all—and the only thing we love more than denim is styling you in the denim that makes you feel like you have finally cracked the code. Grab your coffee and let's get started—we've got the answers to your most commonly asked denim questions.
Question 1: How do I style high-rise jeans?
Left: Peyton Jensen Plaid Shirt | Hudson Barbara High Rise Jeans | Studded Slides
Right: Moto Jacket | Michael Stars Tank | Hudson Barbara High Rise Jeans | Studded Slides
Erica is 5'6″ and is wearing a 26 in denim and typically wears a size small top, but sized down to an XS in the plaid tunic.
Whether you love it or are just learning about it, denim waistbands keep rising. We love high-rise denim because it offers amazing coverage (perfect for crawling after littles), holds you in and smooths it all out. But a high rise can leave you stuck on what to do with your top—do you tuck in your shirt or not? Our answer? Anything goes! We love how Erica (from Tuesday's post) knotted this plaid tunic, letting her control where the shirt hits her Hudson Barbara waistband. This trick highlights her waist and gives her a little booty coverage since the shirt isn't tucked in. Another no-fail solution is wearing a jacket to highlight your waist. The lines on a moto create an instant hourglass figure and make the tuck of your shirt less of a focus.
Question 2: What shoes do I wear with ankle jeans?
Left: Allison Joy Button Down Top | AG Legging Jeans | Peep Toe Bootie
Right: Striped Sweater | AG Legging Jean | Leopard Slides
Erica is 5'2″ is wearing a size 28 denim and a size small top.
Erica is a petite 5'2" and finding ankle denim that works on her frame is tricky. Layer in the "what shoes do I wear with this?" question, and she's facing multiple challenges. When it comes to pairing ankle jeans with shoes, there's only one rule to follow: show that ankle bone. Showing your ankle elongates your leg by visually breaking up your calf and your foot. We love the Kristin Cavallari bootie with ankle denim because the cutouts highlight your ankle, and the open toe is perfect for transitioning into fall. For a flat option, trade your Birkenstocks for slides. This leopard print goes with everything, and the open back makes for a fresh and flattering pairing with ankle jeans. Insider tip: get your perfect length without alterations by casually cuffing or rolling the hem.
Question 3: What do I wear with black jeans?
Cupcakes and Cashmere Duster Jacket | Peyton Jensen Ribbed Tank | 7FAMK Black Jeans | Splendid Heel
Abby is 5'6″ and wears a 31 in denim and a size large top.
Hello, chameleon jean! We love black denim for its versatility. Dressed up or down, black denim can be paired with just about anything. It's a neutral, but it's dark—so it helps to break up all that black with some proportion play and interest. We styled Abby in a look that will effortlessly take her from work to dinner with her fiancé. A v neck tank draws the eye up and opens her neckline while a jacket enhances her waist with cinching drawcords. A fun stacked heel elongates her legs and the taupe color almost disappears. And the jeans? You can't go wrong with our 7 For All Mankind B(air) Skinny. The clean hem is work-friendly and the lightweight stretch denim moves with you (literally feels like jammies!).
Do you have any burning questions about denim? Leave them below in the comments section!