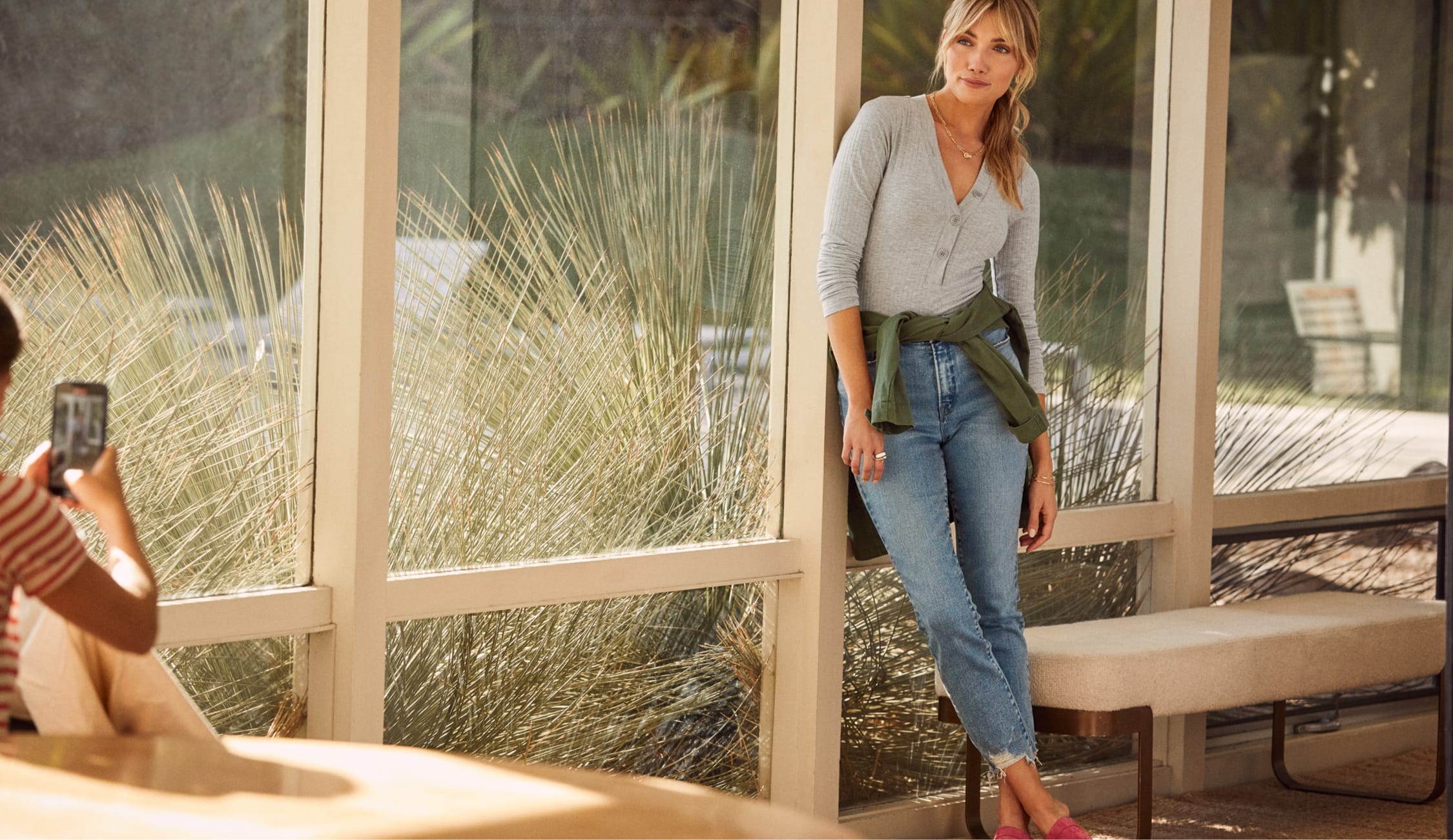 We're kicking the year off with a very exciting project: our exclusive Good American Capsule Collection! We sourced seven incredible pieces that are designed to mix and match into endless outfits, solving your 'what do I wear?' dilemma every morning. And each piece is made with Good American's signature flattering fit—comfortable with just the right amount of stretch. The full collection is available now—and only at EVEREVE. Here are our some of our favorite styling ideas—don't miss out!
1. Utility Pants + Sweater
There's so much to love about these pants: the chic wide-leg, the comfortable stretch and the goes-with-everything neutral utility hue. Trust us, these will be a fast favorite! And the cream sweater is simplicity at its best—combine the two and it's a look that's easy and elevated.
CTA: Shop the Utility Pants | Shop the Sweater | Shop the Good American Capsule Collection
2. Denim + Henley Bodysuit + Utility Jacket
The brilliance of this look is the versatility. The bodysuit is just a little sexy, perfect for a casual night out, while topped with the utility jacket, it's great for running around doing all the things! And the distressed hem on the denim is the perfect complement to the structured fit of the jacket and the streamlined bodysuit.
Shop the look: Shop the Denim | Shop the Bodysuit | Shop the Utility Jacket | Shop the Good American Capsule Collection
3. And coming soon: the jumpsuit!
Launching at the end of the month, this wide-leg jumpsuit is set to sell fast! The perfect one-and-done piece or ideal for laying with the bodysuit or henley sweater (above, right), the jumpsuit a fantastic example of how well the capsule works together. And here's a closer look at the best-selling denim, too. You can't get this capsule anywhere else, so shop now. When it's gone, it's gone!
Shop the Jumpsuit | Shop the Denim | Shop the Henley Sweater | Shop the Good American Capsule Collection
More capsule styling ideas!
Watch as Heidi styles all the pieces—there's so many looks to love; what's your favorite?