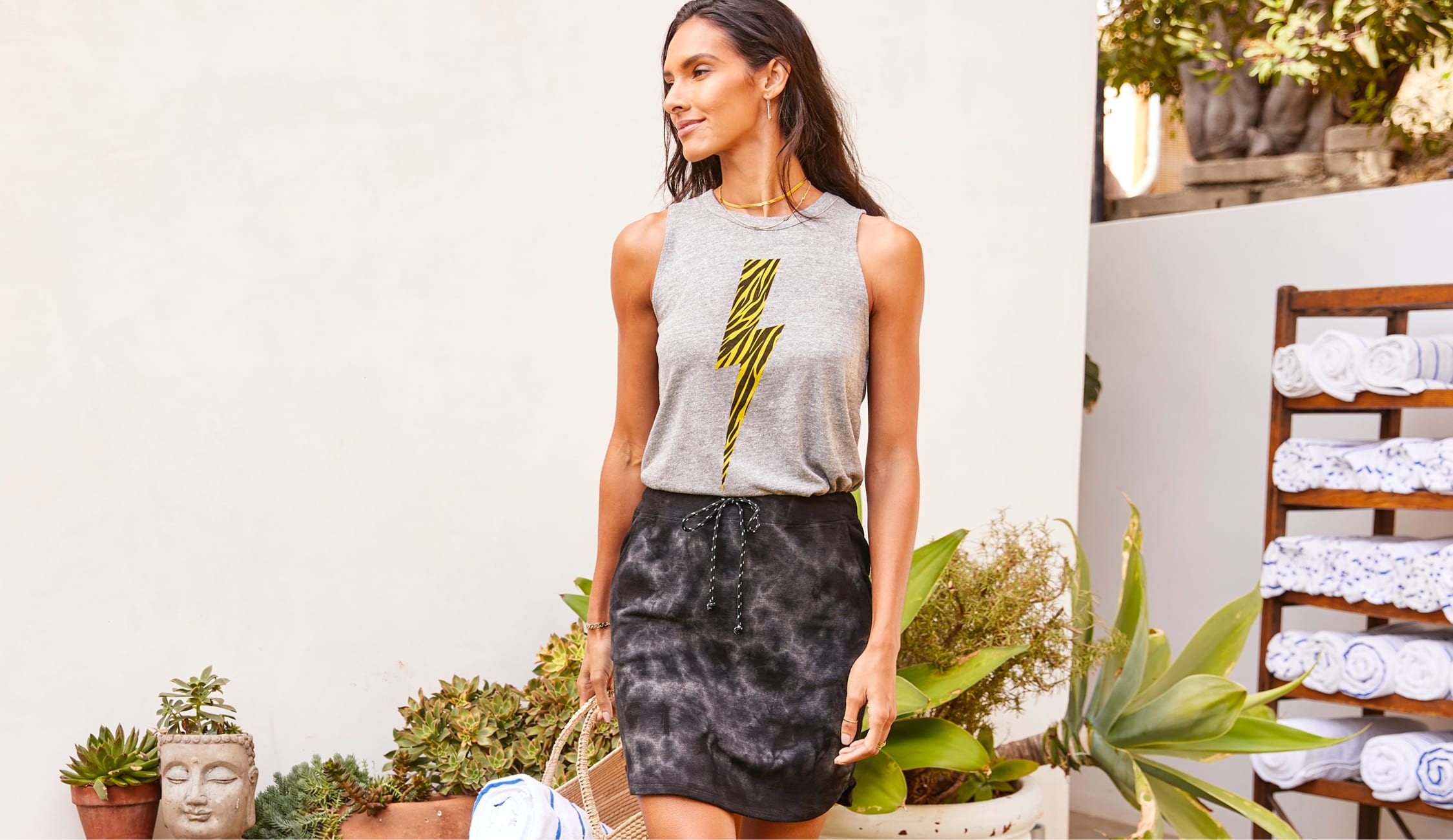 Have you heard us talk about "fash-leisure"? It's a mash-up of fashion and leisure—the word we made up (ha!) to describe the look we're living in lately. Pieces that look good and feel good. Pulled together but not trying too hard. And no one does this look better than EVEREVE. Today we're sharing our top three fash-leisure favorites to add to your closet for summer. These are the core essentials you need for staying comfy and chic all day, every day.
The Saturday Skirt
If you've followed EVEREVE for a while, you probably already own one of our Saturday skirts—or two! Supersoft knit fabric with a drawstring waist, the Saturday skirt is all about comfort (but it's cute, too!). The perfect alternative to shorts if you're not into shorts, and perfect for all the baseball games you'll be watching this summer!
Shop Now: Sundry Saturday Skirt in tie-dye and stripe
The Cropped Jogger
You know the Sundry Everyday Jogger as the go-to jogger in your collection—the super-comfortable staple that's just a bit more pulled-together than pajama pants. The must-have is newly updated for summer with a cropped length to show a bit more skin for warmer weather. Just what you need for weekend grocery runs.
Shop Now: Sundry Cropped Jogger in camo and black
Biker Shorts
Biker shorts might feel a little scary, but we're daring you to give them a try! Biker shorts are just the warm-weather version of leggings (not scary!)—and we're loving them for lounging and playing at home. Wear them with sandals, a tunic-length top and some accessories to make them feel more casual and less sporty. P.S. These are by Spanx so you know they're made to flatter.
Shop Now: Spanx Biker Shorts in black, camo and faux leather
Want a closer look at these fash-leisure favorites? Heidi has the hookup on EVEREVE TV.