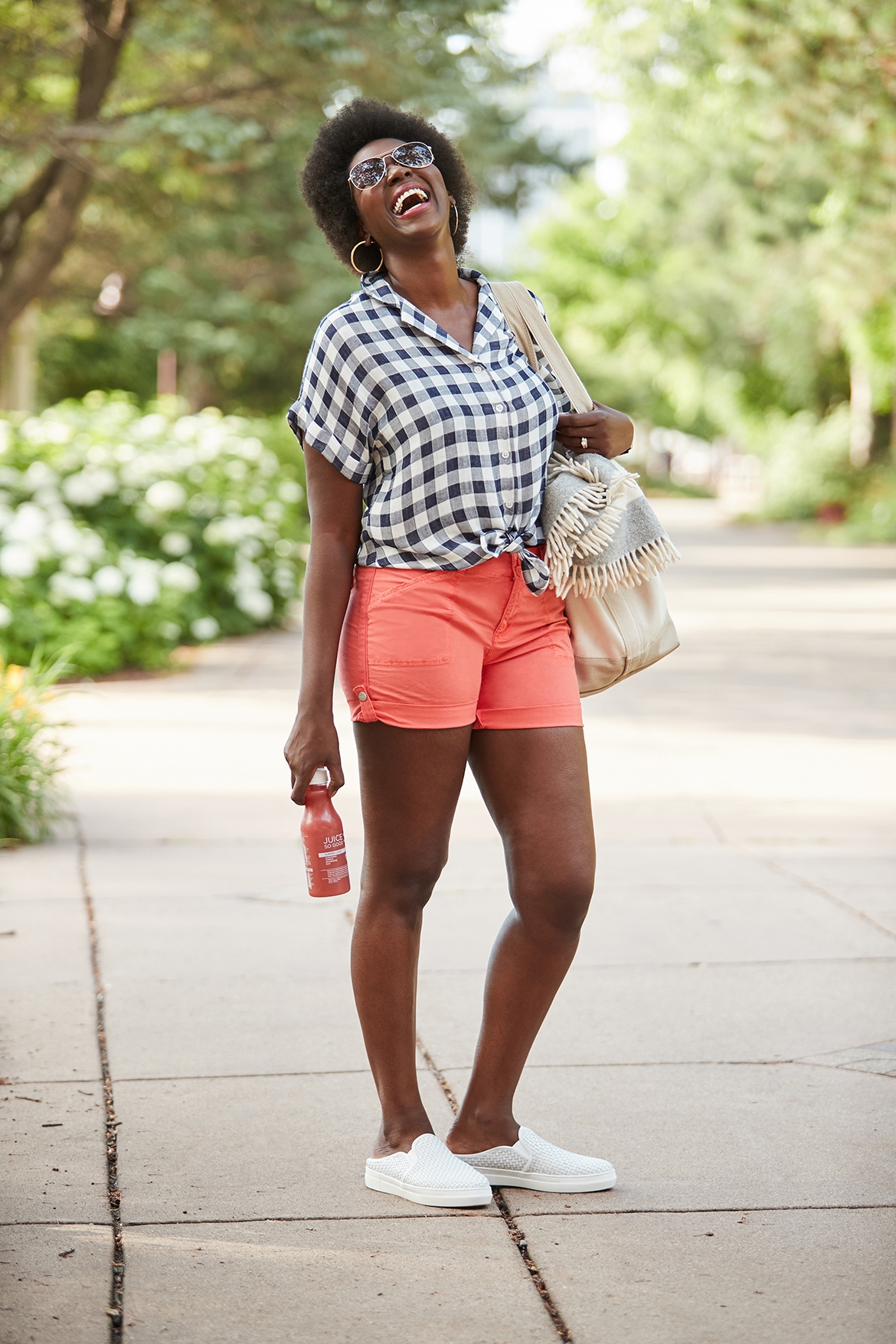 Summer can be unbearably hot, but we know that tanks and cut offs aren't for everyone. It's easy to feel disheartened in the summer when it comes to non-sleeveless fashion. How do you create stylish and elegant outfits that keep you cool while also not exposing too much skin?
If you're having these thoughts, you're not alone, and we're here to help! Dressing well in the summer doesn't mean you have to show off your shoulders. In this blog we share seven of our favorite flattering summer pieces to keep you cool and stylish.
1. Short Sleeves
Shop the Look: Michael Stars Ariana Flutter Shirt
As simple as it seems, a t-shirt can go a long way to dress up an outfit. Consider a t-shirt with some flare on the shoulders. Whether it's your favorite graphic tee with some cargo pants, or some flowy short sleeves, let your style shine through.
2. Flowy Blouse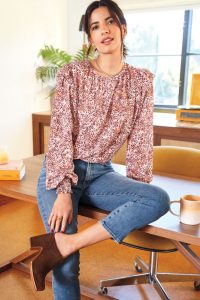 Shop the look: Ruffle Shoulder Blouse
A long-sleeve blouse made of lightweight fabric is a perfect choice for covering up while also feeling easy-breezy stylish in the summertime. Pair with your favorite pair of denim cutoffs or jeans and some slides for a casual yet chic warm-weather look. 
3. T-Shirt Dress
Shop the look: Sanctuary So Volume T-Shirt Dress
It doesn't get much easier than a t-shirt dress. Throw on a comfy, patterned t-shirt dress with your go-to sneakers and you'll be ready to take on the day! Want to dress it up for date night? Add some jewelry and a pair of heels to instantly take this piece to the next level. 
4. Lightweight Wrap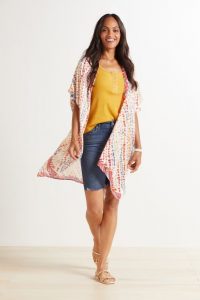 Shop the look: LOVESTITCH Alexis Dot Wrap
Want to add a pop of color to your outfit while keeping it cool and comfy? Add a lightweight, colorful wrap to your wardrobe. Wraps are a simple way to level up any outfit. Wear over a white tee and some jeans for a fun and flirty look.
5. Long Sleeve Tiered Dress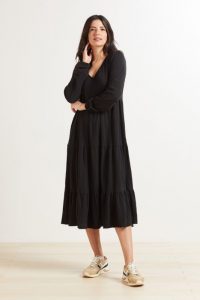 Shop the look: Z Supply Bailey Tiered Dress
You can still wear dresses in the summer while keeping your shoulders covered! Consider styling a long-sleeve tiered dress for an errand run or a girls night out! Tiered maxi dresses are light and airy, so you can stay cool while covering up. Wear a pair of platform sandals and some layered necklaces for an instantly fashionable outfit. 
6. Baggy Collared Blouse 

Shop the look: RAILS Savannah Popover Shirt 
If you want to create a casual yet stylish outfit that is modest for summer, look no further. A staple loose-fitting collared blouse goes with any clothing piece, and keeps your shoulders covered! Paired with some hoops, a collared pullover blouse is a great way to effortlessly level up your wardrobe. 
7. Short Sleeve Pullover Hoodie

Shop the look: Chaser Short Sleeve Pullover Hoodie
We all have those days where a hoodie and sweats seems like a perfect outfit to spend the day in. If you're wanting to stay cool and comfy while also effortlessly styling up your look, consider wearing a short sleeve pullover hoodie. Wear cutoffs or running shorts and a pair of sneakers for a fun and sporty outfit. 
Find Your Ideal Summer Style With EVEREVE 
Not a fan of sleeveless outfits? You're not alone! You can rock anything you want, while still looking stylish. EVEREVE offers a variety of flattering clothing pieces that cover your shoulders, but still keep you cool on the hottest of days. Check out our lookbook for more summer outfit inspo! 
What are your must-haves for hot days and corporate dress codes?