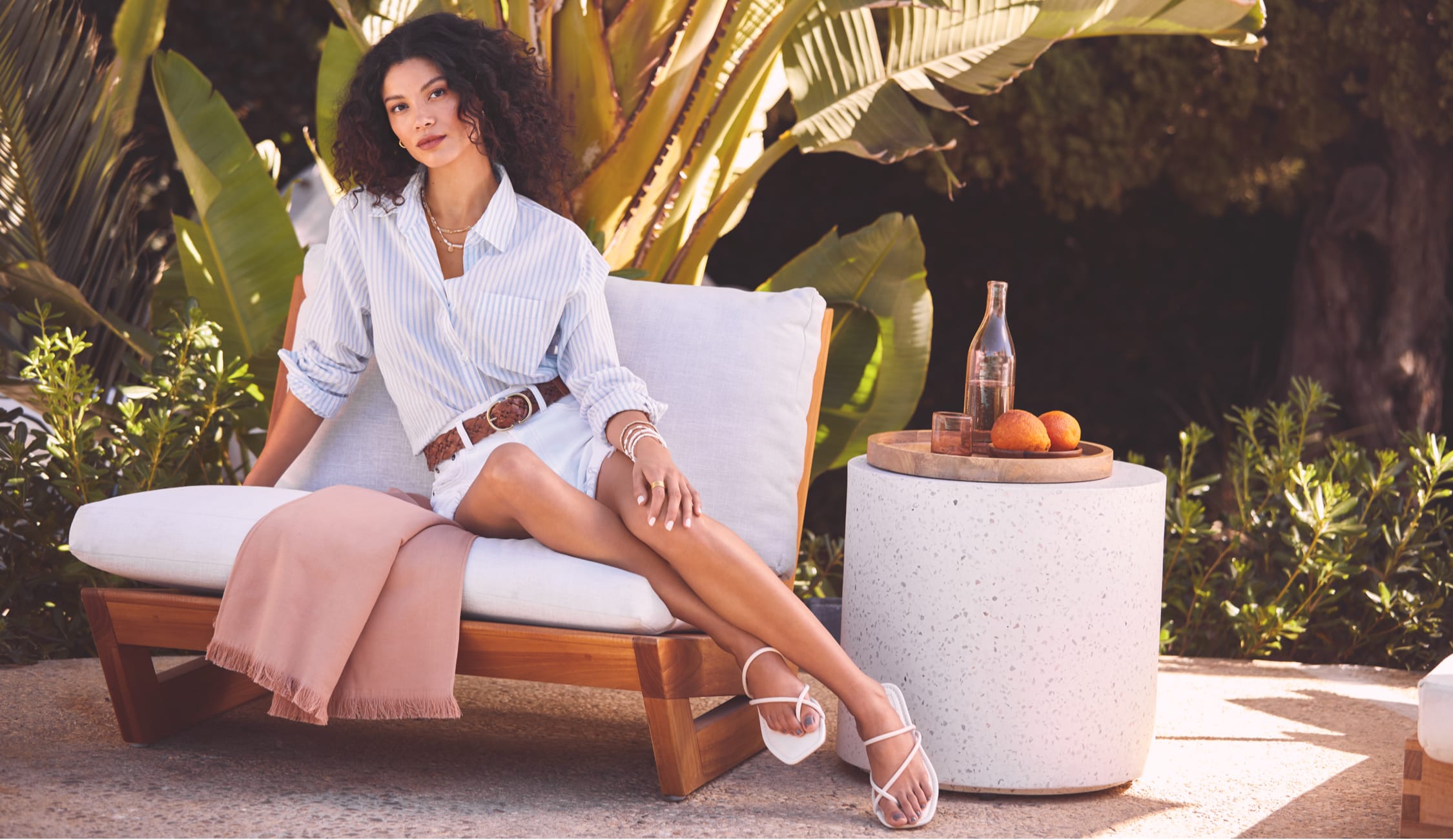 Kick off summer in chic, nautical-inspired outfits that are perfect for whatever plans you may have on the calendar.
What Colors Should You Wear on Memorial Day?
Traditional colors are patriotic, but it isn't necessary. We're saving the red, white and blue for the 4th of July and instead sticking with the classic palette of blue and white. Here, Memorial Day outfit ideas for all your long weekend plans.
1. Pool Party
These outfits are great as complete looks or perfect to toss on over your swimsuit. We love the versatility (and extra sun coverage!) of a crisp button down and this Michael Stars dress is a best-seller thanks to its super-flattering fit.
Shop The Look: Shop Poolside Stripe Shirt | Shop Long Parker Short | Shop Ruby Tank Dress
2. Patio Drinks
Whether you're at a friend's house or enjoying a restaurant patio, look casually-chic in blue and white stripes. A gauzy wrap will keep you warm as the sun goes down, while this breezy dress is perfect with a jean jacket if you're looking for an extra layer.
Shop The Look: Shop Striped Wrap | Shop Cutoffs | Shop Striped Button Down Dress | Shop Jean Jackets
3. Catching Live Music
We're not a big fan of the 'white denim rule,' but if you've been waiting to break out white jeans, now is the time! Pair it with this cool puff sleeve blouse for a look that's ready to take on the town. And this white tank with smocking screams summer—wear it with flare denim and great accessories and dance the night away.
Shop The Look: Shop Smocked Square Neck Blouse | Shop Riley High Rise Straight | Shop Stacy Tank Top | Shop Ana High Rise Flare | Shop Shoes and Accessories
Happy Memorial Day From Your Friends at EVEREVE!
For more outfit ideas, check out Jamie's segment on New Arrivals for the Long Weekend! We hope you have a great few days filled with family, friends and summer fun.