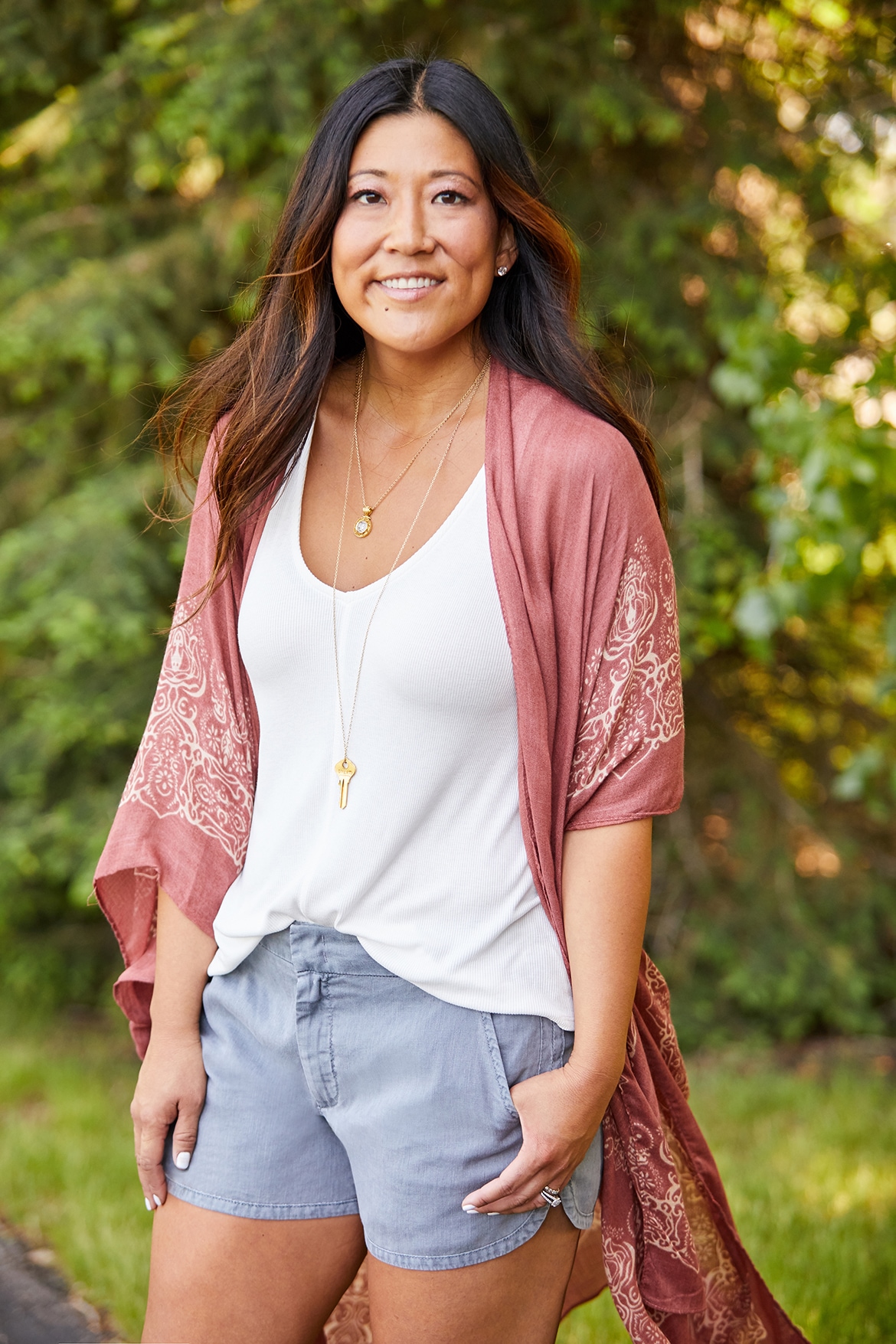 Are you ready for a dare? I totally understand that shorts are not everyone's best summer friend. But the rules were made to be broken—don't let what you think you shouldn't or can't wear hold you back! How you feel is ultimately the most important thing, and we have a few easy styling tips and tricks to help you feel cool and comfortable in shorts when temperatures rise. You may remember our stylist, Pam, from our Tuesday post. Shorts are not her first choice for a hot day, but we styled her in three of our favorite shorts looks and—spoiler alert—totally crushed her concerns about showing a bit more leg. Keep reading to see how you can make shorts work for you.
Concern #1: Not enough coverage

Kimono | Shorts | Tank | Sandals
One of the biggest hang-ups around shorts is—well, they are short. I hear you. Lots of leg can leave you feeling bare and exposed. That is why I love the unexpected combination of shorts and a kimono. My love affair with kimonos runs deep—lightweight, chic and just a little bohemian, they bring out everyone's inner Stevie Nicks. For Pam, who doesn't love shorts because of her athletic legs, I paired the Lovestitch Medallion Kimono with a pair of Level 99 Linen shorts, creating a confidence-building look for regular date nights with her hubs, whether at the best patio in the city or a concert they scored last-minute tickets for. Bonus points for the easy-care washable stretch linen and the dolphin hem that elongates her legs.
Concern #2: Not comfortable

We've all been there at one point or another. Whether in the fitting room or after a marathon try-on session of online order packages, there isn't anything worse than wiggling into a pair of shorts that is tight and constricting on your thighs. I call it the sausage effect, and it's a true barrier to embracing shorts. This is exactly why I LOVE the Kut from the Kloth Gidget Short for Pam. With a wider leg opening that leaves room for her leg shape and a 9" rise for hold-you-in comfort, this cutoff breaks the "I don't do shorts" rule. Stretch provides incredible recovery (no need to wash after every wear) and the finished raw hem delivers just a little edge. Another little trick I like to use when people are shying away from shorts is to pair them with a statement top. Whether it's cool cut-outs or a beautiful pattern, having that statement top helps draw the eye up towards your neckline and face.
Concern #3: Not fashionable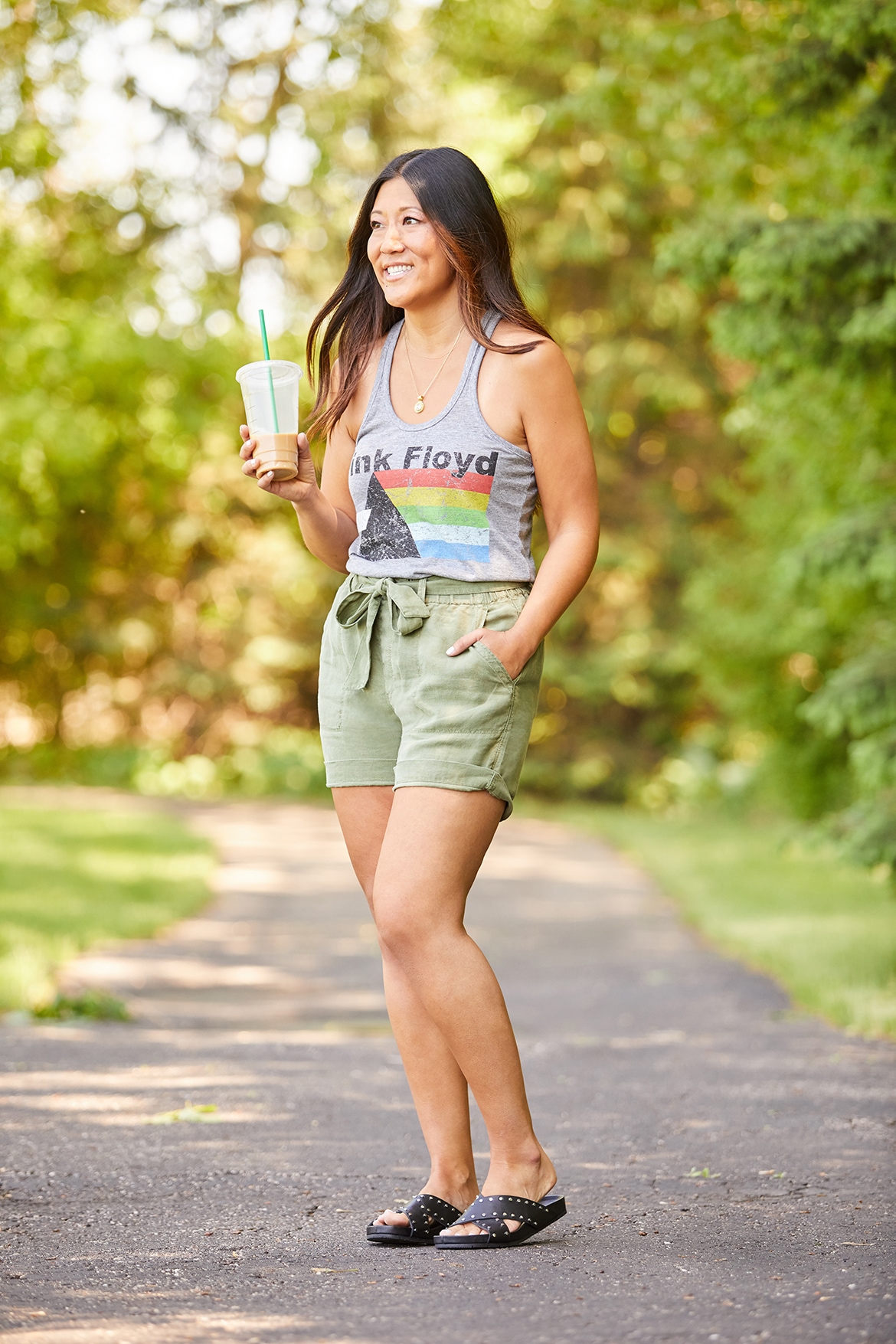 As an Evereve stylist and true fashionista, Pam feels shorts looks can sometimes be a little boring. It's hard to see beyond the basic chino and tee combo that so many of us wore on repeat through high school. How to deliver a fresh look that still works on the most casual days? The secret is in finding the twist. A modern fabric or an unexpected detail can instantly elevate a piece, like the tie on our Sanctuary shorts. The great thing about this pair is that you have flexibility in choosing the length—roll them up for a four-inch inseam or leave them unrolled for a longer five-inch length. The paperbag waistband highlights the smallest part of your waist and keeps the look fresh and flattering. Popped on with a bright graphic tee and J Brand studded slides, daycamp drop-off just got a whole lot cooler.
Tell us: will you take our Style Dare? Which one of these looks would you try?