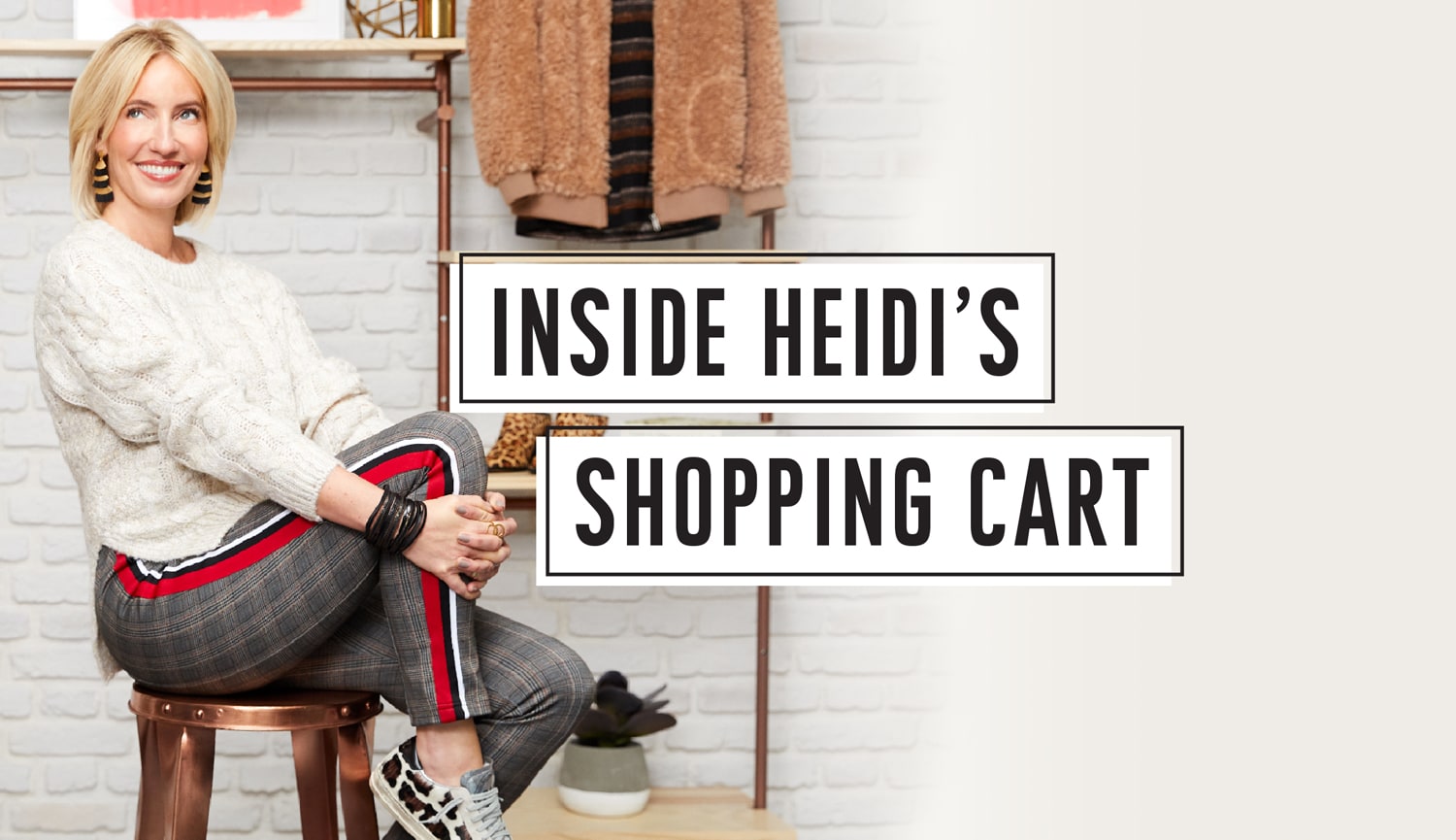 Hey friends, Heidi here! It's that time again to share all my top picks for the season and give you a peek inside my shopping cart (spoiler alert: it's overflowing). Fall is my favorite season to dress for—jeans, jackets, booties … I love it all. My approach to fall shopping is to do a bigger haul early to set a strong foundation for the season, then I'll pick up a few more pieces for the holidays and other events that pop up as we move into November and December.
It's a busy month for me as I just got back from our January catalog shoot in LA and we're doing a family trip to Disney mid-month. The weekends in between are quickly filling up with decorating the front stoop with pumpkins and mums, hockey tryouts and soccer practice, and soaking up time in our new backyard with bonfires and blankets while the weather allows! What's on your calendar this month? Read on below for my top 10 picks to add to your closet now, perfect for all the October things.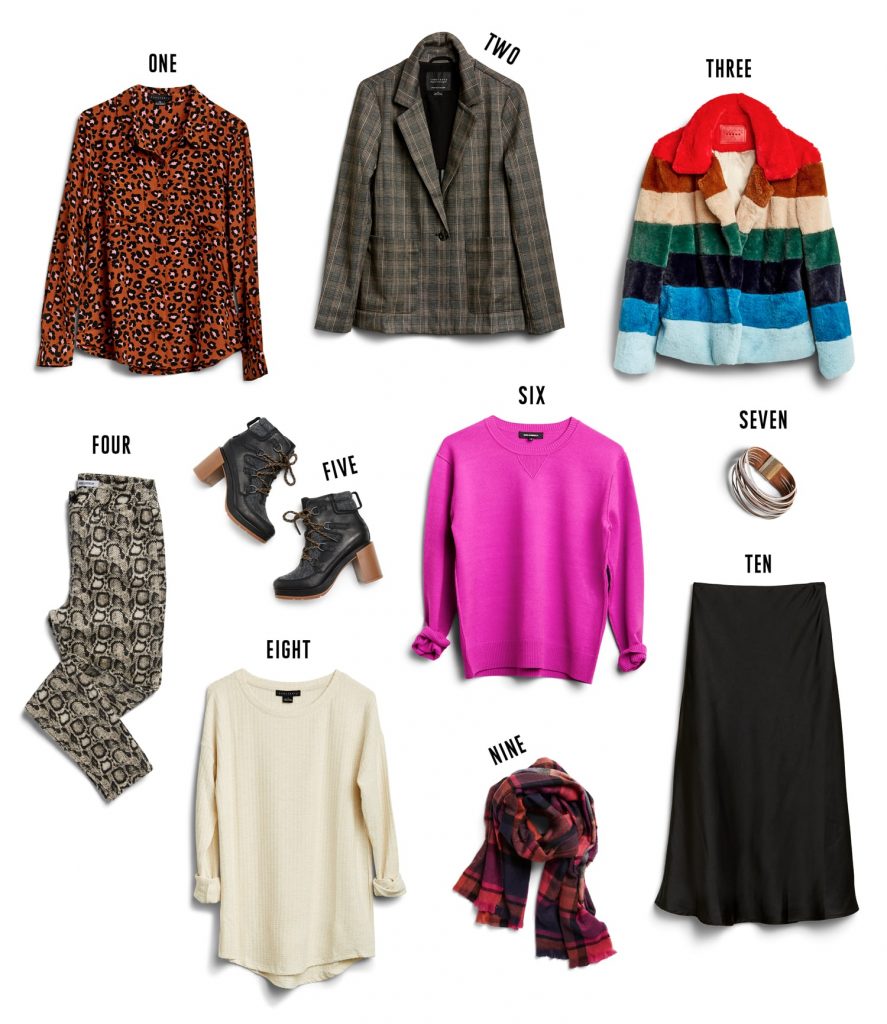 ONE / Sanctuary Top: Starting out with a work-to-weekend win (did you catch it on the blog last week?). This top makes going from the office to dinner a breeze—and anything leopard would be a great last-minute Halloween costume (just grab headband cat ears and go!).
TWO / Sanctuary Blazer: This blazer is my favorite way to start the week strong—it's a classic power piece in a fun pattern and instantly pulls your look together. Wear it with dark clean denim or our Sanctuary Speedway Leggings for a double dose of fall plaid.
THREE / BLANKNYC Jacket: This jacket is the definition of fun. I was eagerly anticipating this hitting stores and have been loving it for date night with my hubs (don't save it for a special occasion!). Our jackets this season are just as fun as the outfit you wear underneath, and it's making the transition into colder weather a lot easier!
FOUR / Good American Snakeskin Jeans: Animal print is still HOT HOT HOT, and I've been looking for new ways to wear the trend. Good American is delivering with these snakeskin jeans—such a fun look for an upcoming concert or girls night.
FIVE / SOREL Blake Booties (also in Quarry): My favorite SOREL boots EVER! Like all SORELS, they're weather-proof and so comfortable, but these also have an amazing block heel that makes me feel a little more dressed up and in control of my day, even when it's raining or snowing (or both!).
SIX / 525 America Sweater: The one trend I've been dying to try for fall is neon. This silhouette makes taking this fashion risk easy—it's super flattering, crazy soft and the color looks amazing with camo utility pants. Hurry, it's selling fast!
SEVEN / Thirty-Nine 42 Wrap Bracelet: I like to update my jewelry collection every season to keep things fresh, and right now I'm loving the edge this cool wrap bracelet brings to any look. Bonus: it's neutral enough to pair with anything.
EIGHT / Sanctuary Waffle Tunic: The perfect easy layer for every day. It comes in three colors and stripe, and is the perfect length to wear untucked with Spanx leggings. I'll be wearing it to the pumpkin patch with my kiddos this month for sure. 
NINE / Harriet Isles Scarf: Scarves are back, and they're the easiest way to add a fun pattern or pop of color to your look (and stay cozy, of course). I love the unexpected pink in this one—a must-have layer for these early fall days that start out cool and warm up by afternoon.
TEN / Peyton Jensen Skirt: This is hands-down one of my favorite fall buys because it's so versatile. I wear it to work with a sweater, on the weekend with a graphic tee and will totally pull it out for holiday parties (around the corner!) with a sequin top.
Thanks, Heidi! Keep up with what Heidi is loving on Facebook LIVE every Thursday at noon CST and on Instagram Stories every Friday.
What's your favorite thing about October?
in case you missed it: Heidi's must-haves for summer and spring