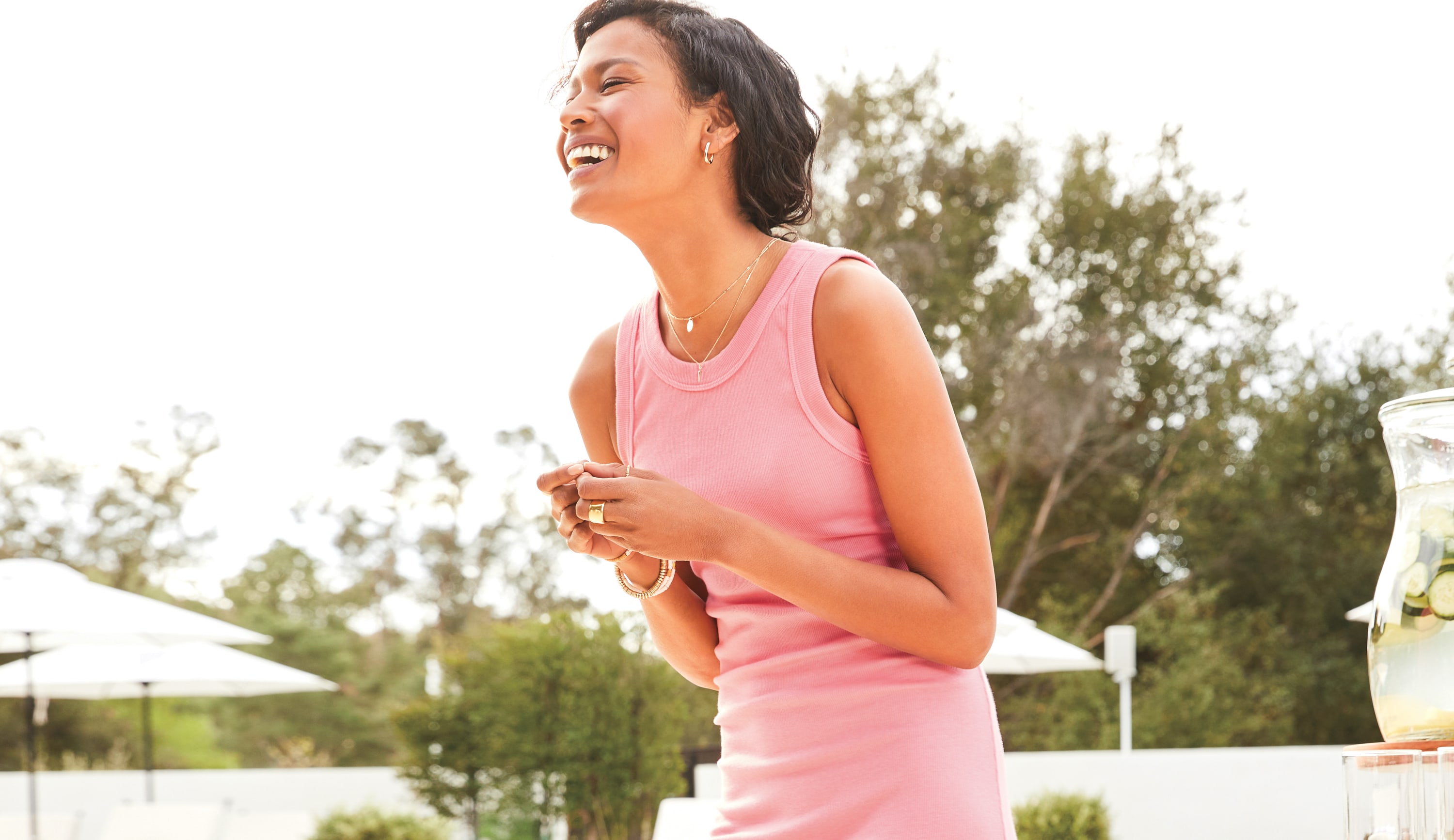 Here we are again—March! In a weird way, doesn't it feel like it was just March 2020? Time has been strange this year. When the pandemic hit, Easter and Passover were the first holidays we had to approach differently. Many of us Zoomed for the first time—and now we're old pros ("you're on mute" has come up less at least). This year, the holidays may still look different for many of us. We're still in a transition period. However you're celebrating Easter or Passover, we highly recommend treating yourself to a mimosa and taking some time to soak up the spring sunshine. We've got what to wear covered.
Traditional Holiday Plans: Say Yes to the Dress!
Now that spring is here, we're ready to wear dresses again—and Easter or Passover are the perfect occasions to pull one out! Try our Michael Stars Ultra Rib Dress in trend-right (and positively uplifting) coral. This under-$100 dress has ruching that makes it flattering on all shapes. And it's one of those incredibly versatile pieces you can dress up and down—so you'll get plenty of wear out of it all season long. Pair it with these slides and a jacket for an easy look you'll feel (and look) great in all day.
FaceTime with Family + Brunch: Go For an Easy Sweater
If your holiday is shaping up to be a little bit more casual, a lightweight sweater is the way to go. This John and Jenn striped sweater is one of our current favorites. The neutral look is hot for spring—it feels so fresh this time of year and it looks seriously chic. Pair this easy sweater with white denim to get the neutral head-to-toe look we're loving and add some jewelry to make it feel more elevated. Tip: this sweater will pair well with cutoffs in the summer, too!
Egg Hunt in the Backyard: Keep it Casual in Varley
Get set to hide all the eggs and help the kiddos track 'em down in our favorite fashleisure brand, Varley. We love Varley for the pieces we live in from working out to hanging out—and it's been selling out since we started carrying it. A Varley pullover (love the funnel neck for cool mornings) and leggings will keep you ready to roll from neighborhood festivities to arts and crafts and more. And—spoiler alert—you'll probably wear this exact same look again on Monday. (And that's 100% OK.)