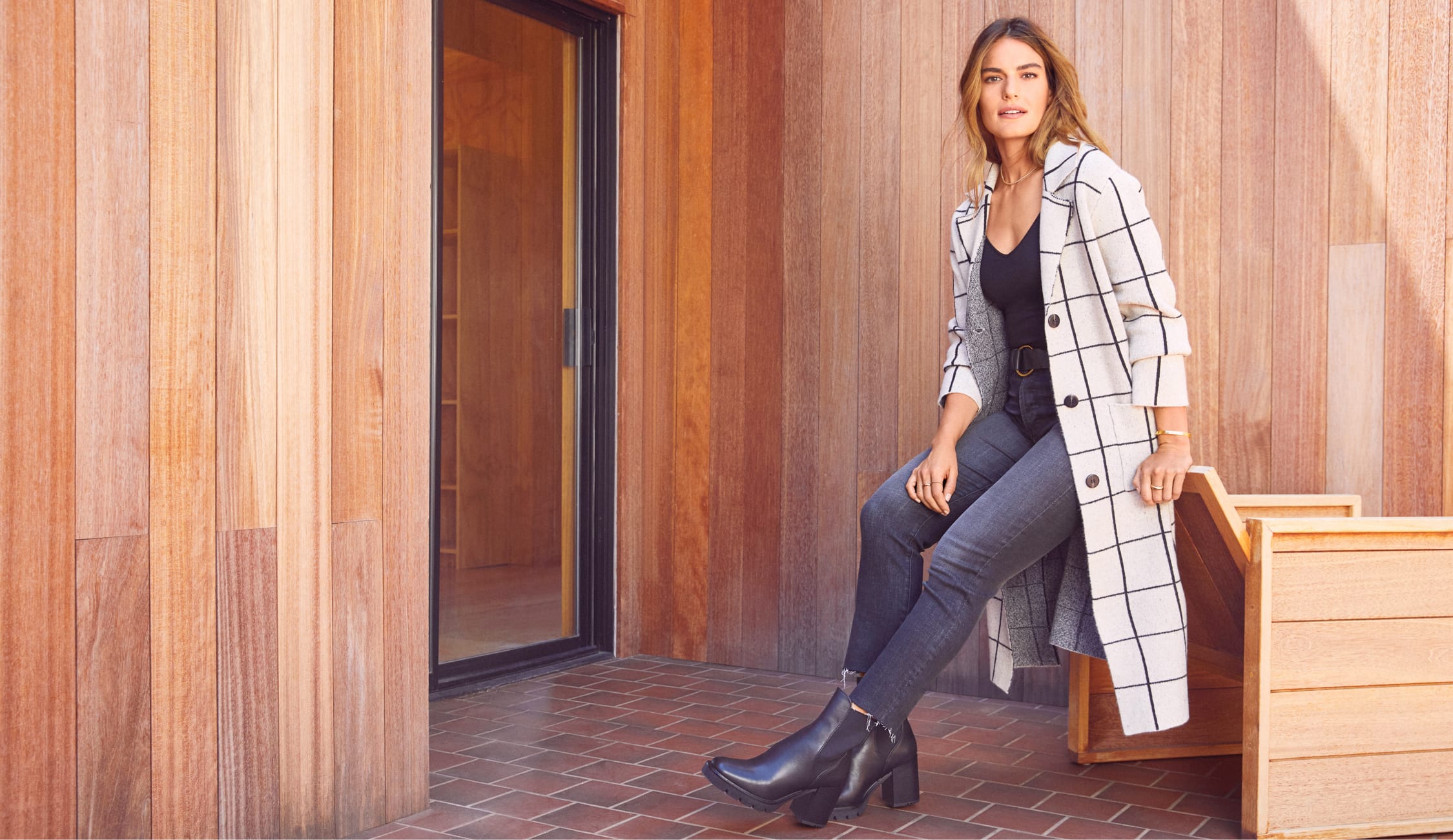 High waisted jeans are flattering on anyone, thanks to the high rise that buttons at or just below the belly button, which is often the smallest part of your natural waist. This also creates an illusion of longer legs which is a win-win all around! Curious how to wear high waisted jeans for fall? We've got you covered. Find our favorite high waisted jean outfit ideas here.
High Waisted Jean Outfit Ideas
Let's take a look at some of our favorite ways to style high waisted jeans!
1. The Front Tuck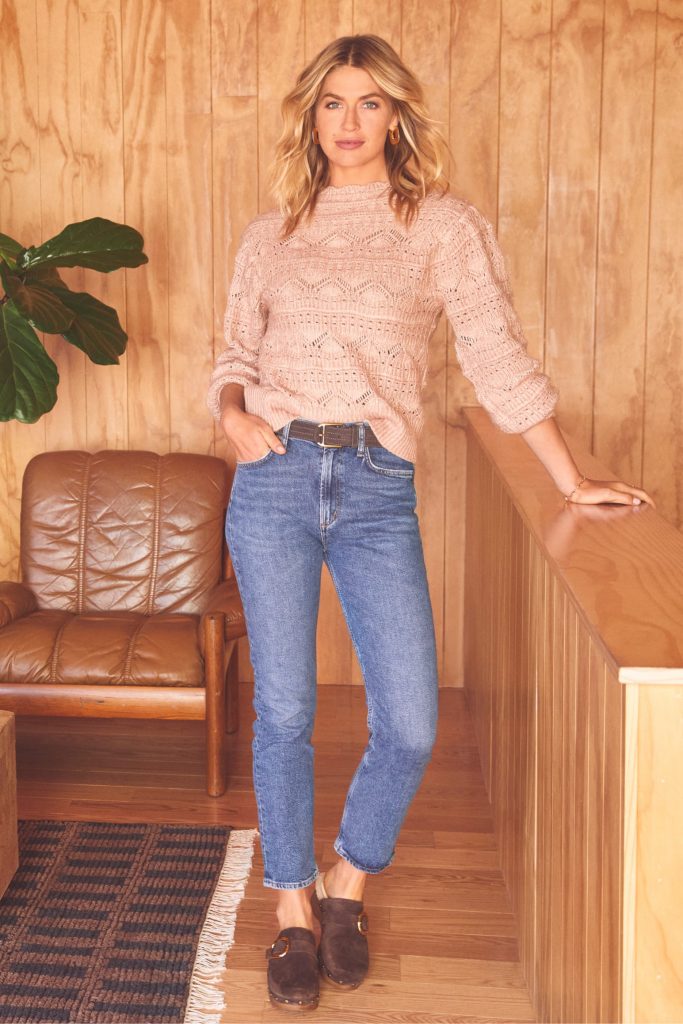 High waisted jeans are designed to show off your waist, so don't cover it up under a bulky sweater! The front tuck lends a little fashion 'edge' and works for almost every sweater or top (unless they are very oversized). Plus, it shows off your belt! And the beauty of this look is that it's meant to be casual, so don't overthink, just tuck and go!
Shop The Look: Shop High Waisted Jeans | Shop Sweaters | Shop Pontelle Pullover
2. The Full Tuck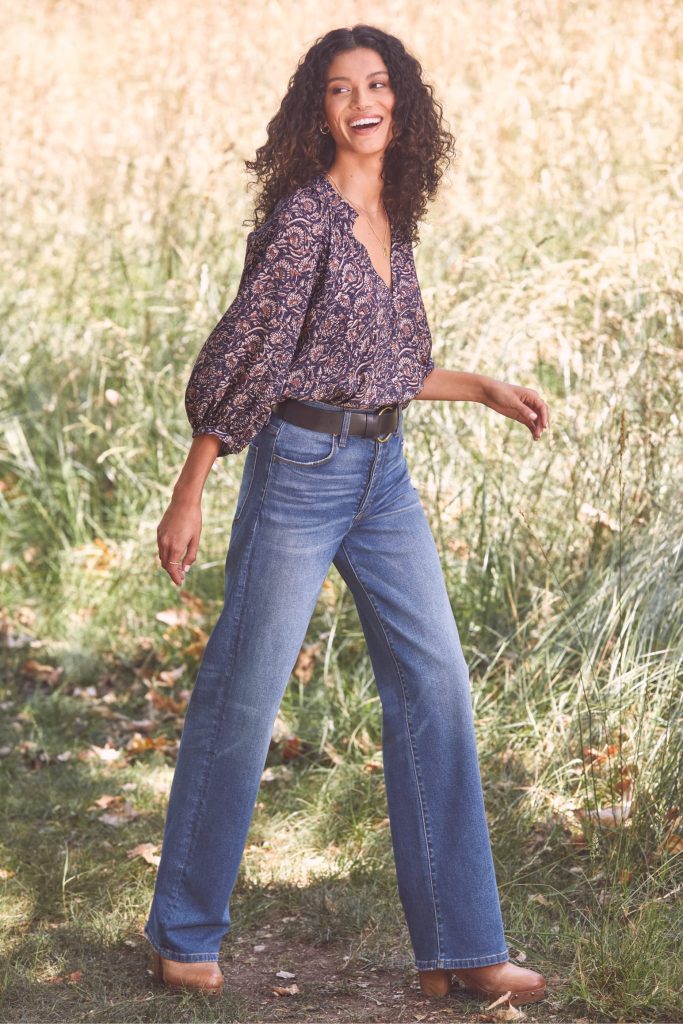 Same rules apply here—billowy blouses will overtake a high rise silhouette, so instead tuck it in. We love the balanced proportions—a little volume up top and streamlined through the waist and leg. Add a belt to complete the look. If you're loving this flare jean look, be sure to check out our guide on What to Wear With Flare Jeans.
Shop The Look: Shop High Waisted Jeans | Shop Blouses | Shop Portia Top
3. Go Monochrome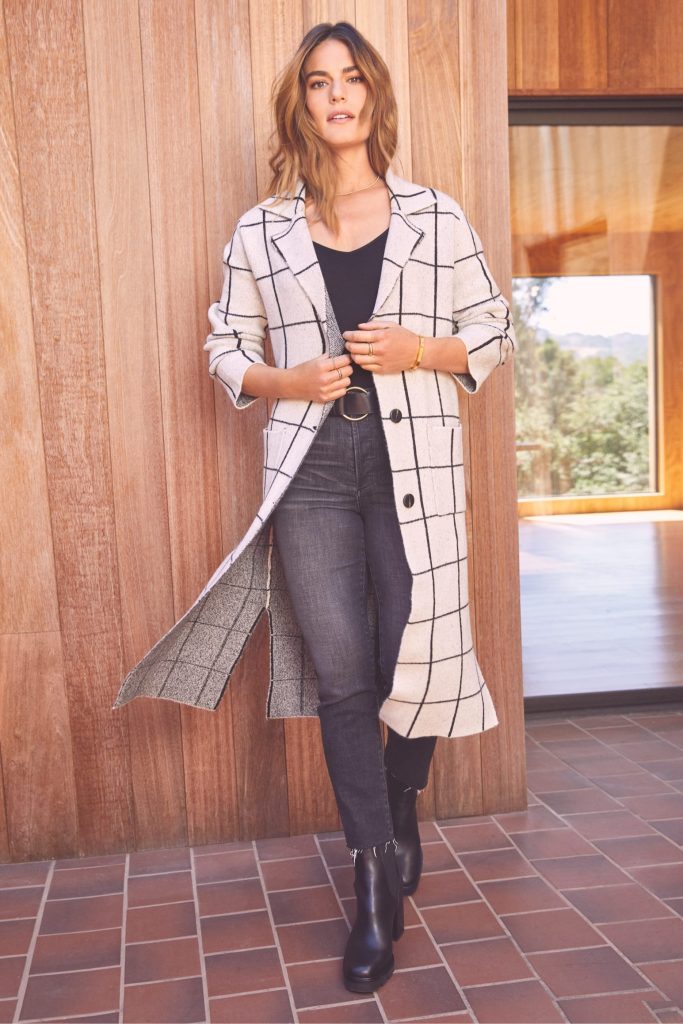 For a seriously chic look, black high waisted denim and a fitted black top will always deliver major style points. It's also the ideal foundation for a statement jacket—this sweater coat is eye-catching (and cozy!) while a blazer would be a sophisticated and trending topper, too.
Shop The Look: Shop High Waisted Jeans | Shop Tops | Shop Blazers & Jackets | Shop Bara Sweater Coat
How to Style High Waisted Jeans: 5 Tips
Now that you have some outfit inspo, here are some things to keep in mind when styling high waisted jeans:
Find your perfect size. High waisted jeans look incredibly flattering when they perfectly fit your figure!
Experiment with proportions by adding a shacket or blazer to your ensemble.
Don't be afraid to show off the high waist of the jean.
Play with different tucking styles. Whether it's a front tuck or full tuck, go with what makes you feel most confident!
Play with varieties of shirts to wear with your high waisted jeans. Blouses, sweaters, and tanks are all fair game
Looking for shoes to wear? Depending on the boot of your jean, you can experiment with a wide variety of shoes to pair with your outfit. Opt for a casual look with sneakers, or dress your jeans up with a pair of heals or ankle boots.
High Rise vs. Low Rise Jeans: What's the Difference?
While both high waisted and low rise jeans are in, both offer incredibly different styles. High waisted jeans should clasp at or above your belly button, and are a great way to accentuate your figure. On the other hand, low rise jeans should sit right at your hips. Choosing which type of jean depends on your own style and preference, but both are great options for dressing up or down for any occasion.
For more on denim…
Search our curated denim guide to find your perfect fit, and see how Heidi styles a blazer with three high-waisted jean styles in her latest for EVEREVE TV. Or, visit our guide on How to Style Wide Leg Jeans With Boots.