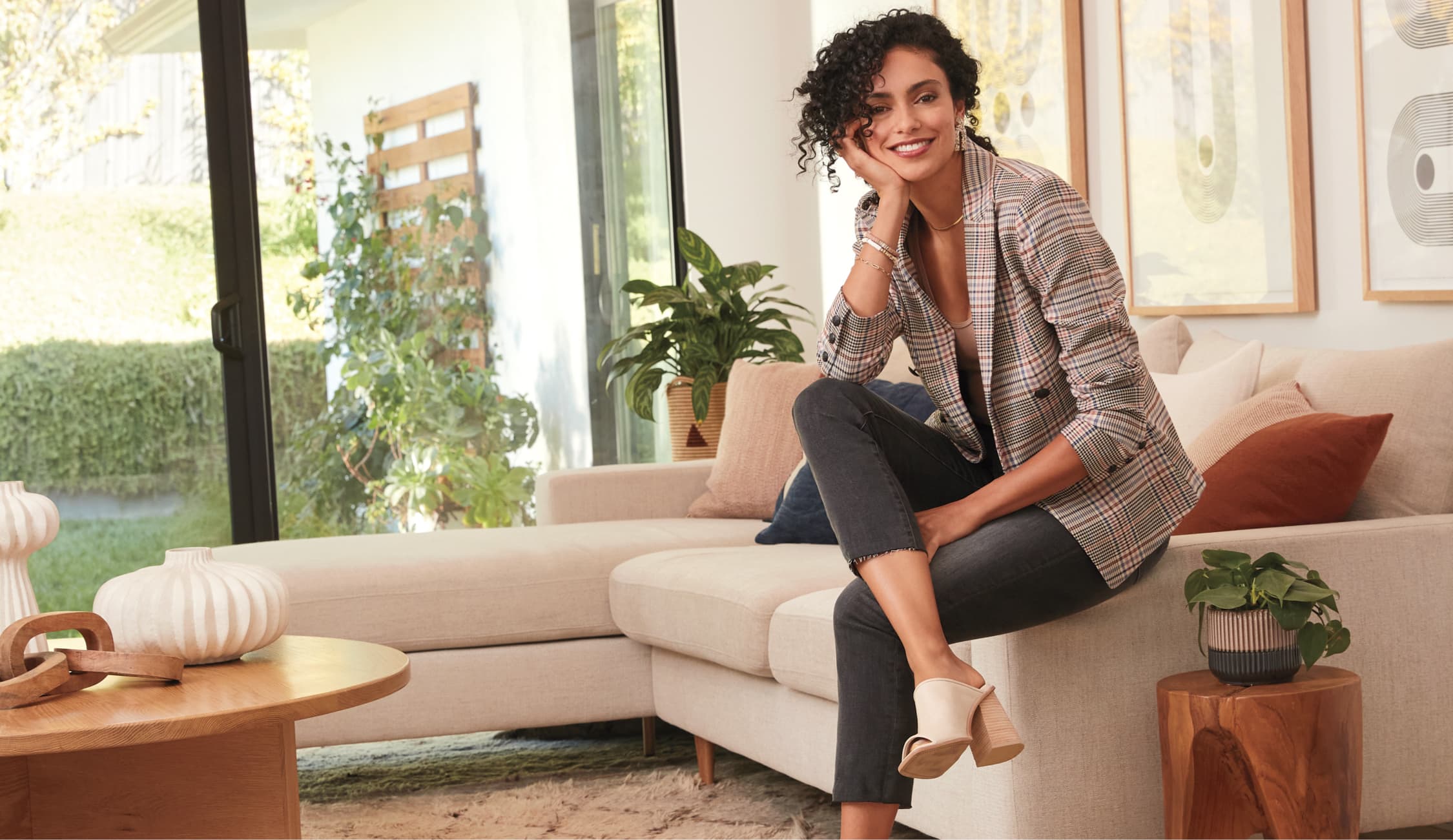 News flash – it's possible to look professional and stylish in the office! If you're looking for creative ways to dress at work while expressing yourself, you've come to the right place. Here, new fashion inspiration for casual work outfits for women, whether you're hitting the office or working from home. 
What Are the Types of Work Appropriate Clothing?
It's a question we're all considering as many workplaces are still navigating the new normal. And with plenty of business still being conducted over Zoom, plus an attitude shift towards the in-office/work from home balance, business casual seems to be airing more casual these days. But trust us, you can still look professional and chic in a pair of jeans. Below are the different types of attire to consider when choosing your go-to work outfits.
What is Business Casual Attire?
The general rule of thumb for business casual is to avoid jeans, shorts, or short dresses and skirts for women. Instead, opting for blouses, blazers, and close toed shoes are all great business casual options.
What is Business Professional Attire?
Business professional is a step up from business casual, with crisp and neat attire. Pant suits, long dresses, and closed toed heels and shoes are all fair game. You may be asked to dress business professional in more strict workplaces, or for office events and parties.
What Clothing is Not Considered Workplace Casual?
Business casual attire is generally more flexible than business professional, but these pieces are generally off-limits:
Leggings & sweatpants
Ripped or distressed clothing
See-through or sheer tops and bottoms
Short skirts and shorts
Pajamas
5 Casual Work Outfits for Women
Choosing casual work outfits should be based on what feels comfortable to you, and what flies in your workplace! It may feel challenging combining those two, but with the right wardrobe you'll have plenty of work outfits to choose from. To ensure you have enough pieces to work with, consider building a few work staples into your closet. This could include:
A blazer
Cardigans
Blouses
Well-fitting pants
Flats or sneakers that go with everything!
Here, our favorite casual work outfits for women to try out this year:
1. A Tweed Moto and Denim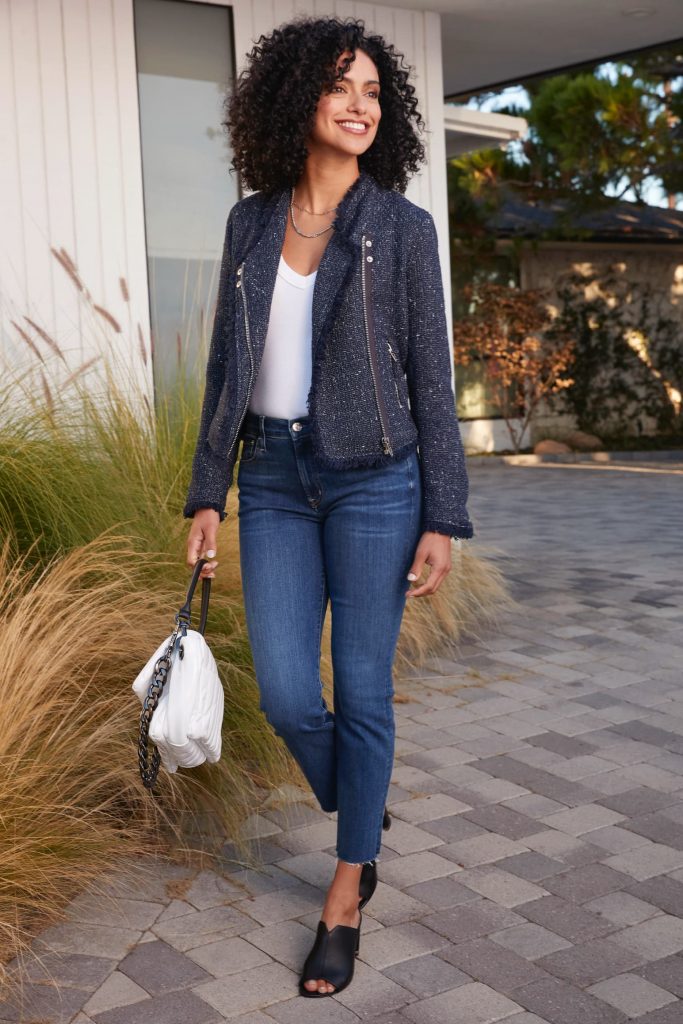 Rich tweed lends an elevated touch to anything—mix it with a moto and you've got a jacket that's a little unexpected (in the best way!). Toss it on and pull any ensemble together with a little more edge than a blazer. We love the chic navy palette, which amps up the sophistication and is perfect against denim. Add a great heel and hit the office in serious style.
Shop The Look: Shop Spring Tweed Moto Jacket | Shop All Denim | Shop Heels
2. A Denim Jumpsuit 
Depending on your workplace, this may be a bit of a reach, but hear us out. Jumpsuits are brilliant because they're one and done—you'll be dressed in literal seconds. Swap out your favorite jeans and blouse for this instead, and you may surprise yourself how great you feel rocking a new silhouette.
Shop The Look: Shop Anessa Short Sleeve Jumpsuit, Shop All Jumpsuits
3. A Fitted Blazer and Dark Denim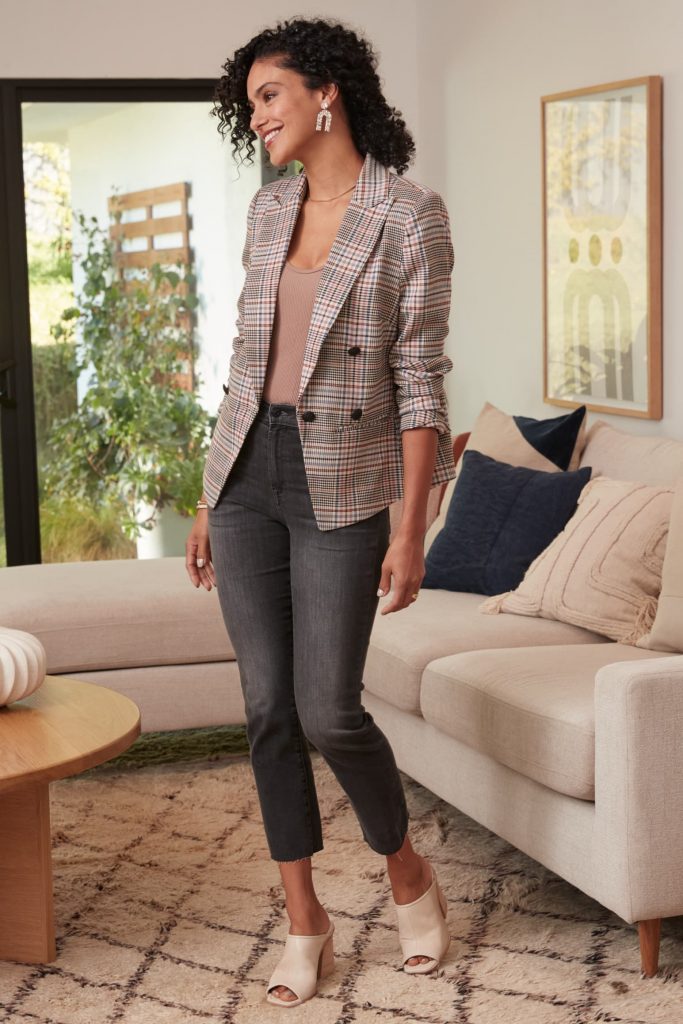 The Thompson Blazer is a new favorite here at EVEREVE HQ. Its stunning plaid pattern and tailored (ie: super flattering) cut ensures it's more modern than a typical work blazer, which often has a longer hem and less structured shape. And The Thomson is one of those amazing pieces that looks just as great M-F as it does on a Saturday date night.
Shop The Look: Shop The Thompson Blazer | Shop All Blazers | Shop All Denim
4. A Coordinated Set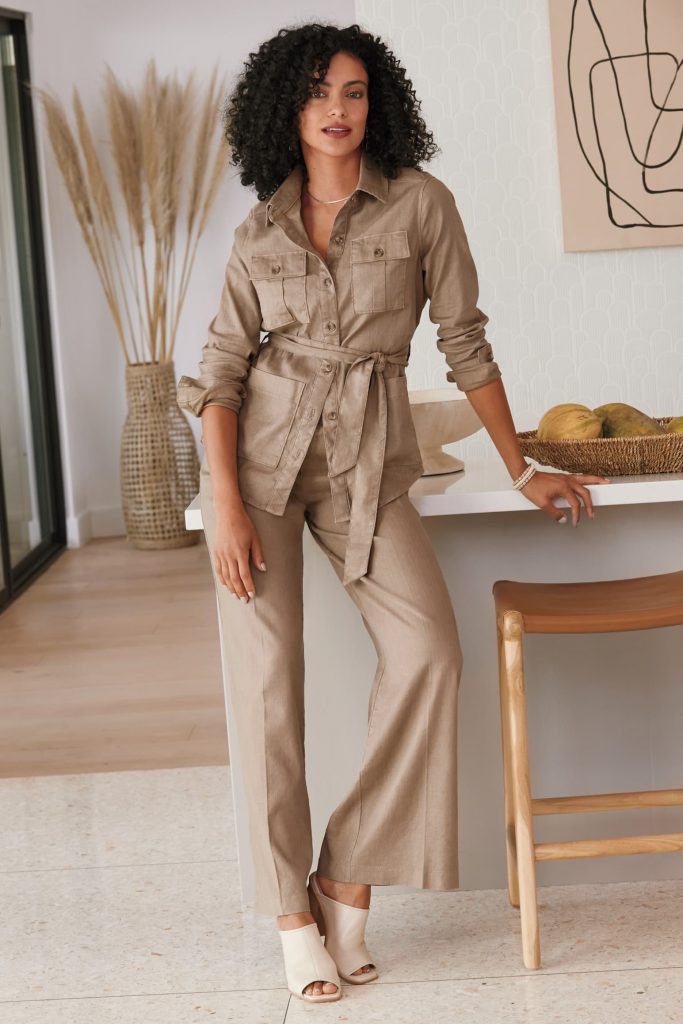 Sets are, well, set to be huge this spring (stay tuned for more on that) and we love this chic jacket and pant ensemble. The collar, buttons and tie waist give the top refined touches and create a few styling possibilities, while the matching pants are streamlined for a sophisticated, balanced look that feels fresh. And don't forget, a set can be mixed and matched—this top looks great with denim, too.
Shop The Look: Shop Emme Belted Utility Jacket | Shop Tallulah Wide Leg Trouser
5. Cropped Black Trousers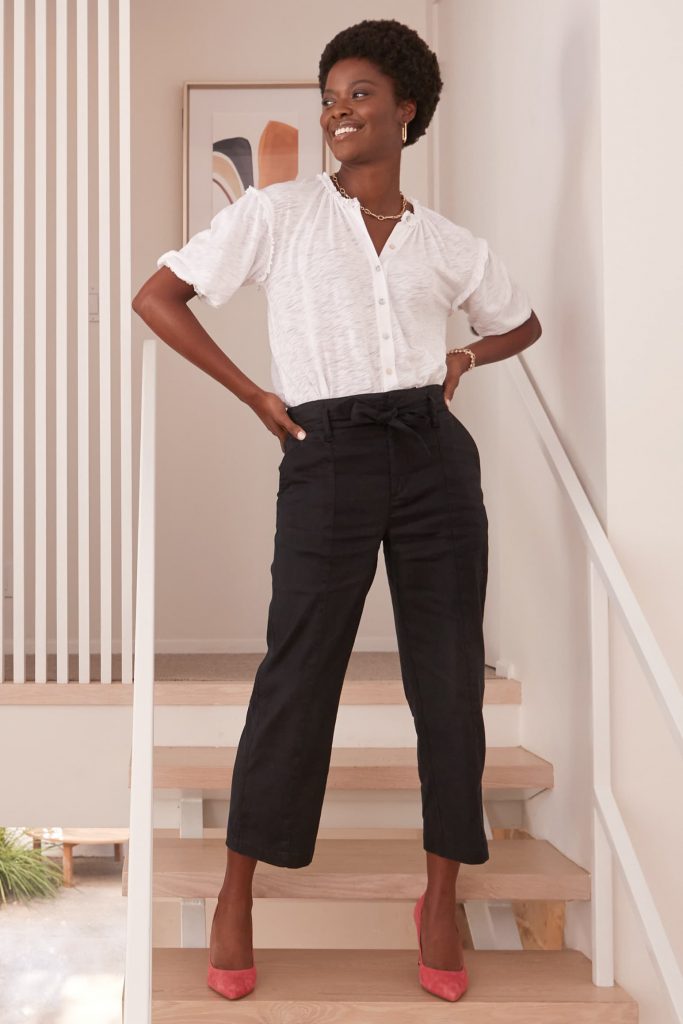 A great pair of black pants are a workwear staple, and this spring, we're eyeing a shorter, cropped length. Neutral hues will always look great together, so you can't go wrong pairing with a breezy white button up. But black plays well with patterns and brights, too—mix it up with a fun statement blouse or pop of color. No matter how you style these pants, we bet they'll quickly become your new workwear go-to.
Shop The Look: Shop Black Trousers | Shop Goldie Short Sleeve Button Up
Find Your Work Style With EVEREVE
For more workwear inspiration, check out our EVEREVE TV Series, Styled By The CEO, where EVEREVE's own CEO, Megan Tamte, lends her styling advice to fellow professionals.