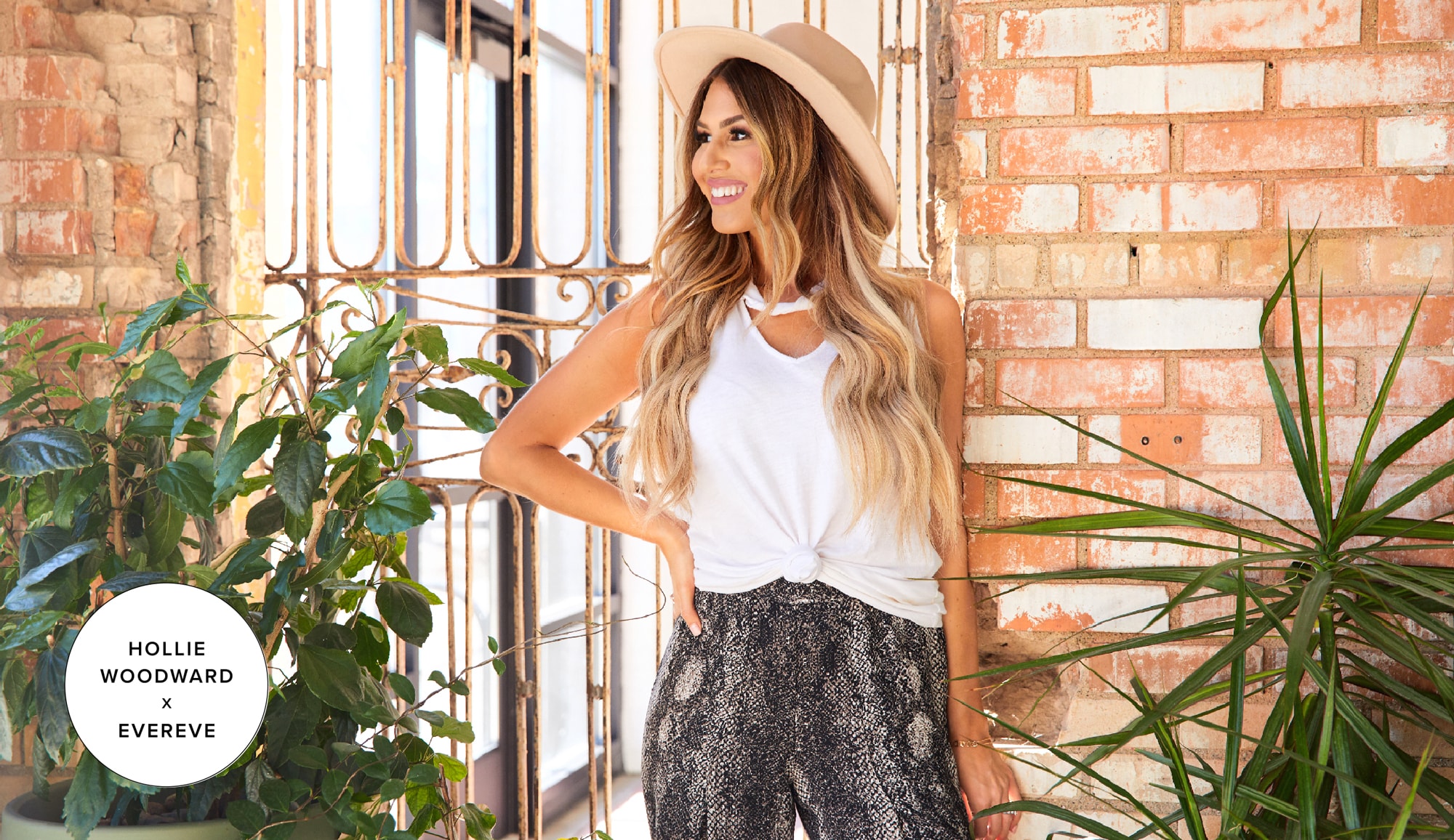 It's here!!! We've been counting down the days and Hollie Woodward x EVEREVE is officially LIVE (in all stores and online)! In case you missed the memo, our friend and Insta-famous fashion blogger, Hollie, curated a summer collection just for us. Like the signature style that has garnered her massive following, the pieces are easy yet elevated, made to mix and match, perfect for every day—and sure to go fast. Keep reading for Hollie's favorites from the exclusive collection, what life as an influencer is like and her secret for flawless selfies! ?
We're so excited about Hollie Woodward x EVEREVE! What made you want to do this project?
I've been working and shopping with EVEREVE for years. I love their clothes and their values—it's so cool to find a company that really cares about its customers. Summer is also my favorite season, so now is the perfect time to share what I'm loving and wearing to make the most of the longer days!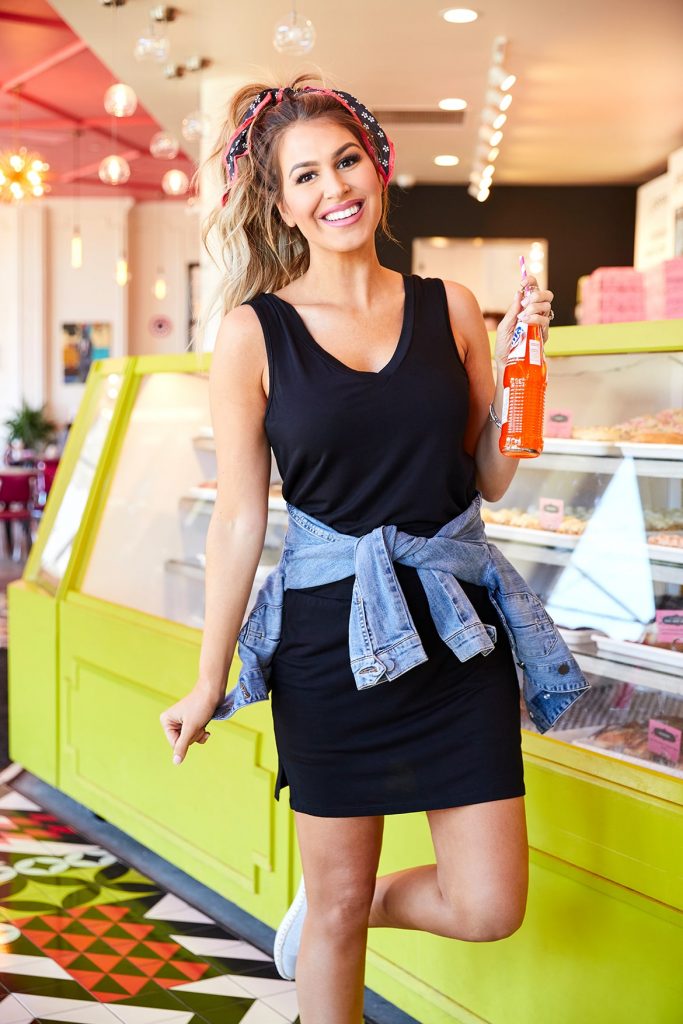 Shop the look: Allison Joy Dress | Kut from the Kloth Denim Jacket
What was the process of creating the collection like?
I headed up to the EVEREVE headquarters in Minneapolis earlier this spring. First I met with Erica, the director of design, and we talked about trends and color palettes. Together we filtered the trends for my audience and selected the right mix of prints and silhouettes. I'm really proud of the value of all the items in the collection; I made sure that everything is high quality, at a good price point. After settling on the final pieces, the photo & styling team and I bopped all over the city shooting the looks for the promotional collateral. We had too much fun! I loved being able to be part of the process from the very beginning and to curate a collection specifically for the community I engage with every day on Instagram.
What do you think everyone will love about the pieces?
Options! The collection is filled with everyday pieces you can mix and match and style different ways for whatever you have going on that day. It's inspired by my own style and what I would wear every day with my kids, from Target runs to vacation!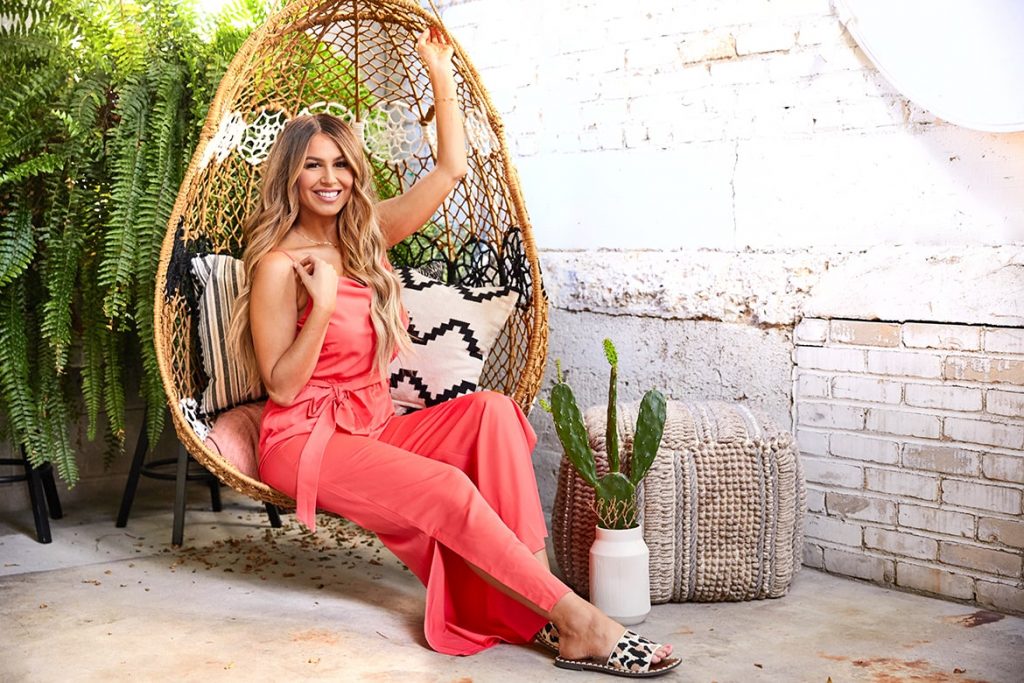 Shop the look: JOA Jumpsuit | Sam Edelman Sandals
What's one thing from Hollie Woodward x EVEREVE everyone needs?
The JOA jumpsuit is one of my favorites—the color is amazing and perfect for summer! I also really wanted to include leopard in the collection because I think of it as a neutral. This dress is also a must-have—you can style it so many different ways!
You make casual style look so good. How do you elevate wardrobe basics?
Making your basics feel elevated is all about how you style them—the right accessories can totally transform a simple white tee. I wear a baseball hat at least once a week to look put together on the go. Even tying a denim jacket around your waist adds a lot of interest to your look. And everything looks better in good lighting! I have a ring light for my phone with me at all times so I'm always ready! ??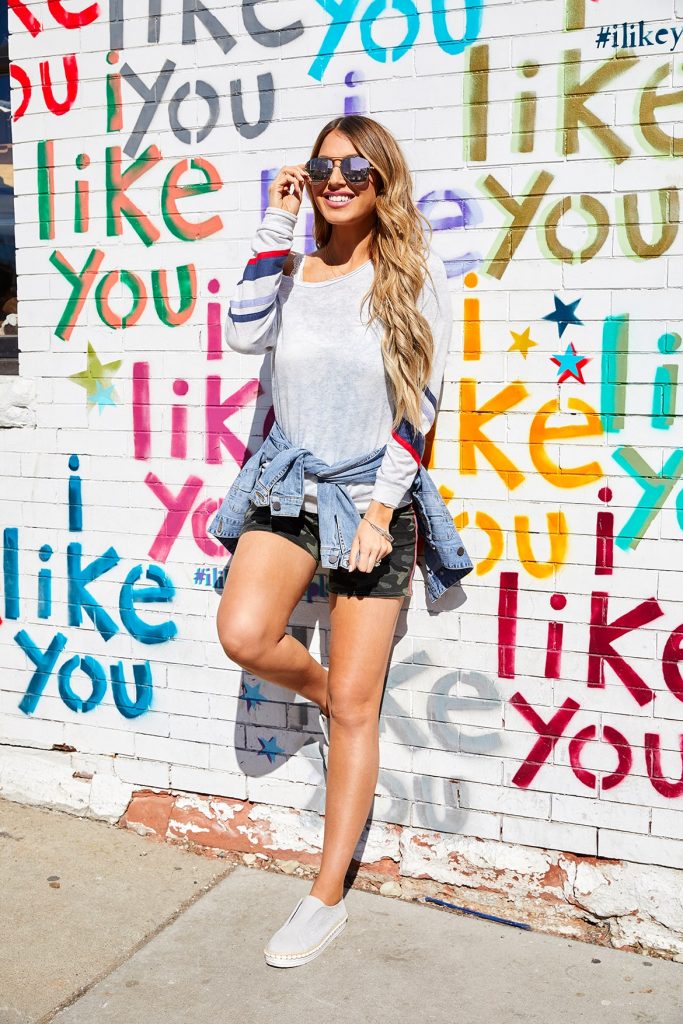 Shop the look: Peyton Jensen Varsity Pullover | Sundry Camo Shorts | Kut from the Kloth Denim Jacket | J/Slides Espadrille Sneakers
Tell us about your journey to blogger and insta-influencer! How did you get here?
Back in 2014 I started a family Instagram account where I shared our everyday life. Pretty soon, I started getting questions about where I got my top and what lipstick I was wearing. As the interest in what I was wearing grew, I realized this could be something—more of a career—and I started intentionally shooting outfit posts.
Sounds like it all unfolded pretty naturally! What does a typical day in the life look like?
I've gotten to do some pretty amazing things through my blog. Attending New York Fashion Week was always my dream, so it was so cool to get to experience the shows, after parties and partner with different brands that I admire. But a typical day usually starts with getting my kids up and ready for school before I dive into work. Some days I'm at my computer answering emails and writing blog posts. Other days I'm filming Insta Stories and shooting looks for brand collaborations.
Shop the look: LNA Tank | Peyton Jensen Pants
What's the best and hardest part of your job?
The best part is the friendships! I've met so many new people through blogging and have formed incredible relationships with so many inspiring women. But it's tough to always be "on" with social media and to force myself to disconnect. There's always something else I could be doing to grow my brand and business, but I've learned to be my own disciplinarian. Family time is so important, so I'll put my phone in a drawer when it's time to take a break, and remove the temptation.
What would people be surprised to learn about you?
I'm actually a very shy person. I'm not super outgoing at my core, but blogging has helped me get confident about stepping outside my comfort zone. I've learned along the way to just be myself. People respond to authenticity, so I try not to pay attention to what other people are doing and stay true to myself and my style.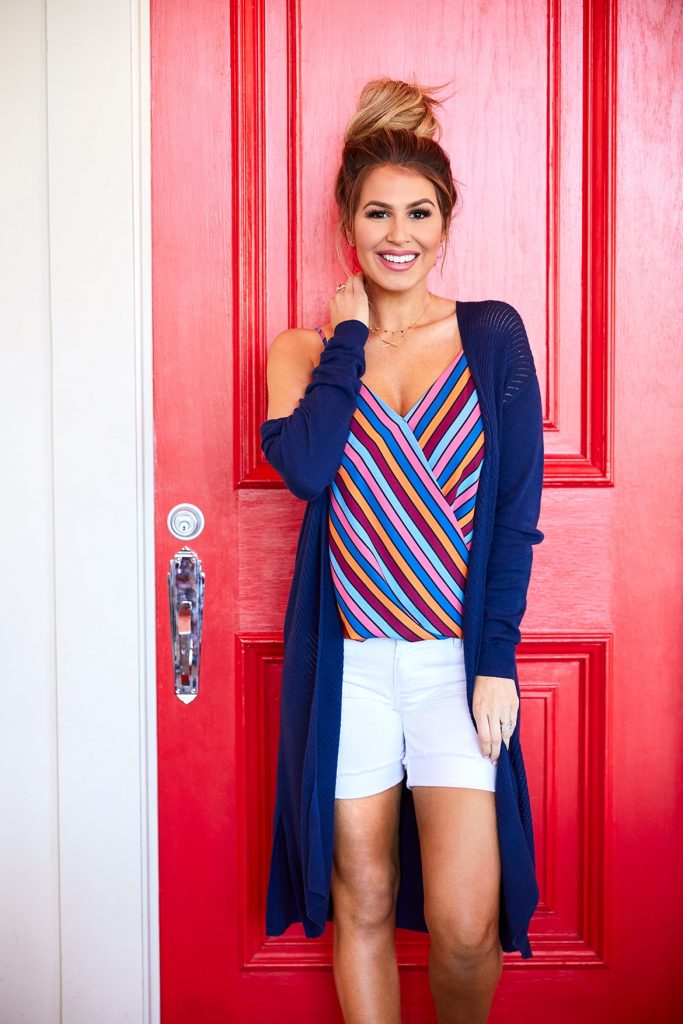 Shop the look: Allison Joy Cami | Allison Joy Cardigan | Kut from the Kloth Boyfriend Shorts
That's a great attitude—and it's working for you! What's on your calendar this summer?
We're planning to do a couple of family trips to the mountains and somewhere warm, and just hanging out in Indy! Brew Burger is one of our favorite restaurants in the city—we love to eat! I'm looking forward to my kids being out of school and keeping them busy exploring and learning. Luckily I just partnered with EVEREVE on a collection perfect for all those things! ?
What are you loving from the collection?
Share your looks with #HolliexEVEREVE