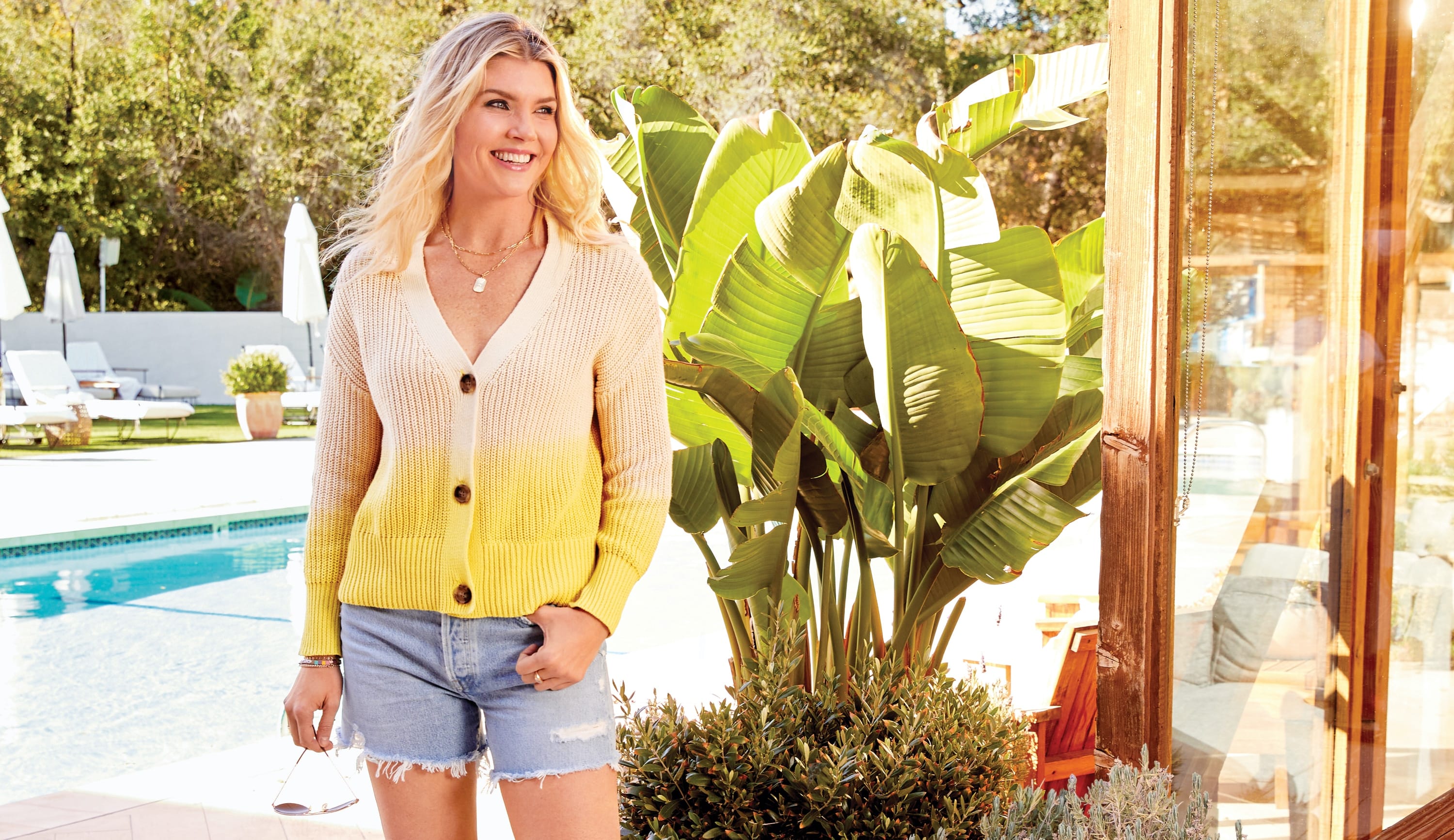 It's March! We made it—spring is right around the corner. The snow is melting, the sun is shining, and we're feeling majorly buoyed by the change in seasons. So, we thought there was no better way to kick off the month (and keep the good vibes going) than by sharing a sneak peek of our spring catalog: our conversation with Amanda Kloots. 
We had the humbling experience of speaking to Amanda for Ray of Light, a series we launched this year to spotlight women who inspire us and help us move forward during a season of life that has challenged us all. Amanda—actor, Broadway dancer, fitness guru, mom and author—tragically lost her husband, Nick, to COVID-19 in July of 2020. Read on to learn about her recent journey, how she found the resilience to forge ahead and the gratitude that drives her every day.
You're such an incredible power of example. What keeps you going?
My young son, Elvis. He makes me smile every day, and gives me so much purpose, love and happiness. Every day is about Elvis. (Such a great name.)
You're hosting a TV show. Launching your fitness app. Releasing a memoir this summer. What do you do for you?
I'm a Pisces, so I'm naturally drawn to the water. I go to the beach to reset as often as I can. I also love massage, but I haven't had one since the pandemic began. I miss it. (So do we.)
How was the shoot?
It was great—such an amazing team of (almost) all women. I love EVEREVE because they carry brands I've adored for years, as well as new brands that help me expand my closet. The clothes feel great and look great. You never feel like you're trying too hard.
Favorite look?
Definitely the jean shorts and sweater. I like the longer length of the shorts, because you can show your legs without feeling scandalous. And they're so comfortable. The sweater is cozy and easy. That's pretty much my style uniform: cutoffs, sweaters, Birks. It's L.A.
You're always on the go, literally. What's your fitness philosophy?
You don't need a lot of equipment for a great workout. There is so much you can do with your own body. I always say to clients, "All you have to do is move." I also like to get creative in my classes. I recently developed "mood-based" fitness, for when you're frustrated or anxious or just need to let off steam. (Look for Amanda's new fitness app, Amanda Kloots Fitness, coming soon to Apple and Android.)
Given all that you have endured, how have you been able to maintain such resilience?
I think resilience comes from feeling grateful. When you feel grateful, you're leading a positive life, even in the darkest of times. I really believe that saying what you're grateful for builds resilience. I'm not suggesting it's always easy, but you do the best you can. Daily gratitude makes a big difference.
What would you share with other women who are facing their own tragedies?
I would say that grief and loss is an individual process; only you can go through it, and only you can get through it. What's most important is to stand up on your two feet every day, throw your shoulders back, hold your head high, move forward in whatever way you can, and accept that some days are better than others.
How do you keep moving forward?
I think about the fact that Nick wouldn't want me lying in bed all day; he would want me taking care of our Elvis. He would want me to be in the world. God has given me so many blessings; how could I waste them?
What do you love most about being a mom?
Watching this little person grow up is just incredible. Every day is different. I love watching him learn, and smile … and hearing him laugh.
In a single word, what drives you?
GRATITUDE.
One of our driving forces, too. Thank you, Amanda, for sharing your story. Look for Amanda's upcoming memoir, Live Your Life: My Story of Loving and Losing Nick Cordero, releasing mid-June.
More to Love
Don't miss Amanda Kloots on the podcast with Megan Tamte on March 12 and our Ray of Light conversation with Heather Headley.