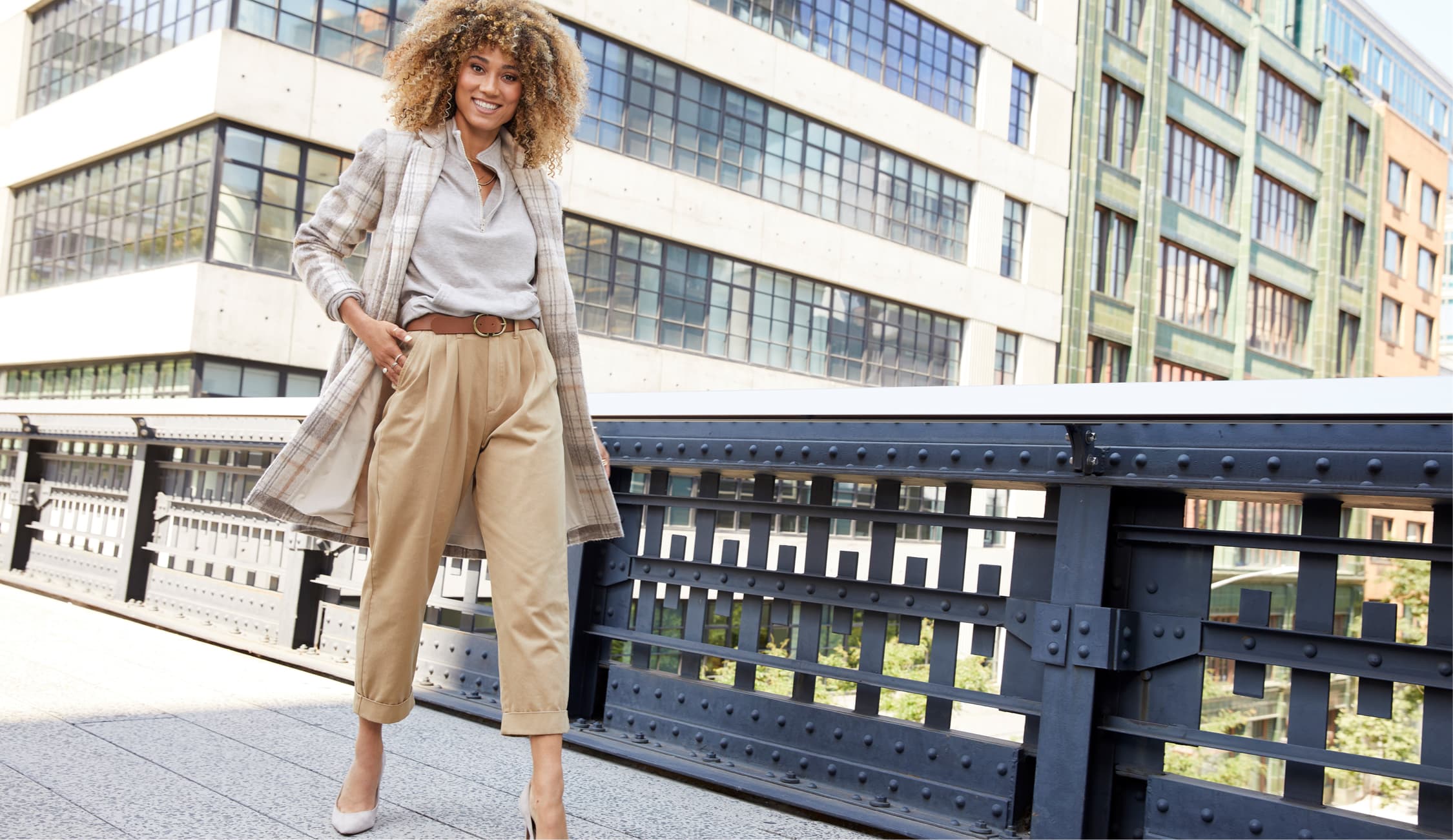 The minute she walks into the room, the whole vibe changes. Lighter. Brighter. Energized. Optimistic. Ally possesses the kind of humble self-confidence that puts everyone instantly at ease. She brings an up-for-anything energy to it all. And she seems to be up for everything. Meet the irresistibly engaging Ally Love: Thought leader. Model. Founder and CEO of Love Squad. Writer. Speaker. Brooklyn Nets Host. Peloton instructor. Fitness icon. Crazy-amazing dancer. Community influencer. Boss of all things style, and inspiring mentor whose Bossing Up philosophy has influenced countless fans.
We had the chance to catch up with Ally on the set of our recent EVEREVE shoot. As expected, she left us totally motivated to dress for who we are, empower each other on the daily, and continue moving ever-forward.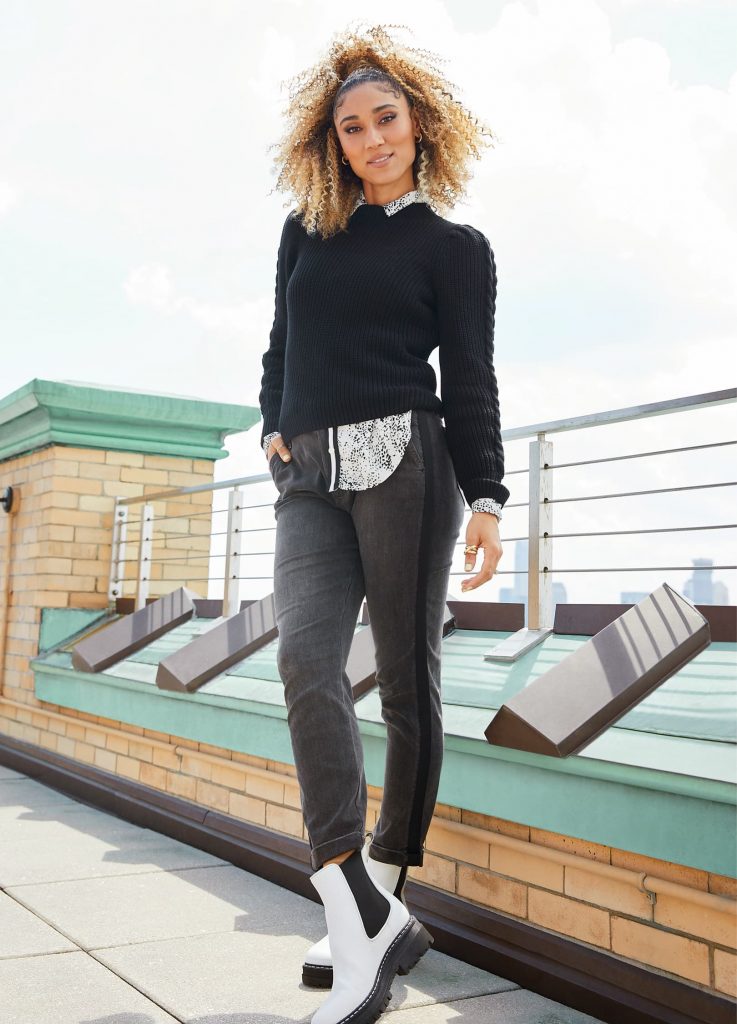 EE: Let's start with style. Favorite look from the shoot?
AL: Everything on page 14, because I love layers, layers, layers. It's all about bringing your personality into raw materials — a chic pop of plaid, a great chunky sweatshirt (because it's a staple), these super soft pants, and a little drama (aka, killer heels).
EE: Talk to me about Bossing Up.
AL: I knew from a young age that I was a leader. I was always
willing to go first, even if I was scared. I've always felt confident speaking up about what's right. And I've never been afraid to
say what I mean. These reflections led me to a long conversation with a close friend, who asked me a question that helped identify my path forward: "What do you want people to feel," she asked, "after a ride or a workout with you?" I told her I wanted them to feel like they are each the boss of their own lives. But "boss" has such a stereotypical definition, and a very masculine connotation. I realized I wanted to redefine it.
EE: What does it mean to be a boss?
AL: It means you get to set standards. It means you don't have to follow all the rules. It means being paid to innovate, to create new ideas that improve and enhance people's lives. My Bossing Up approach takes it a step further. Bossing Up means you can walk into any room (or Zoom) and affect how people feel, shift the energy, be a positive impact. Bossing Up is knowing you have the power to move people—with your energy. Character. Individuality. Being a boss is your birthright. But Bossing Up is recognizing that you have the power to establish the tone for how people treat each other, empowering individuals to empower their communities.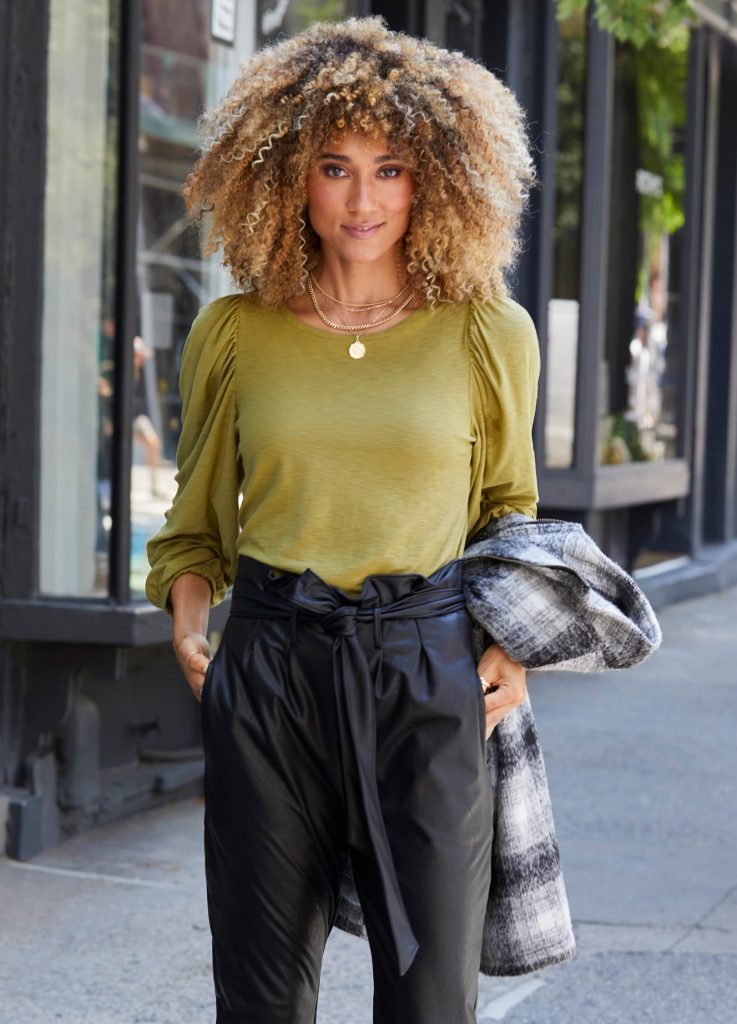 EE: And you're doing just that, bringing so many people together. So how do we, as individuals, start to create new communities of our own?
AL: The first step is to recognize that you're not alone. Know that you already have a community; there is a place for you in the world. The next step is to own that place, to appreciate that your contribution, big or small, is of great value to society. And remember, a community doesn't have to be huge; it can be 2 or 3 people. Community is all about how you define it, and claiming your space within it to create positive impact.
EE: What drives you?
AL: Being able to impact so many people. I believe that conversation is a powerful catalyst for change.
I moved from Miami as a young girl to go to university in New York City. Many of those days I felt alone, and some days, I still do. That's when I remind myself that my presence is worth something. I know that if I felt it—sometimes still feel it—then others must feel it, too. I am continuously challenging myself to bring people together and cultivate spaces for every person to be heard and valued, to be reminded that they are not alone.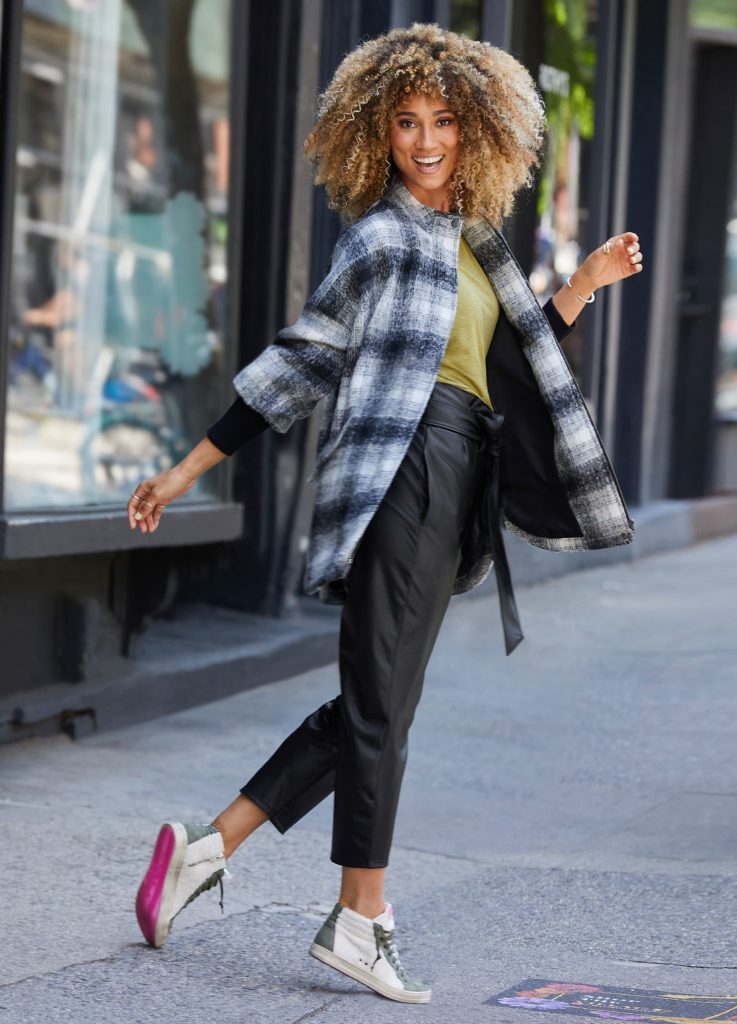 EE: What are the most important actions that we can take to move forward?
AL: Conversation is essential. The reality is, it's a unique form of communicating, because it involves listening, understanding individual struggles, and coming to new solutions together. It's about taking a step back and recognizing that there is no one right way to affect systemic and sustainable change.
It goes back to the importance and power of meaningful, informed dialogue, with, most important, a diverse group of people at the table. That's when the best ideas come to light, when you get multiple perspectives from many different people. Because that's reality.
EE: How did you become such a wonderful speaker?
AL: My mom always said she had the gift of gab. Conversation is a gift. I believe people can reclaim agency when they can articulate and communicate in any capacity, not necessarily verbally. When we communicate how we feel, through words or art or music or dance or how we dress or some other way, we empower ourselves and each other. I want to keep working through these conversations, keep thinking on how we can come together better. It's a priority for me.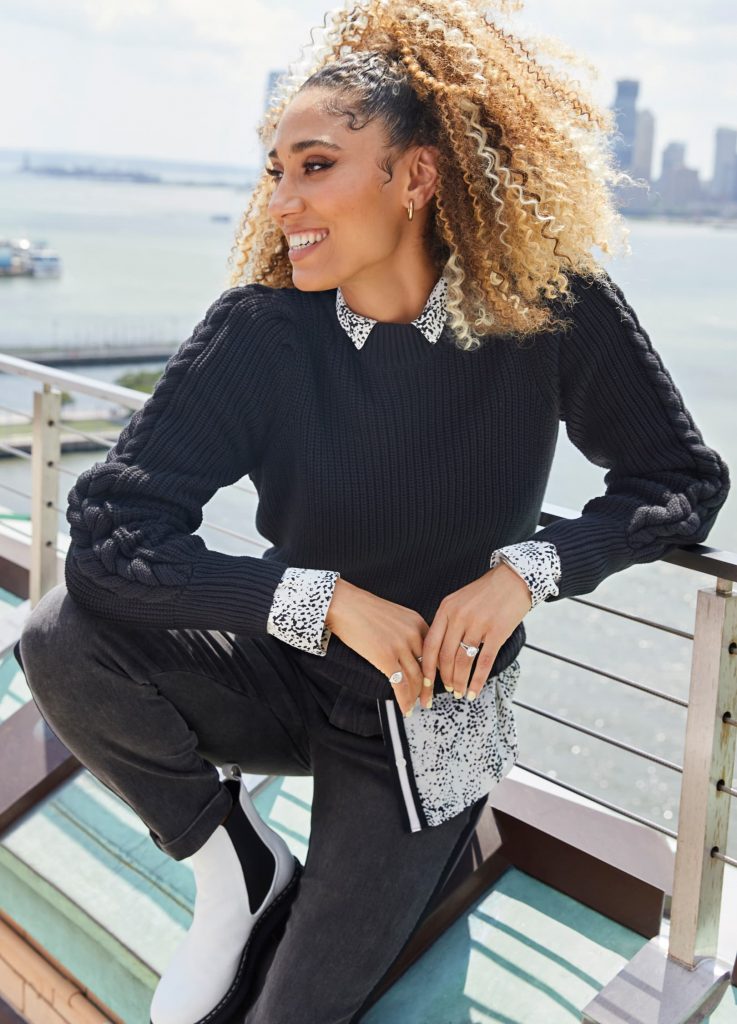 EE: You're amazing. Mind if I ask you a few quick questions off-the-cuff?
AL: Go for it.
EE: Favorite color? AL: Orange.
EE: Straight legs or skinnies? AL: Straight legs, all the way.
EE: Slides or mules? AL: Mules!
EE: Go-to sweet? AL: Donuts. (Us, too.)
EE: Espresso or Matcha? AL: Matcha.
EE: Favorite flower? AL: Gardenia.
EE: Dance or spin? AL: Dance, baby, dance.
EE: Absolute favorite thing to do? AL: Spend time with my best friend and husband.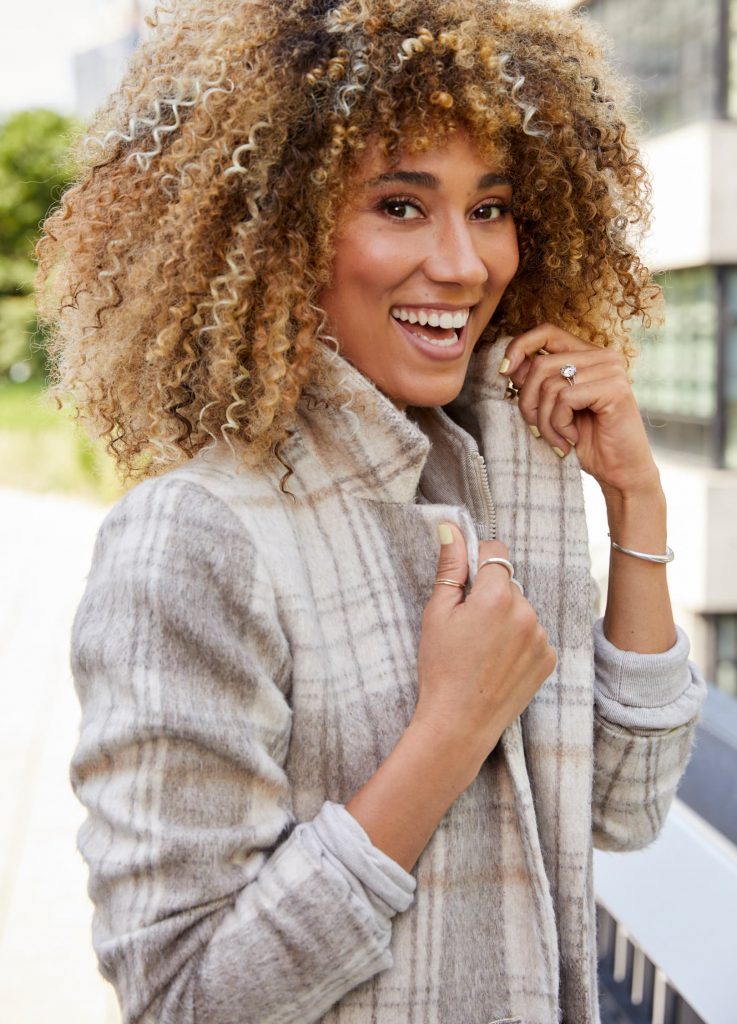 FIRST LOOK: EVEREVE X LOVE SQUAD
A sneak peek at our first EVEREVE design collaboration with Ally Love is taking style to a whole new level. For every purchase made from the EVEREVE X LOVE SQUAD Collection, we'll donate 10% of the proceeds to Armour Dance Theatre, an organization that works to use dance as a vehicle to success, their ultimate goal to give children choices beyond their present limitations.
Shop our new favorite collab and keep spreading that love, Ally-style.
Want more Love in your life? Catch Ally @evereveofficial (make sure to follow us!) and evereve.com, sharing her thoughts on how to kick-start a new routine, switch up your style, learn to dance, get familiar with slash culture, and so much more.
Shop all of Ally's favorites here and catch up on more conversations with women who inspire us in the Ray of Light series.